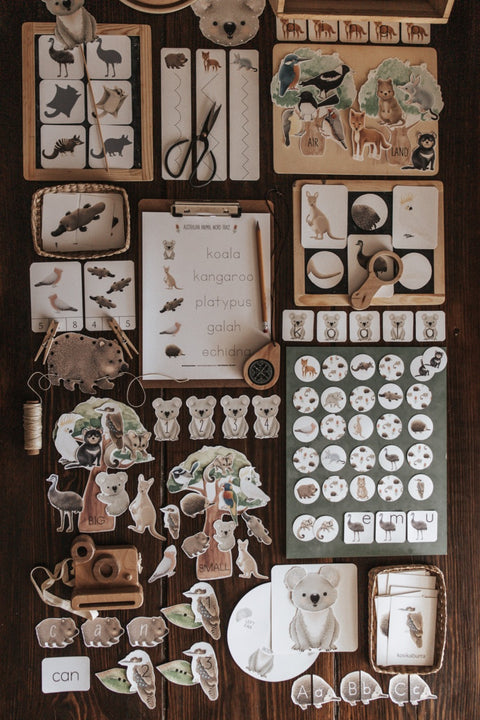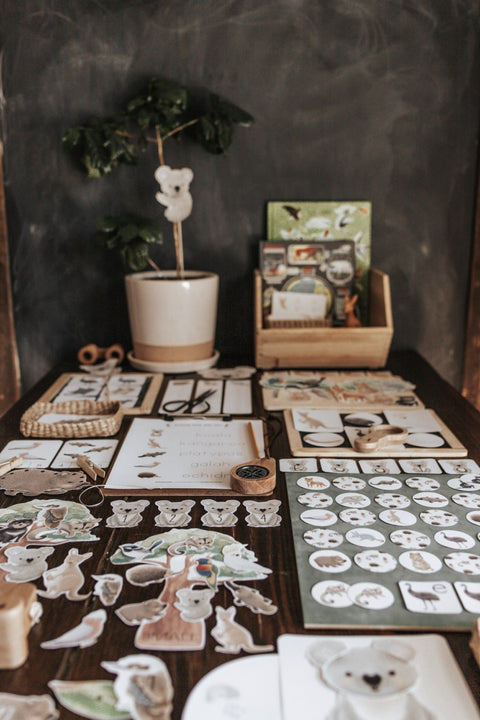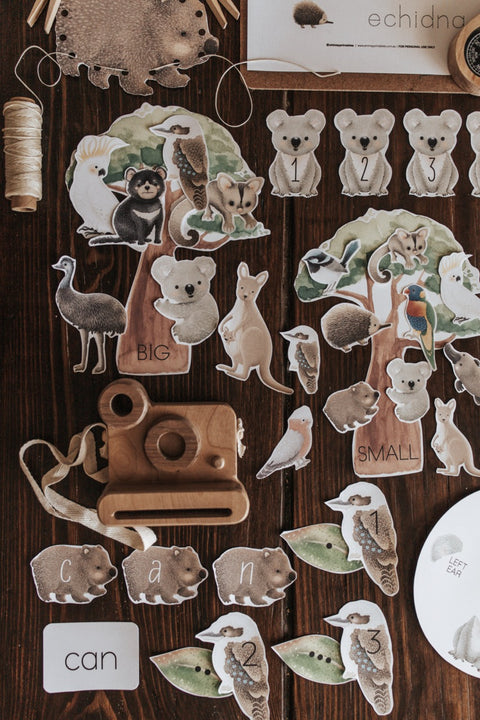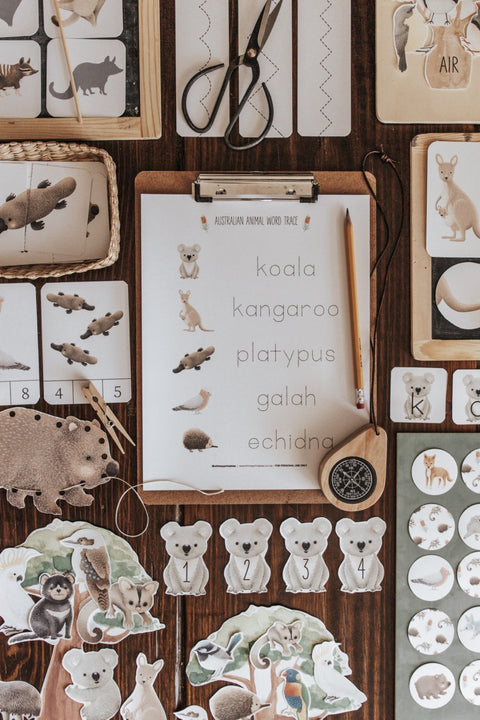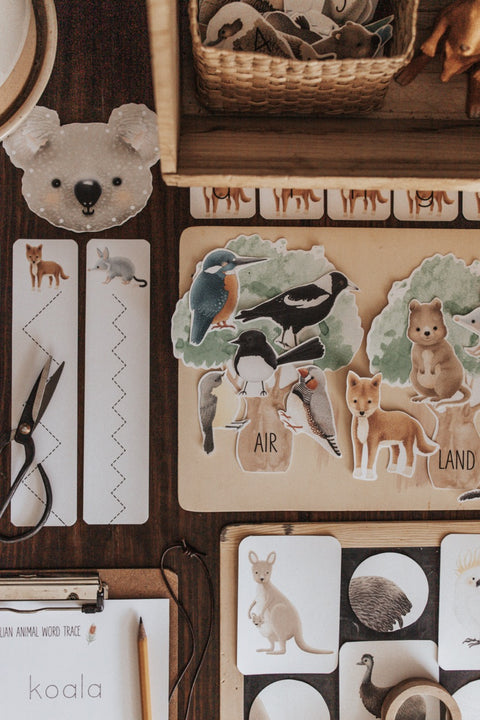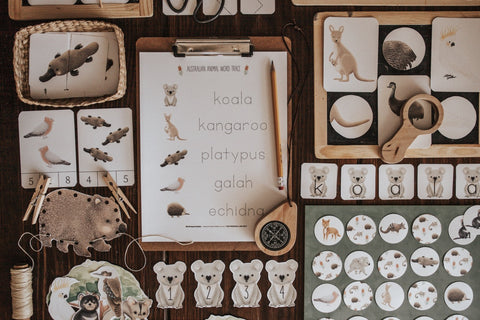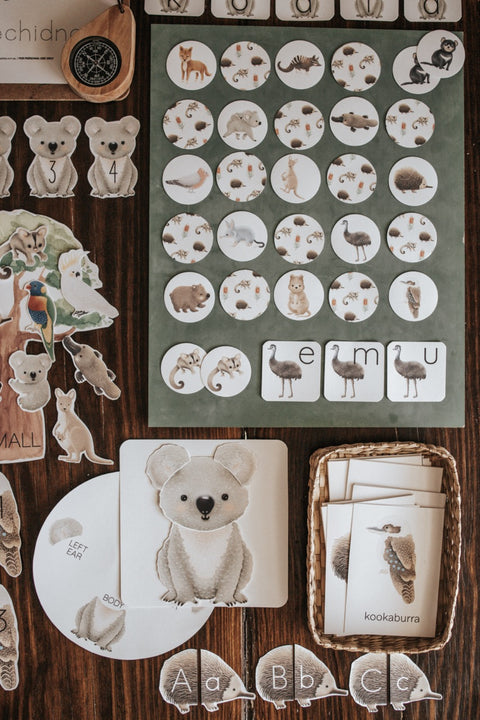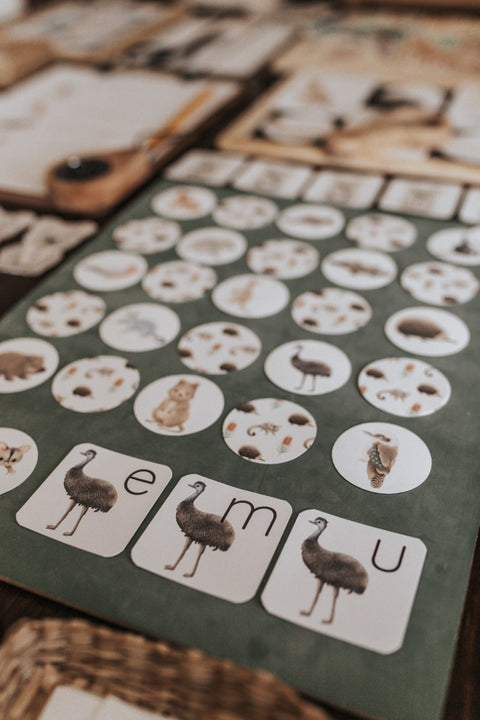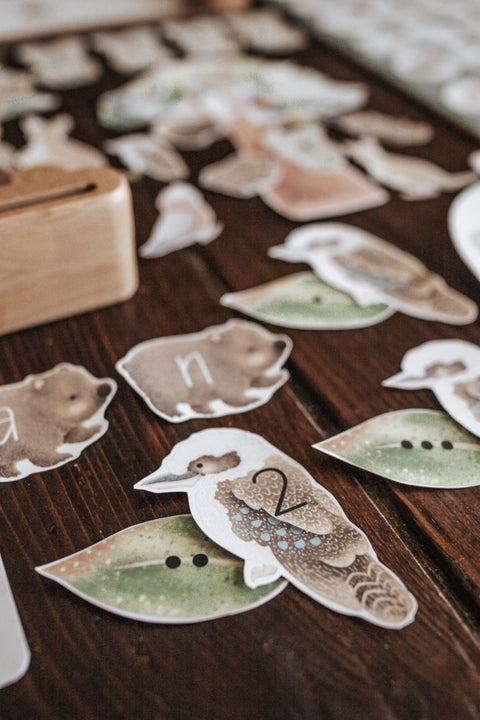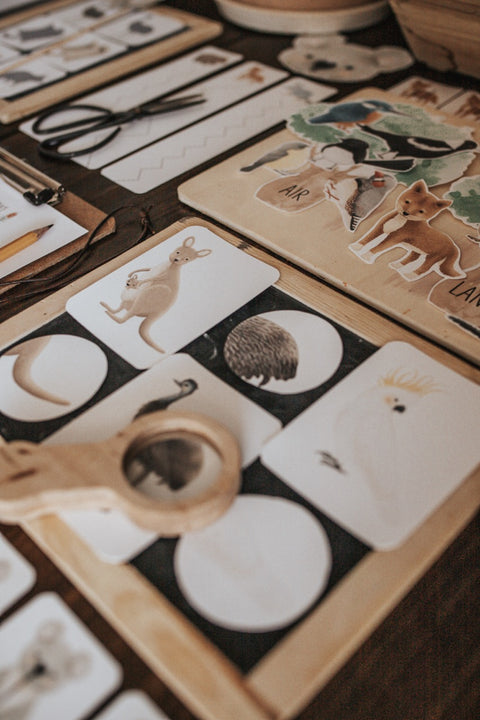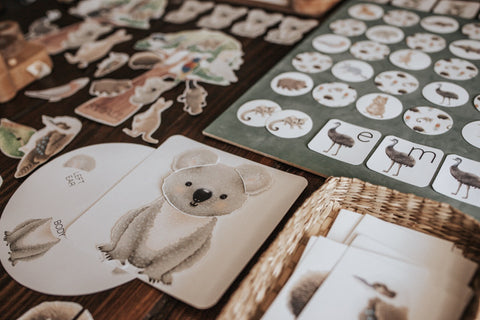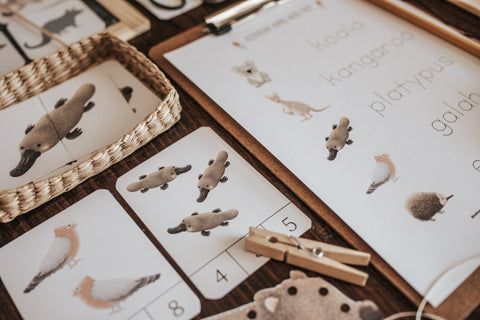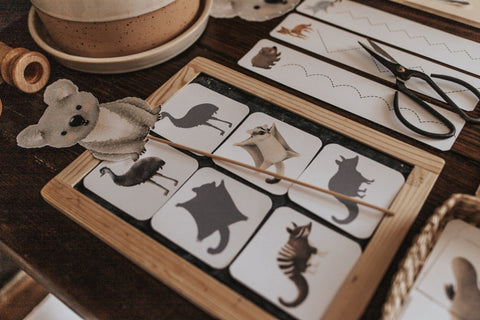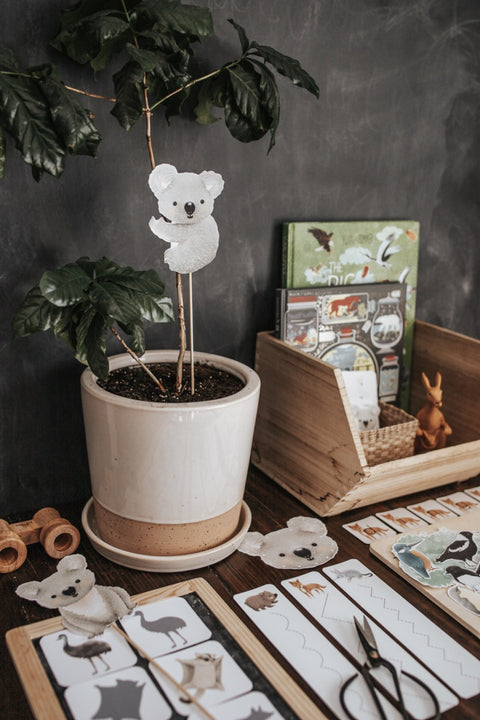 Harbor and Sprout
Australian Animals and Flora Morning Basket
Our themed printable morning basket sets, created by Rebecca Clarke of Whimsy Printables, are aimed at children ages 2-6 to go alongside each of our individual unit studies! This morning basket may be used in tandem with any of our unit studies or enjoyed independently. This particular morning basket was created by Beck in honor of her native home, Australia! Note that there is not a specific corresponding unit study for this particular morning basket. Shop our unit studies here.
Here's what you'll find inside the Australian Animals and Flora Morning Basket:
Flash Cards: 

A lovely set of Australian animal and flora cards. Use as 3-part cards by printing two copies.
Memory Match: Cut out each disk to use as a simple and fun memory match game. Be sure to use the patterned backing for extra-fancy cards!

Count and Clip Cards: A number clip activity where children count the number of images and clip the correct number on each card. Use clothes pins, pegs, gems, or nature items to mark the proper number.

Puzzles: Cut out each card and snip along the dotted line for a simple set of two piece picture puzzles.

Lacing Cards: A simple set of lacing cards. Use a shoelace or yarn to lace these cards.

Big or Small?: Sort the animals by size.

Numbers in a Row: Cut out each piece for a fun number sequence activity in which children place the koalas in number order. You can even play with patterns or practice skip counting!

Upper and Lower Case Match: Cut out each piece for a fun game to match the upper and lower case letters of the alphabet!

Where's My Tail: Match the tail to the animal!

Cutting Activity: Cut out each strip and snip along the dotted line to practice fine motor skills.

Land or Air: Sort the animals by where they live.

Building Sight Words: Spell and build each sight word with playful animals!

Words to Build: A little set of words to build. Cut out each card. Children can then build the respective words.

Playdough Mats: Cut out the loose parts and make your own scene!

Spin a Koala Game: A fun game where children take turns spinning the wheel to build a koala!

Shadow Match: Match the animal to its silhouette!

Kookaburra Number Match: A fun number match game. Match the numerals to their corresponding number of dots.

Australia Letter Page: Color the letter or fill the template with nature objects.
Tracing Pages: Practice handwriting Australia words!
Koala Puppet: Make a koala friend on a stick!
Australia Coloring Pages: Coloring pages for the whole family to enjoy.
This morning basket is delivered as a digital, printable pack and is sure to delight and engage learners, animal enthusiasts, and nature lovers of all ages!
Simple Subscriptions
Get a discounted monthly credit to use on your H+S favorites