About Our Resources
Experience learning in all new ways with Harbor + Sprout! Here's what you'll find in our ever-growing curriculum and resource library.
Elementary Units
Harbor + Sprout Elementary Unit Studies are our original, well-loved unit study style and created for children aged 3-12. Each lesson is family-style and allows for each of your children to complete the same lessons in different ways specifically tailored to their needs. Lesson plans are divided into 4 distinct learning levels which allow you to simplify or expand upon lessons for each child as you see fit. Units are delivered as digital downloads to allow you to save, keep, print, and use for your own family or classroom's use for years to come. Discover the joy of "kitchen table learning" as you all experience the joy of learning- together!
Levels of Learning
How our leveled learning system works
Inside the handbook of each unit, you'll find lesson plans for all subjects broken into four distinct levels of learning:
Explorers are learning to observe the world around them through simple, foundational activities, that foster learning, curiosity, and communication.
Investigators are beginning to dig a little deeper through activities that encourage them to ask questions and find answers as they continue to build understanding of fundamental skills.
Adventurers are able to read and write independently. As they continue to learn, they are encouraged to ask questions and engage in activities that lead them to read and research to find answers on their own. They are practicing writing thorough thoughts in clear, structured sentences and paragraphs.
Discoverers are beginning to take ownership of their education through activities that require them to read, write, and analyze independently. They are practicing writing more formally structured essays and reports and deepending their understanding of the topics they are studying.
Each lesson will be complete with ideas and/or instructions to help you make the material conducive to children at varying stages in their educaiton. Here's an example of how the same lesson is used in diferent ways:
For a geography map activity, the Explorer colors the map, the Investigator finds and traces labels, the Adventurer labels the map independently, and the Discoverer does a one-page report on a chosen country. Everyone does the same base activity with versatile guided applications!
Your child may be at a different level for different subjects or activites, and that's ok! You get to tailor it to exactly what they need and take the liberty to help them learn in a way that makes sense for them.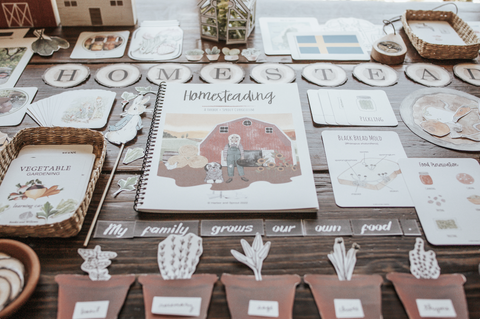 What Style is this Curriculum?
Learn more about our structure
Harbor + Sprout creates eclectic unit studies inspired by our favorite aspects of many learning and teaching styles all blended together. There are elements that would be considered Reggio, Charlotte Mason, Waldorf, Montessori, and Unschooling, but nothing is specifically designed to fit any one style. It is a free-flowing, immersive curriculum that allows for natural, deep-level learning, adaptable to the needs of each unique child. It can function beautifully as a stand-alone or be used as a supplement to other curricula your family uses. Harbor + Sprout is the best of all worlds.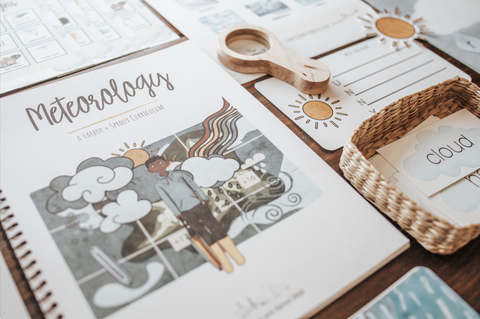 What's Included in Each Unit
Discover what's inside each elementary unit
A handbook which includes printing helps, table of contents, planning pages (both blank and prefilled with a suggested weekly layout), an extensive book list of complementary (but not required) titles, an explanation of our levelend learning system, lesson plans, a unit recipe, and a hand-illustrated Character Kit with original art by Stephanie Groves for each unit
4 Science lessons
4 Nature Study lessons
4 Language Arts lessons
4 Writing lessons
4 History lessons
4 Geography lessons
4 Music lessons
4 Art lessons
4 Math lessons
An extensive supplemental section including:
Nature activities with a focus on open-ended early learning
Wellness/Quiet time activities and ideas
A bilingual element
Every lesson also includes an idea for a craft, activity, or tactile application, and/or some kind of writing or further research opportunity. These lessons are engaging learning at its finest and each unit is full of activities, content, and memories waiting to be made.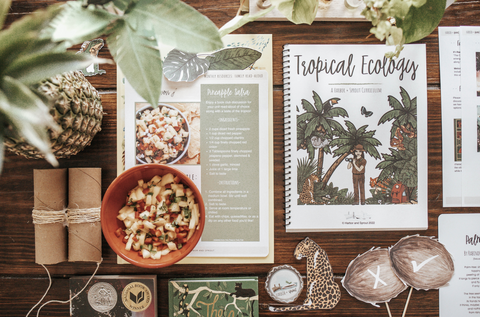 Be sure to download our free sample pack to get an idea for the layout of our lessons and the type of content you can expect.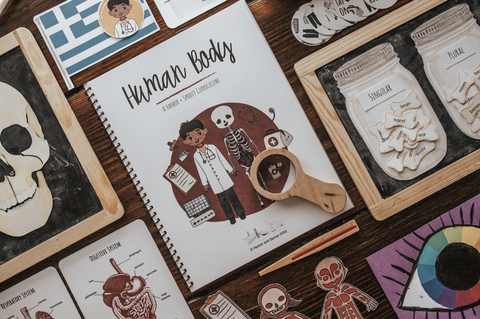 Primary Level Unit Studies
Our Primary Level Unit Studies are a print-optional unit study style with a focus on notebooking and activities with each lesson. These units are designed to guide learners aged 6-12 on an in-depth exploration that will not only provide a thorough study of the subject at hand, but will also involve students in the process through immersive, experiential learning opportunities. Consistent, gentle, and easy-to-follow structure encourages internalization and personal connection with each module.
What age group are primary level unit studies intended for?
Learn how to tailor each unit study to suit your family's needs
Our primary level unit studies feature a consistent module layout throughout. The reading, notebooking, and activities are intended to be completed to each child's skill level and with as much or as little adult guidance as you see fit.
The reading portion of each module can be completed independently or with help from an adult. You may take one day or more to complete the reading. Remember to look up unfamiliar words and feel free to conduct further research on anything you have questions about.
Children who are in the early stages of writing may complete their notebooking prompts in pictures or words, while skilled writers may write full paragraphs and more complex entries that require further research.
Module activities may be completed with varying levels of parental support or independence as needed.
Our primary level units are meant to grow organically alongside your family!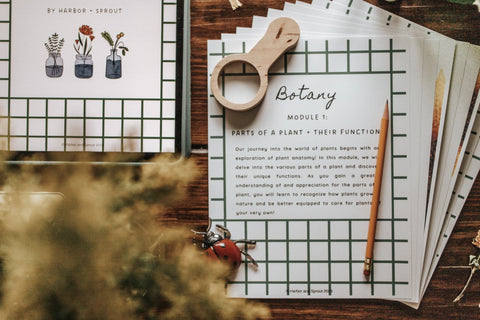 How do Primary Level Unit Studies work?
Discover our new print-optional format
Our goal with Primary Level Unit Studies was to create an option for families who would like to minimize or eliminate the need for printing, cutting, and prep work. These unit studies are delivered digitally and may be used ebook-style alongside a notebook of your own choosing, or you may print the unit and use it in hard copy form. The unit is non-consumable, meaning that you will not need to write on or cut anything out of the pages.  Optional printable notebooking pages are provided.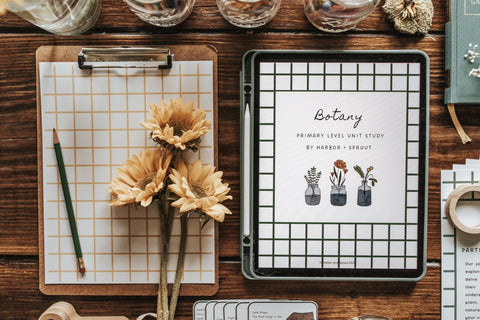 What is the layout of each module?
Learn more about our structure
Each Primary Level Unit Study includes approximately 20 modules. Modules may be completed over the course of a few days or at the pace that works best for your family. Each module is composed of 3 parts:
Information- This is the reading portion of the module. The reading can be completed independently or with help from an adult. You may take one day or more to complete the reading. Remember to look up unfamiliar words and feel free to conduct further research on anything you have questions about.
Notebooking- In the notebooking section of each module, you will have the opportunity to reflect on your reading in a way that is unique to you. Children who are in the early stages of writing may complete their notebooking prompts in pictures or words, while skilled writers may write full paragraphs and more complex entries that require further research.
You may use the notebooking pages provided at the end of this unit study, or you may opt for a notebook of your own. As you closely consider and write about what you've learned, you will further your understanding of the subject and make personal connections with the information. Notebooking is an inherent source of writing and language arts study in this unit.
Activities- Each module contains a selection of activities and hands-on learning experiences to choose from. These activities span the range of learning styles and are meant to be completed at whatever pace feels most comfortable to you. We encourage you to both select activities that are most in tune with your preferred method of learning and take advantage of opportunities to expand your skills and try new things. Earlier learners will need more support from an adult, whereas older children may complete their activities with more independence.
At the end of the unit modules, you will find a selection of printable notebooking pages to use and the unit appendix. The appendix includes a book list of complementary titles, a vocabulary/spelling list, additional links to supplementary material, a set of flash cards, and any other useful additions we have found along the way.
As you work through your unit studies from the Harbor + Sprout library, we encourage you to continue to develop independence while making memories and learning alongside your family or classroom. Be sure to include plenty of books alongside all your studies.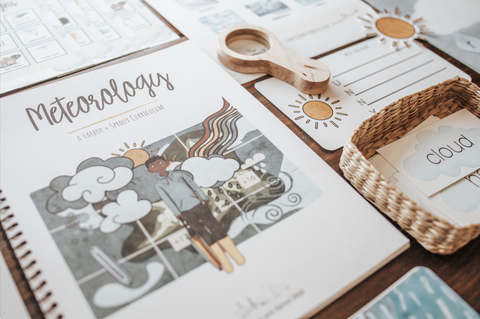 What subjects are covered in each unit study?
Discover what subject applications are included in our Primary Level Unit Studies
At the beginning of each unit study, you will find a brief overview of each module as well as a list of subjects/applications addressed in the module. Writing and language arts are also inherently woven into the whole unit through notebooking. Additional applications include science, nature study, language arts, writing, history, geography, art, music, math concepts, and life skills.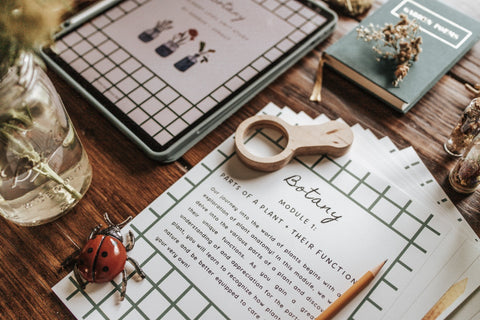 Peek Inside Our Primary Level Unit Studies
Download our free samples
Free Samples
Be sure to download free samples of our Botany and Visual Arts Primary Level Unit Studies to get an idea for the layout of our lessons and the type of content you can expect.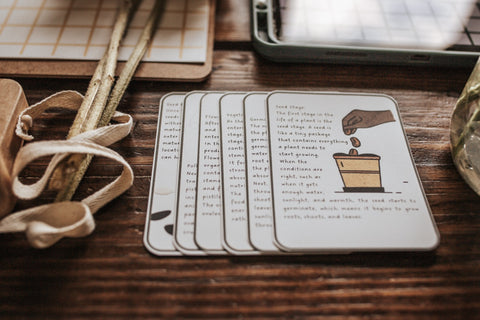 Secondary Level Unit Studies
Check out our growing line of secondary level unit studies for ages 12-18! These units feature project-based learning, notebooking and creative writing, and immersive learning at its finest.
About Secondary Level Unit Studies
Learn more about our secondary level units
Learn More
Our secondary level unit studies focus on project-based learning and notebooking for an experiential learning approach. Each module is designed to take the learner on a journey to discover a facet of the theme with a specific set of academic subject applications. With information, notebooking prompts, and projects, activities, and experiments that appeal to a wide range of learning styles, these unit studies can be tailored to bring learning to life in whatever way your student needs. These unit studies can be used in digital ebook form with a notebook of your own or printed and used as physical books. Explore our library of secondary level unit studies and discover how they might breathe life into your schooling.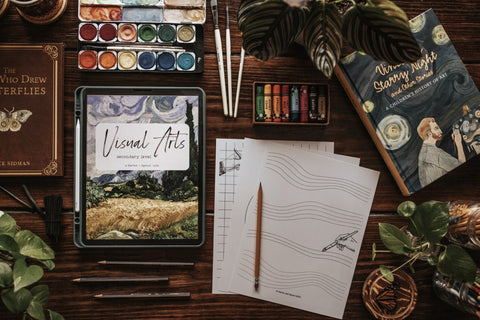 Download free samples of our Botany and Visual Arts Secondary Level Unit Studies to learn more about the content, structure, and layout.
Early Learning Morning Baskets + Letter Baskets
Our themed printable early learning basket sets are designed for children ages 2-6. These packs can be used in tandem with their corresponding units, used as a gentle alphabet curriculum, or enjoyed independently.
What is a Morning Basket?
Learn why our Morning Baskets may be a great fit for your family
Shop Morning Baskets
A morning basket is essentially a collection of books, activities, and resources that is used to enrich your children's learning. Use morning basket time to come together, press in and reconnect, share, and spend time with the precious ones in your life.
The time you spend together with your Morning Basket can differ dpending on the ages and stages of your children. With younger children, it can be as little as 5-10 minutes. With older children, time spent with books, poems, handicrafts, and other activities can turn into hours. Our Morning Basket packs are specifically aimed at preschool aged children, but you are free to add resources for older children as you'd like.
What will you need to create a morning basket? First, find yourself a basket, box, or container of some sort to place it all in. Activities in your Morning Basket may include books that follow your children's passions and interests, coloring sheets, art supplies such as colored pencils and crayons, puzzles, playdough, threading activities, small world figures, handicrafts, natural objects like pebbles, twigs, shells, or pinecones, games, poetry collections, and more.
Our themed Morning Basket activities are full of fun, hands-on learning activities geared towards 2-6 year olds, but can be incorporated for older children too! These invitations to learn are also excellent for keeping younger children busy while their older siblings are working on other school activities.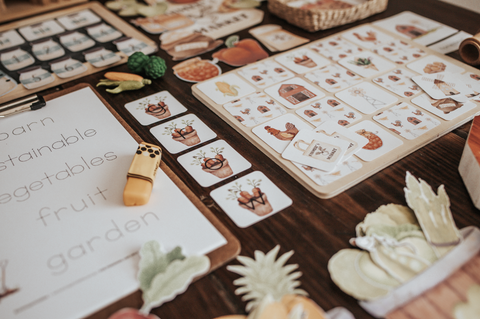 Learn the alphabet at a gentle, friendly pace with our sweet and playful Letter Baskets! Letter Baskets feature the morning basket style you know and love with an alphabet twist.
There is one Letter Basket for each of the 26 letters of the alphabet, each featuring a phonetically correct animal. You have the option to purchase the letters individually or bundled together at a discount. Sign up for our Early Learning Simple Subscription to get a credit for one new letter each month! Be sure to get the starter pack even if you're purchasing one at a time; this sweet set will help you track your journey through the alphabet! 
Each Letter Basket includes the following:
Letter flag
Alphabet flashcards
Alphabet scavenger hunt
Tracing card
Poem
Poem writing page
Building sight words activity
Circle the letter
Lacing card 
Letter sheet
Playdough mat
Q-tip painting
Upper and lower case sort
Tracing sheets
Prompted drawing
Letter Tangram puzzle
Loose parts card
Chalkboard alphabet letter
Rainbow writing
Craft letters
Coloring sheets
Download a free sample here!
Each letter basket was made with love by Beck, our Morning Basket creator.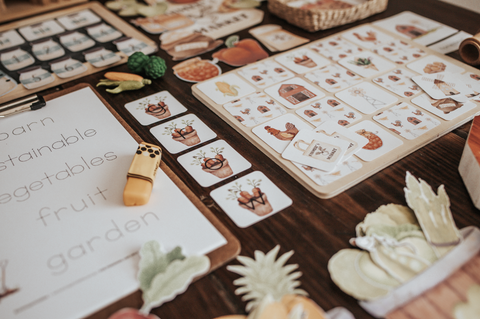 Simple Subscriptions
The simplest, most convenient way to get your homeschool curriculum and H+S favorites for an enriching homeschool at a great price.
What are Simple Subscriptions?
Learn how Simple Subscriptions keep things simple
Simple Subscriptions are a clear-cut way to get exactly what you need every month at a discount. With simple subscriptions, your choices truly are as simple and straightforward as can be so that you can use your energy on making memories and learning with your students! You sign up for the Simple Subscription of your choice and receive a credit specific to your chosen subscription each month.
What are my Simple Subscription options?
Learn about the Simple Subscription options you have
Explore the Options
You have three options to choose from:
Unit Study Simple Subscription ($21/month introductory price): The Unit Study Simple Subscription applies to any unit study including elementary level unit studies, secondary level unit studies, and our new line of primary level ebook style unit studies for ages 6-12. Each month, you select a new unit study to add to your collection. 
Non-subscriber value: $30 each
Regular subscriber price: $25 a month
Introductory price: $21 a month for the life of your subscription
Early Learning Simple Subscription ($8.50/month introductory price): The Early Learning Simple Subscription applies to Morning Baskets and Letter Baskets. Each month, you select a new letter basket or morning basket to add to your collection. 
Non-subscriber value: $12 each
Regular subscriber price: $10 a month
Introductory price: $8.50 a month for the life of your subscription
Unit Study + Early Learning Combo Simple Subscription ($29/month introductory price): The Early Learning + Unit Study Combo Simple Subscription gives you a credit for one early learning basket and one unit study of your choice each month. 
Non-subscriber value: $42/month
Regular subscriber price: $34/month
Introductory price: $29/month for the life of your subscription
How are Simple Subscriptions different from the original legacy subscription offered when H+S first began?
Learn why our systems have grown with us over the years
When Harbor + Sprout first began, we offered one product: elementary level unit studies. Over the past two years, we have continued to grow our offerings to include many different types of resources applicable to all ages and learning styles. The original legacy subscription was adjusted to fit the broader library, but this came with its own set of logistical challenges internally and with the tech systems. By putting subscriptions on hold and developing the Curio Membership that is applicable shopwide, we have had the opportunity to clean up the system and offer a new set of subscription options that is clear-cut, easy to implement, and can reliably grow with Harbor + Sprout for many years to come!
Additional Resources
Whether you're looking for a way to bring the excitement of learning into your days or need a core curriculum, we offer a wide variety of open-ended learning resources to suit the needs of your family.
We are big fans of nature and hands-on learning around here, and our nature handicraft ebooks are well-loved among our community. These ebooks feature stunning nature-themed craft tutorials to engage creators of all ages.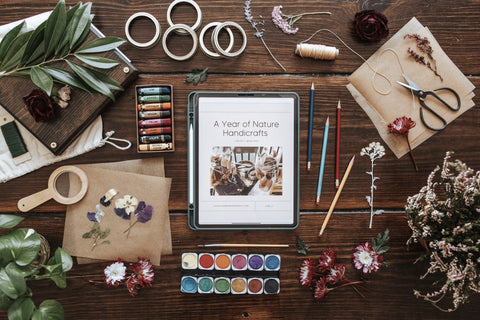 Create your own shops, galleries, farm stands, and more. Our dramatic playsets are creative and open-ended play at its finest!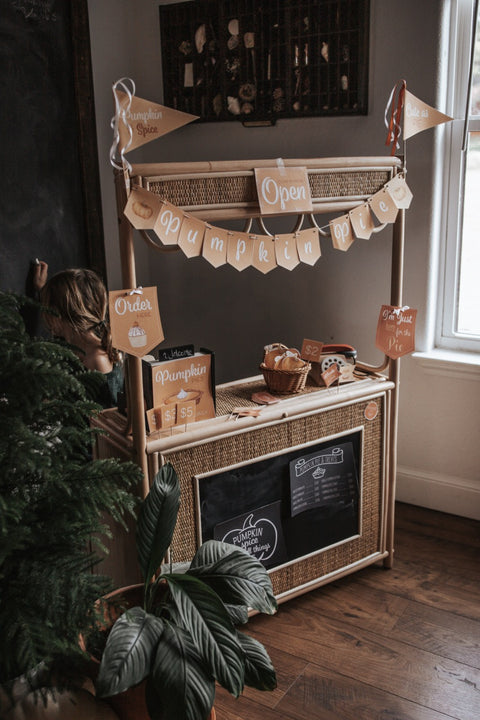 Explore open-ended nature journaling curriculum for inquisitive minds of all ages. Create your own mixed-media field guide as you discover the natural world around you!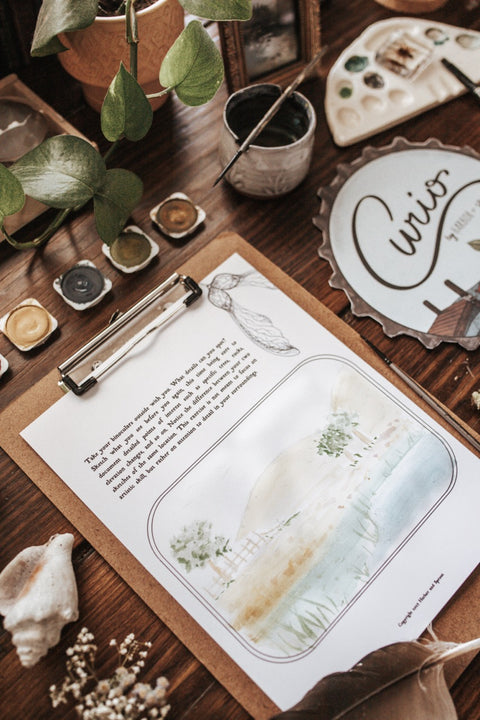 Discover our ever-growing library of journals, essentials, and more.
Harbor + Sprout Curio Membership
Become a member and save up to 50% on all your H+S curriculum. Plus, enjoy access the Curio Member Library for free!
Discover Curio
Learn more about our membership options
Our membership is an excellent way to save on your curriculum and to access exclusive members-only content. Curio Nature Society nature journaling curriculum is also included with all membership tiers. Learn more about our membership and what comes with it.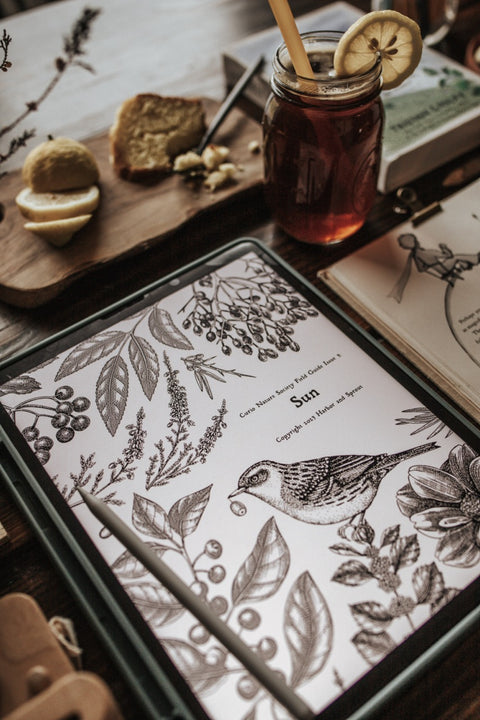 Select your Membership
Sign up to being a new adventure and save on all your H+S purchases
Select Your Membership
Decide which membership will best suit your family's needs and join our community of lifelong learners!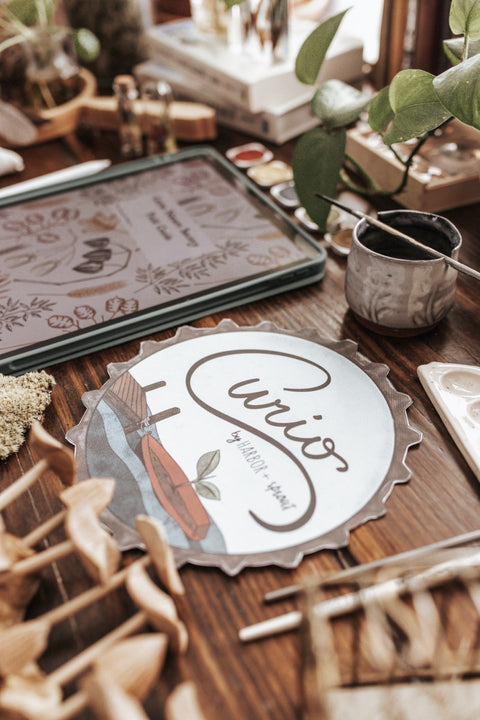 There is something for everyone at Harbor + Sprout.
Our goal is to offer a foundation upon which your family can learn and grow for years to come. We'll provide open-ended resources with a gentle structure to guide your family in choosing your own adventure. Join our worldwide community in learning the Harbor + Sprout way.