Frequently Asked Questions
What EXACTLY is the Curio membership?
When you become a Curio member, you are gaining access to the following:
A discount on all products in the shop of 10, 30, or 50% off based on your membership plan
Exclusive content from the Curio Members' Library included in your membership at no extra cost
Curio Nature Society nature journaling curriculum with accompanying field guides
Entry into a close-knit homeschool community
The Curio membership offers you a blanket discount on the whole shop PLUS nature journaling curriculum, exclusive content, and a much-needed community aspect.
What ages is Curio geared toward?
Curio is for learners of ALL ages, including adults. Member discounts apply to all Harbor + Sprout products, offering families an opportunity to get up to 50% off all curriculum. Harbor + Sprout has learning resources for all ages!
As Curio members, we all want to learn and grow lifelong. Outside of Harbor + Sprout product discounts, our Nature Society nature journaling curriculum and field guides + Curio Member Exclusive Content Library are intended to be enriching for everyone.
Nature Society field guides may be completed in varying degrees of depth. Young children will use these field guides to emerge into nature journaling, while adults may study alongside the companion book The Lost Art of Reading Nature's Signs and complete complex and personal reflections.
What all does the Curio member discount apply to?
As a Curio member, you have a discount on all past, present, and future H+S resources. Keen members receive 10% off, Savvy members receive 30% off, and Intrepid members receive 50% off. In addition, Annual Intrepid Members have access to the items in the Annual Intrepid Members Suite for free.
Please note that member discounts may not apply to occasional promotional collaborative projects, as these projects are already inherently discounted.
We regularly add new resources to the ever-growing Curio Member Library, which is FREE for members of all tiers. This exclusive content includes not only the Nature Society field guides, but additional learning resources, card sets, reference guides, nature calendars, challenges, special feature podcasts, and more- free for members only. We aim to keep our community thriving and alive for learners of all ages!
Curio Nature Society is a guided nature journaling curriculum featuring a series of 12 field guides, each focusing on a different aspect of nature. These field guides offer activity and nature journaling prompts to help people of all ages engage with nature in meaningful ways. As you work through your nature study, engage with the Nature Society via the Harbor + Sprout Facebook Community Chat Group to discuss your observations. Nature Society Field Guides are free for members of all tiers.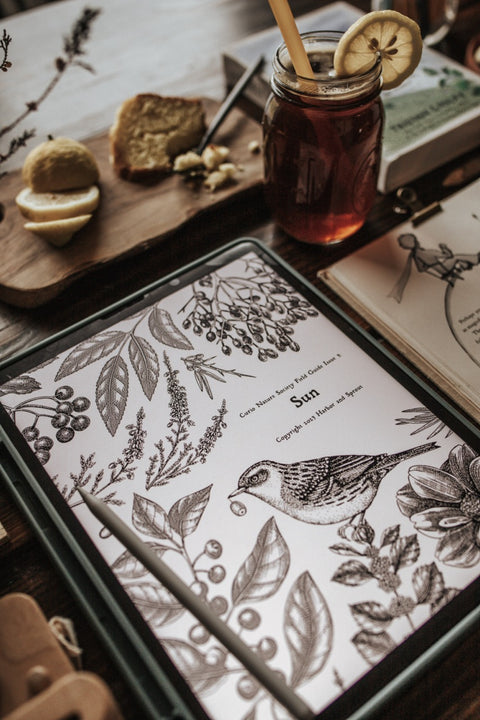 Come join our Facebook community where we share fascinating nature finds, discuss Nature Society experiences, share books, post intriguing articles, ask questions, engage in lively discussion, and connect with like-minded individuals. This space is meant to offer families and especially parents connection and community.
What is included in the membership other than a discount?
As a member, you not only have an automatic discount on the whole shop, but you will receive access to member-exclusive content including Nature Society field guides at no additional cost. These resources are included in memberships of all tiers.
Do I need to choose either a credit subscription or a membership?
If you had a current subscription at the time we launched Curio, you can sign up for any annual membership tier for 25% off for the first year using code "SUBSCRIBER UPGRADE" even if you choose to keep your current subscription plan. Consider how much you plan to implement H+S in your learning as you choose which tier is the best fit for you! 
As an example, if you use a monthly morning basket, and elementary unit study, you will pay less over the course of the year with the Annual Intrepid Curio Membership than you will with our current combo subscription. You can also add in dramatic play sets and secondary level units at any time, also for 50% off! Plus, you'll receive automatic access to the Curio Member Exclusive Content library, access to Curio Nature Society, and 50% off anything else you may choose to purchase throughout the year.
What are the benefits of Curio membership as opposed to the past subscription model?
As a Curio member, there is no cap placed on your discount and you have access to the entire member library for free. Consider your membership fee your access pass to enjoy H+S to its fullest at a deep discount all year long, with lots of free content and resources to utilize along your way. Rather than a capped monthly credit, you have an automatic unlimited discount applicable to all H+S products (excludes occasional collaborative promotions). Join the Harbor + Sprout learning family!
Is Curio meant to be used in addition to my current subscription, or is it a replacement?
This depends on your personal prefernece and needs. With a more flexible membership infrastructure, we are setting the stage for expansive growth in our library and customer base. While you may currently use only one credit a month for an elementary unit and/or morning basket, you may soon find yourself torn as to what you'd like to choose in a given month with our growing product lines. With a Curio membership, you have the benefit of unlimited access to the Curio Member Exclusive Content Library even on months that you do not purchase any new resources and receive either 10, 30, or 50% off all resources you do purchase. If you purchase multiple items in a month, (for example, a morning basket, primary/elementary unit, a secondary unit, and a dramatic play set), this will result in significant savings over the course of a year.
You may also opt to keep your current subscription plan and join Curio as a Keen member to gain access to the community and Nature Study. The membership discount platform is much more simple and straightforward, with automatic discounts rather than credit redemption.
There are a few different scenarios, each of which offers different benefits. Consider how heavily you plan to use H+S products, whether you feel that connection and community would be beneficial to you, and if you'd like to take part in a Nature Journaling curriculum. Use this as your compass in deciding which option may be the best fit for you.
Is there a cancellation fee or required length of commitment?
You can cancel at any time, no fees. To avoid being charged again, be sure to cancel before your membership is set to renew. There is no specified length of commitment- you can join, cancel for a while to take a break, and come back anytime you're ready. Note that refunds cannot be given for memberships, but your membership remains active for the entire length of time that you've purchased it for regardless of when you cancel.