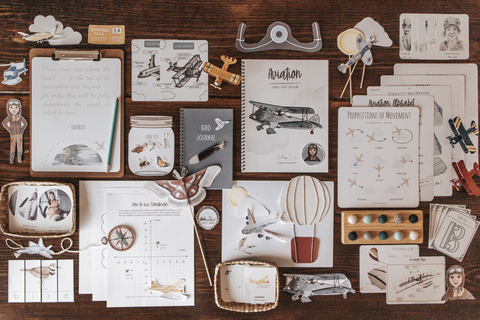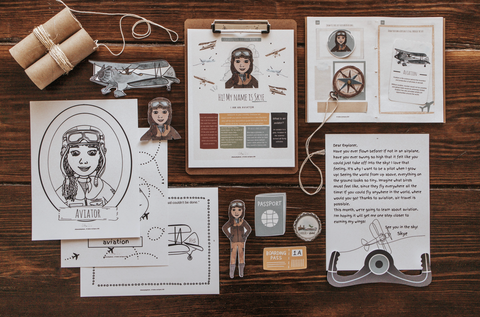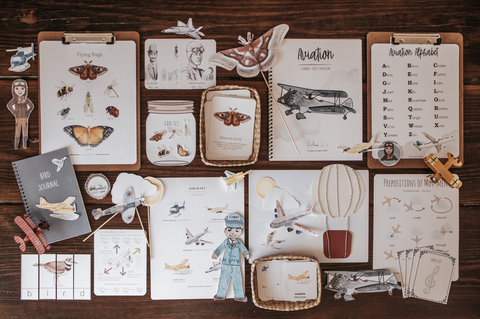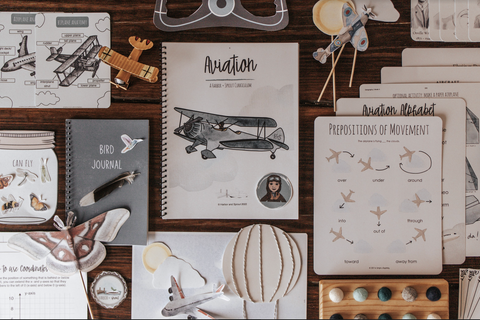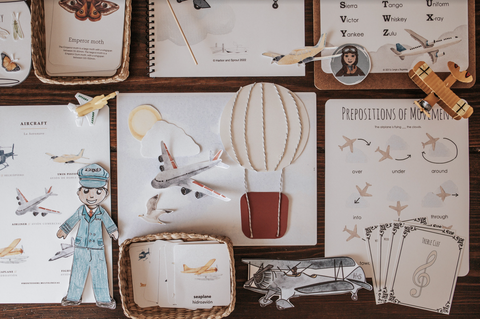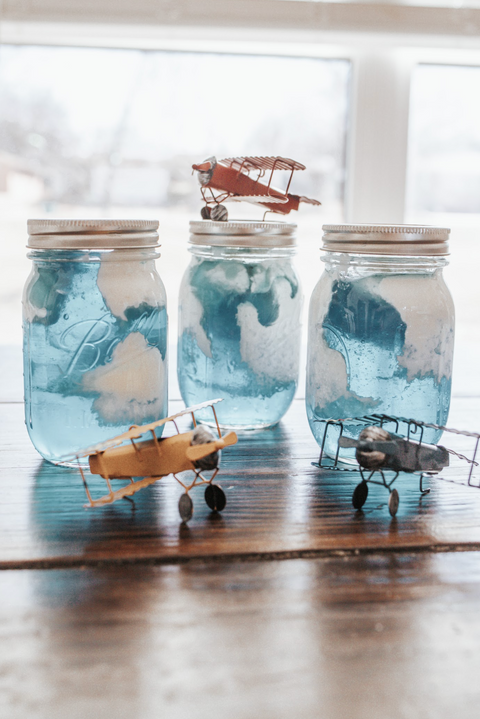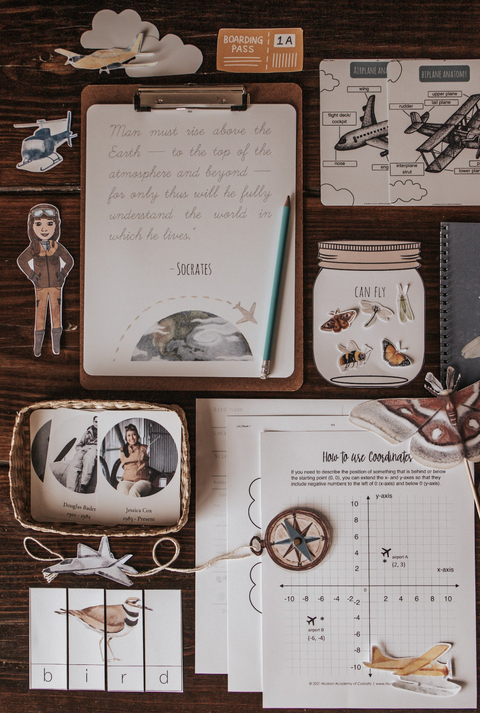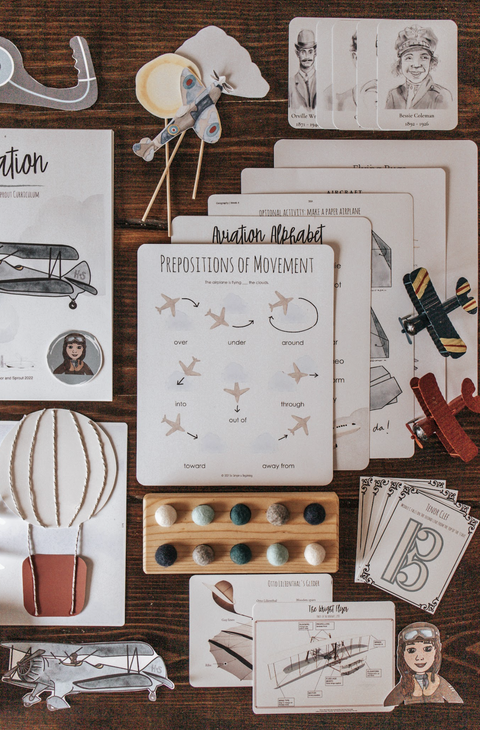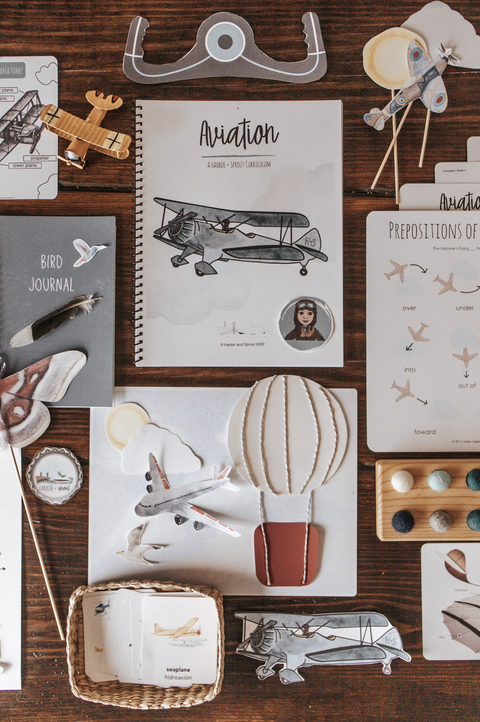 Harbor and Sprout
Aviation Elementary Unit Study
Welcome to the Harbor + Sprout Aviation Unit Study, the January 2022 release of our elementary level homeschool unit study curriculum. This unit study features 4 weeks of lesson plans and materials covering all 9 of our core subjects plus a playful supplemental section of thematic activities. This unit study is meant for use by children ages 3-12. 
This unit is delivered via a secure link as a digital download.
CONTENT:
Handbook
Daily, weekly, and monthly planning pages
Book list including stories, poems, and field guides with recommended ages, subject correspondence, and brief summaries for each title
Lesson plans for 4 levels of learning
Family read aloud with discussion guide and recipe
Character kit- new monthly character illustrated by Stephanie Groves to act as your guide through the unit
Science
Week 1: Forces of Flight
Week 2: Wonderful Wings and Extraordinary Engines
Week 3: Parts of a Plane
Week 4: Traffic Collision Avoidance Systems (TCAS)
Nature Study
Week 1: Bird Facts
Week 2: Bird Families
Week 3: Wing Anatomy
Week 4: Bird Matching
Language Arts
Week 1: "High Flight"
Week 2: Prepositions
Week 3: Aviation Alphabet
Week 4: Icons & Symbols

Writing
Week 1: Plan
Week 2: Travel Outline
Week 3: Travel Draft
Week 4: Final Document

History
Week 1: Early Gliders
Week 2: The First Flight
Week 3: Women in Aviation
Week 4: Jet Age
Geography
Week 1: Kansas, USA
Week 2: Maps
Week 3: People of the South Wind
Week 4: Kansas Aviation
Music
Week 1: Musical Notation
Week 2: Musical Flight School
Week 3: Music of the Wind
Week 4: Bird Song
Art
Week 1: Leonardo da Vinci
Week 2: Aerial Perspective
Week 3: Origami
Week 4: Hot Air Balloons
Math
Week 1: Coordinates
Week 2: Coordinates 2
Week 3: Food Addition Practice
Week 4: In Flight Dining
Supplement
Nature Activities
Anatomy of a Hummingbird
Aviation Clip Cards
Aviation in Nature Word Puzzles
Can and Can't Fly Sort
Flying Bugs Poster and Cards
Moth Puppets
Bird Coloring Page
Bird Mandala Coloring Page
Wellness & Quiet Time
Aviation 3 Part Cards (Spanish)
Airplane Anatomy
Aviation Paper Dolls
Aviation Play Dough Mats

Writing & Language Arts
Aviation Vocabulary
Spelling Practice
Active Spelling
Sky Spelling Puzzles
Word Family Cards
Words in the Clouds
Aviation Word Search
Elements Spelling Cards
Aviation Quotes and Copywork
Writing Prompts
Writing Reference Pages

Each lesson comes with a lesson plan split into 4 distinct levels of learning to help you use the materials for your child's individual needs. This allows for family-style learning for ages 3-12 and years worth of connection and education!
Simple Subscriptions
Get a discounted monthly credit to use on your H+S favorites