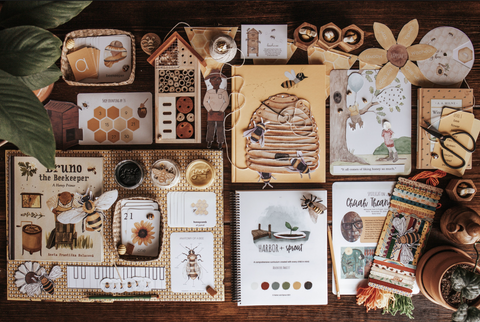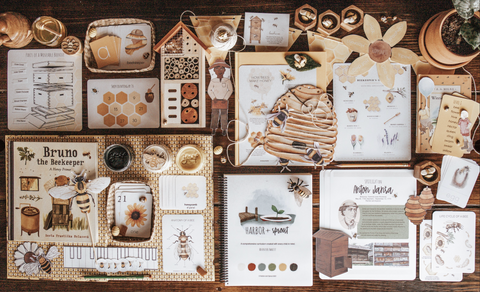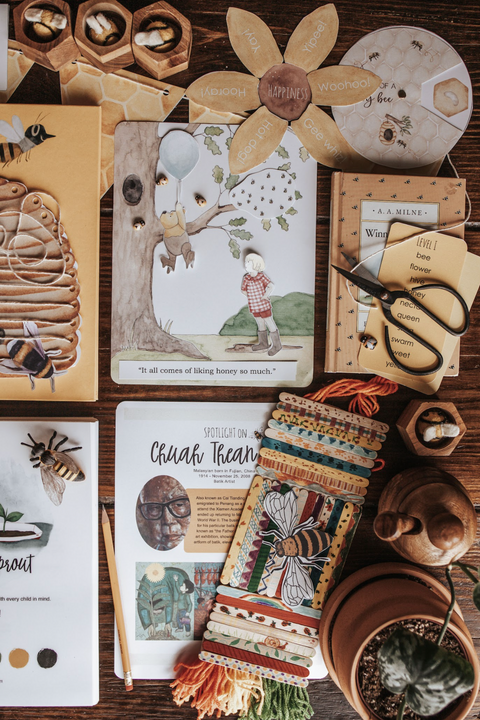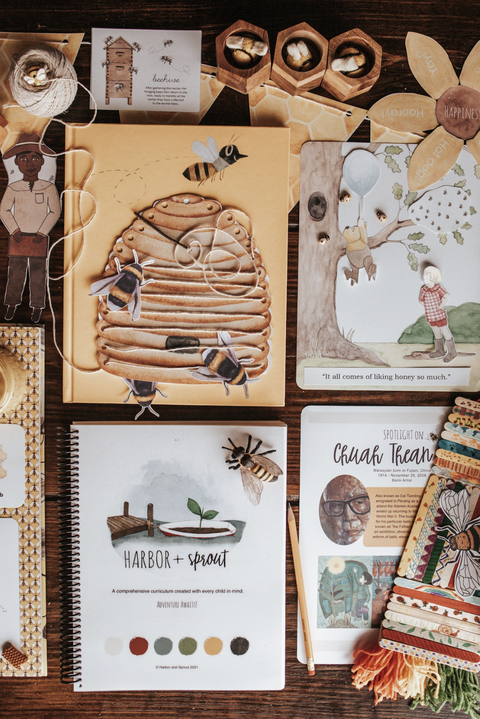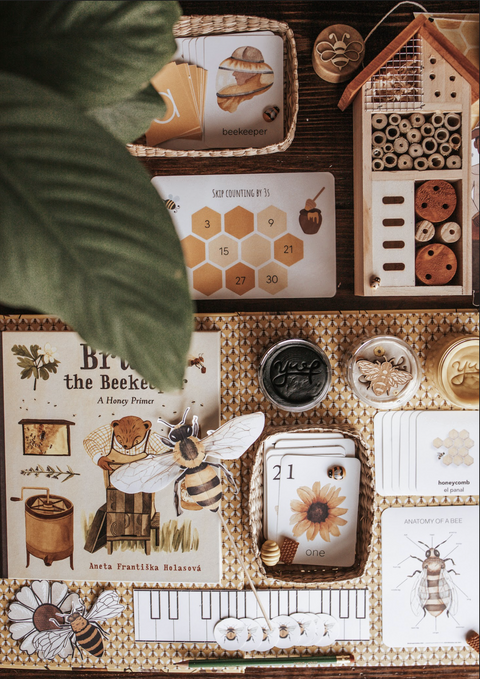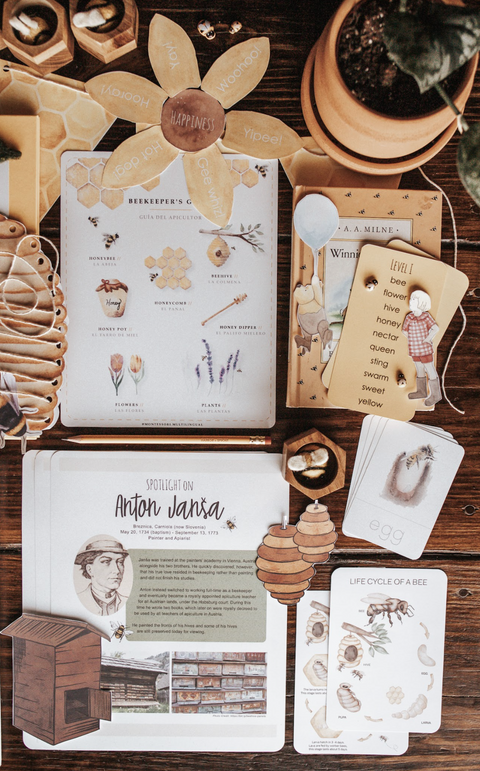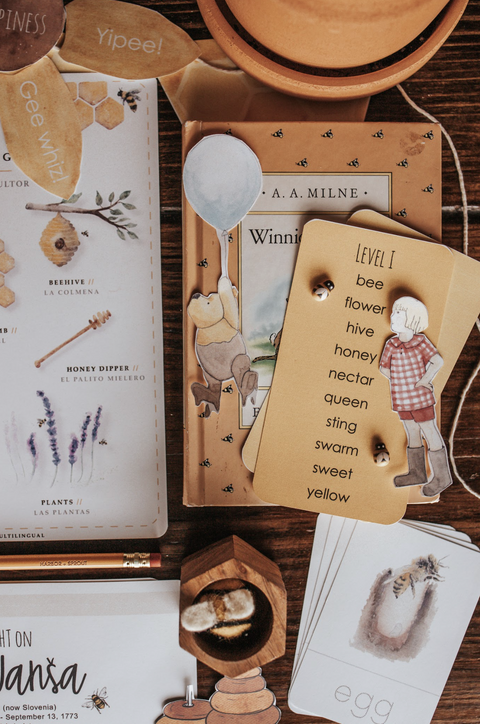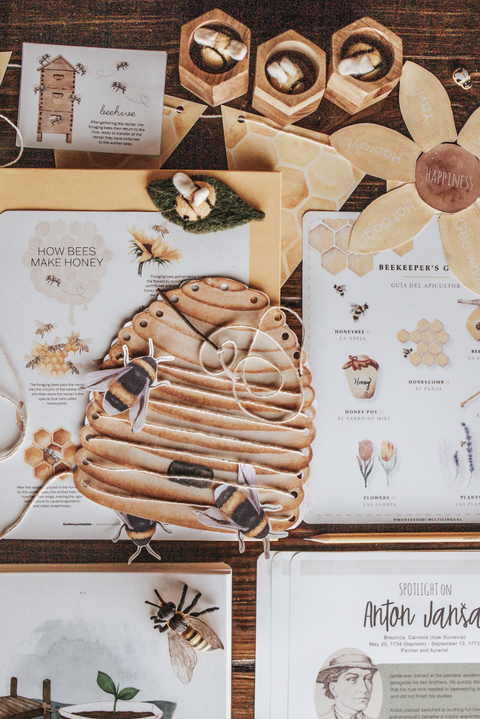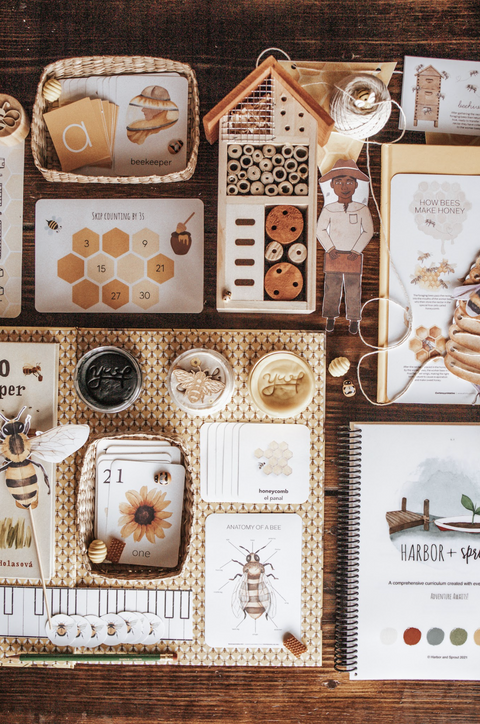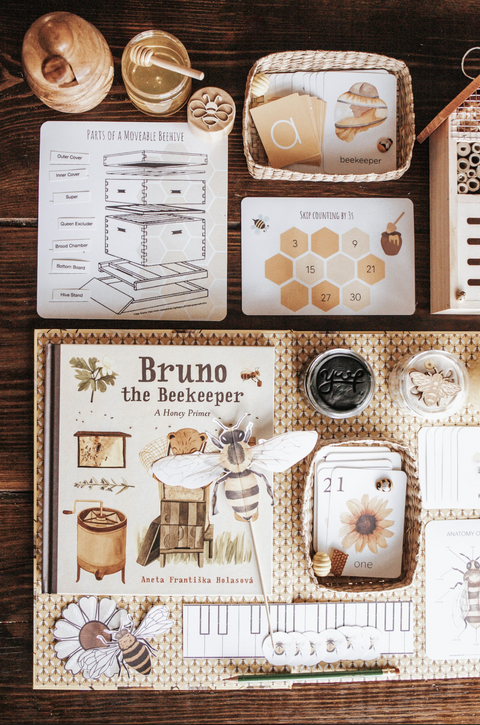 Harbor and Sprout
Beekeeping Elementary Unit Study
Welcome to the Harbor + Sprout Beekeeping Unit Study, the April 2022 release of our elementary level homeschool unit study curriculum. This unit study features 4 weeks of lesson plans and materials covering all 9 of our core subjects and a playful supplemental section of thematic activities. This unit study is meant for use by children ages 3-12. 
This unit is delivered via a secure link as a digital download. Shop our corresponding Morning Basket Pack by Rebecca Clarke of Whimsy Printables here!
CONTENT:
Handbook
Daily, weekly, and monthly planning pages
Booklist including stories, poems, and field guides with recommended ages, subject correspondence, and brief summaries for each title
Lesson plans for 4 levels of learning
Family read aloud recommendations
Character kit- new monthly character illustrated by Stephanie Groves to act as your guide through the unit
Unit Recipe 
Supply List
Science
Week 1: Bee Anatomy & Life Cycle
Week 2: Inside the Hive
Week 3: The Chemistry of Honey
Week 4: Pollination, CCD, & Equipment
Nature Study
Week 1: Honey Bee Identification
Week 2: Honey Bee Vision
Week 3: Honey Bee Communication
Week 4: Honey Varieties
Language Arts
Week 1: Winnie - the - Pooh
Week 2: Interjections
Week 3: Anthropomorphism
Week 4: Puns

Writing
Week 1: Plan
Week 2: Write
Week 3: Revise & Storyboard
Week 4: Illustrate

History
Week 1: Honey Stealing
Week 2: Beekeeping in Ancient Egypt
Week 3: History of Beehives
Week 4: Indigenous Honey Bees
Geography
Week 1: Bolivia
Week 2: Maps
Week 3: Bolivia: Land of Diversity
Week 4: Bees in Bolivia
Music
Week 1: Bee Friendly Music
Week 2: Wing Music & Percussion Sounds
Week 3: Sweet as Honey: Tonality
Week 4: Bee Happy
Art
Week 1: Hexagonal Patterns
Week 2: Tactile Process Art
Week 3: Exploring Batik
Week 4: Mixed Media Collages
Math
Week 1: Busy Bee Shapes
Week 2: Busy Bee Counting Games
Week 3: Number Bonds
Week 4: Sum Flowers
Supplement
Nature Activities
Anatomy of a Bee Activity
Bee Alphabet Letter Cards
Bee Coloring Sheets
Bee Memory Game
Bee Number Cards
Bee Tangram Puzzle
Flying Bee Puppet
How Bees Make Honey
Life Cycle of a Bee Pack
Life of Bees Cards

Wellness & Quiet Time
Bee Joke Book
Beekeeper Notes Pun Cards
Beekeeper's Guide (Spanish)
Bee Royalty Crown Templates
Writing & Language Arts
Beekeeping Vocabulary
Spelling Bee
Word Searches
B is for Bee
Beekeeping Copy Work
Bee Poetry
Writing Reference Pages
Spelling Puzzles and Cards
Each lesson comes with a lesson plan split into 4 distinct levels of learning to help you use the materials for your child's individual needs. This allows for family-style learning for ages 3-12 and years worth of connection and education!
Simple Subscriptions
Get a discounted monthly credit to use on your H+S favorites