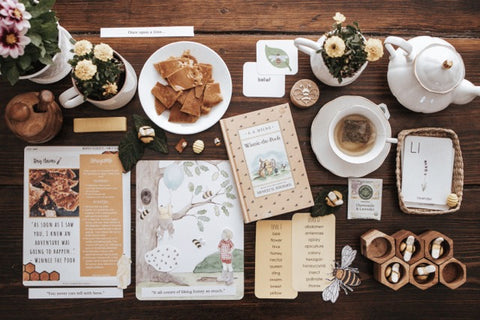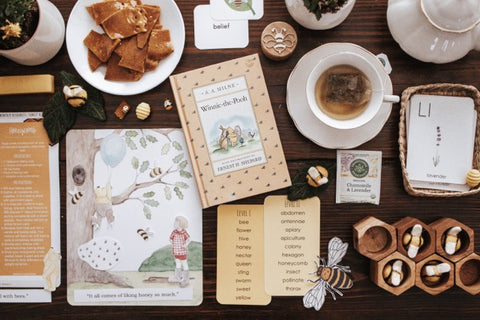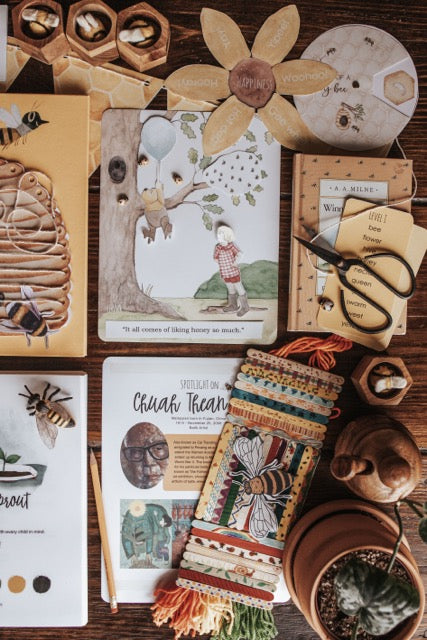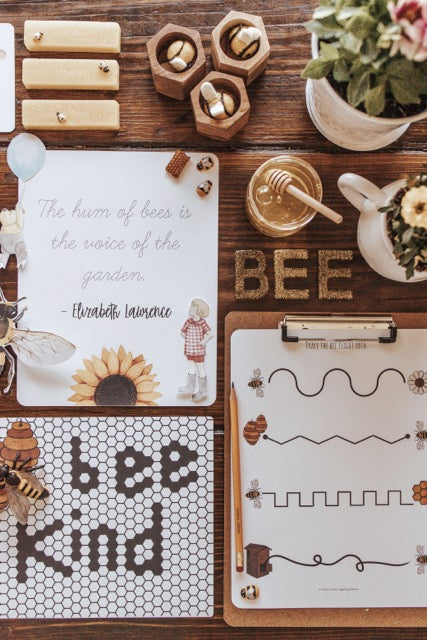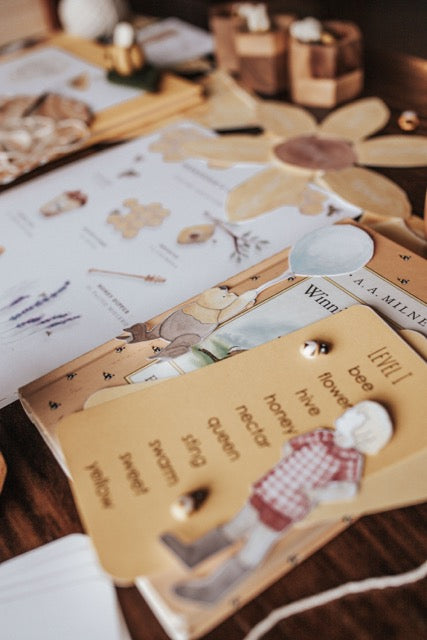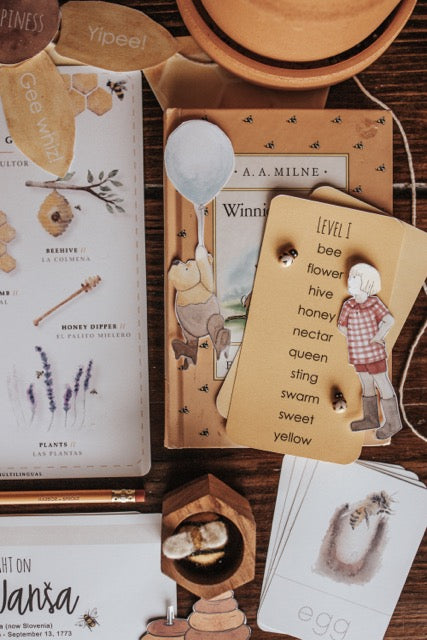 Harbor and Sprout
Beekeeping Language Arts & Writing
These lessons are included in our Beekeeping Unit Study.
Discover language and writing through the lens of a beekeeper with this in-depth, engaging guide by Amber of So Simple a Beginning. This study includes four Language Arts modules, four Writing modules, Spelling and Vocabulary, and additional resources for language exploration:
Language Arts Module 1: Winnie-The-Pooh
Listen to the story of 'Winnie-the-Pooh and Some Bees'

Enjoy a new teatime recipe
Discover new vocabulary
Converse about the story
Make your own honeycomb bunting to decorate for your tea party with Pooh, or use it to decorate your homeschool space 
Reenact the story of Winnie-the-Pooh with loose parts pieces and the play mat
Summarize the story in your own art and/or words
Use the study story as a guide to help you further understand and analyze the story
Fill Pooh's honey pots with honey however you'd like
Language Arts Module 2: Interjections
Learn the function of interjections and learn to use them in a sentence

Spot interjections in sentences 
Make your own flower garden of interjections
Fill in flower petals with interjections
Invent interjections of your own for given scenarios
Language Arts Module 3: Anthropomorphism
Learn the meaning and purpose of anthropomorphism in storytelling
Anthropomorphize a bee
Learn about the power of anthropomorphism
Discuss and record your thoughts about the reasoning behind anthropomorphism
Write and illustrate a story about an anthropomorphic bee
Language Arts Module 4: Puns
Learn what puns are and how to write your own
Watch a video about puns and see some "punny" examples
Write your own punny bee kind cards
Read through puns and find the word with double meanings in a "what's so punny" activity
Write your own puns using the double-meanings provided
Guess the meanings of visual puns
Illustrate puns of your own
Guided Writing Project: Write and illustrate your own picture book as you follow along with writing templates and prompts.
Module 1: Plan your writing- determine your story's characters, setting, and conflict
Module 2: Outline your story and write your first draft
Module 3: Revise and Storyboard- edit, proofread, and create a storyboard for your illustrated picture book
Module 4: Illustrate your story, write your final draft, and design your cover
Additional Language Arts Materials:
Beekeeping vocabulary

Spelling BEE
Spelling cards and strip puzzles
Word family spelling
Word searches
Bee copywork
Bee poetry exercise
These lessons may be completed over the course of one month with one module per week, or more quickly or slowly depending on personal preference. This is a digital download and the files will be delivered via email upon purchase. Enjoy your exploration of language and writing through beekeeping!
Simple Subscriptions
Get a discounted monthly credit to use on your H+S favorites