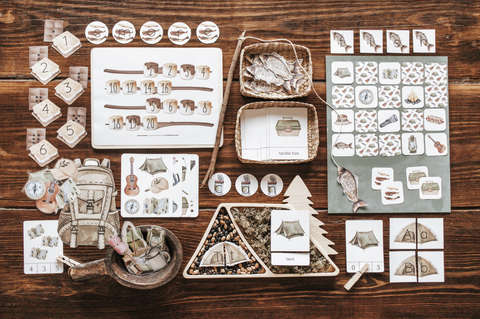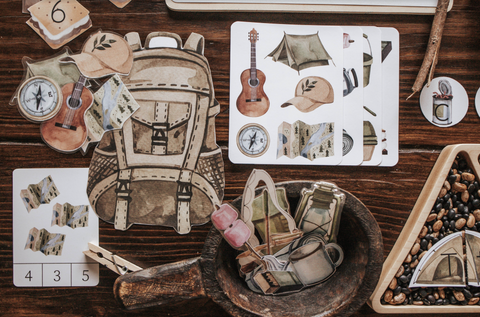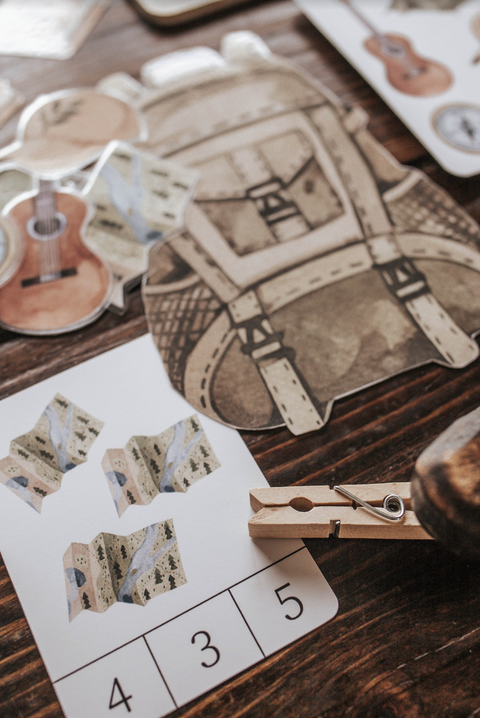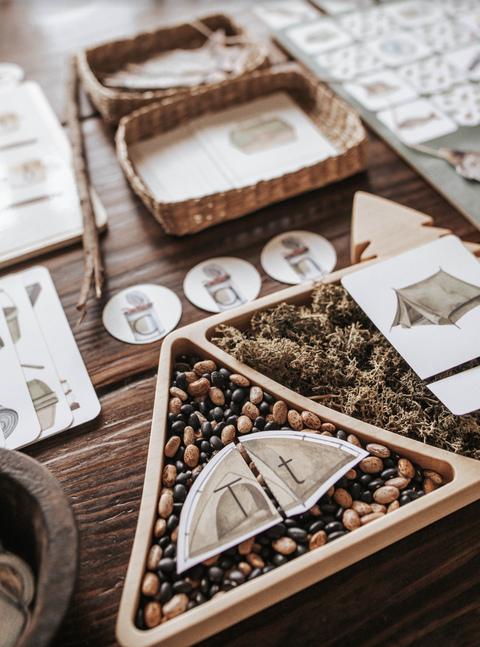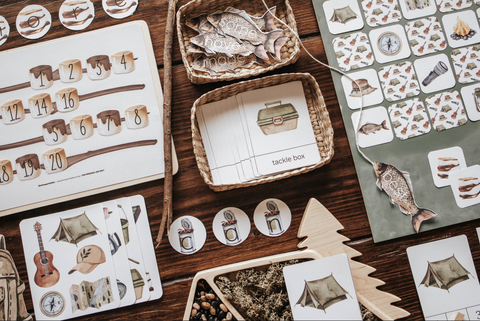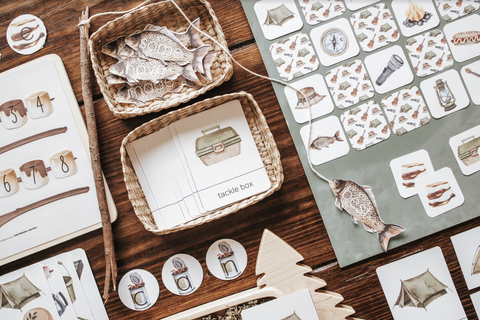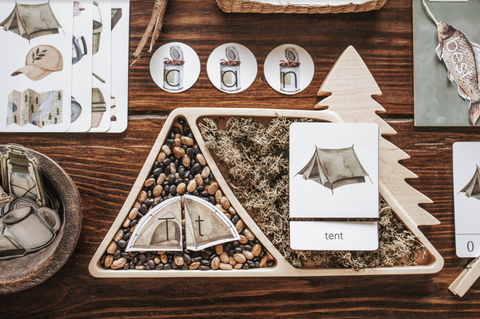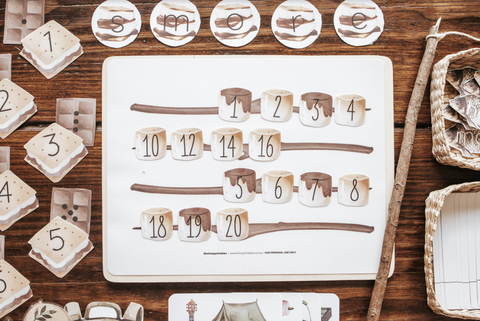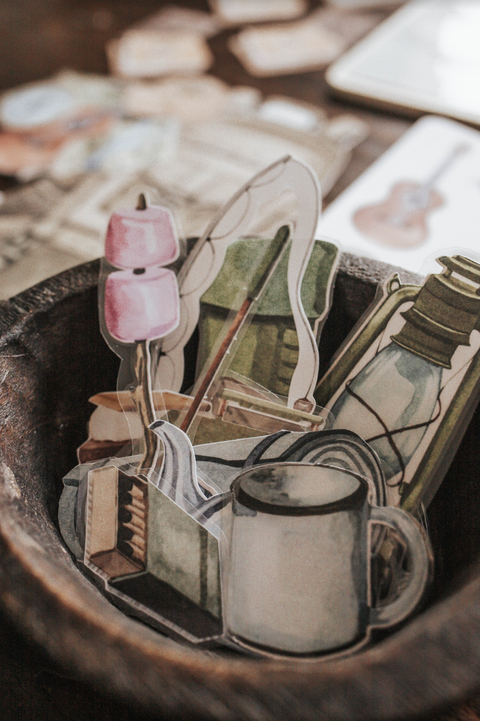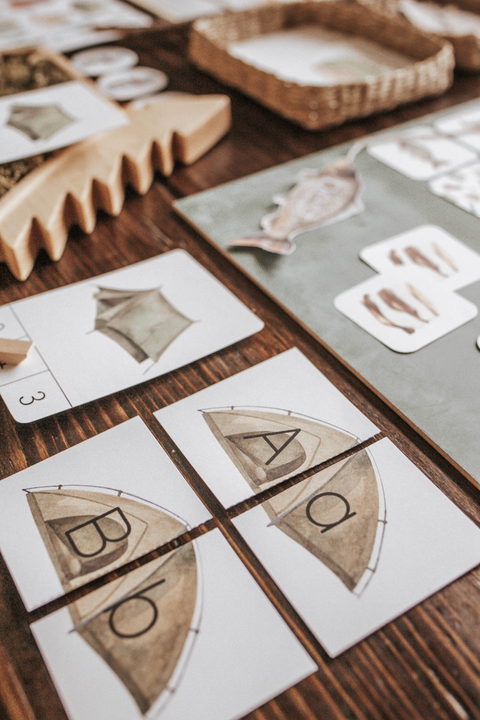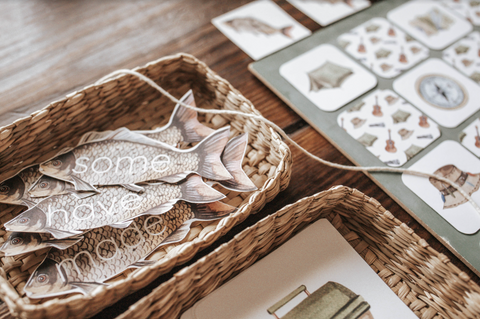 Harbor and Sprout
Camping Morning Basket
Our themed printable morning basket sets, created by Rebecca Clarke of Whimsy Printables, are full of fun, hands-on learning activities geared towards 2-6 year olds, but can be used with older children too. These sets can be used in tandem with H+S units or enjoyed independently as stand-alone activities. They are also great to keep younger children busy while their older siblings work through their units! Shop our unit studies here.
Here's what you'll find inside the Camping Morning Basket:
Alphabet Sheets: A collection of alphabet sheets that can be used in many ways. Color, paint, or use small nature objects to fill in the alphabet letter. 

Number Clip Cards: A number clip activity where children count the number of images and clip the correct number on each card.

Three Part Flash Cards: A set of camping related 3 part vocabulary cards for learning fun.

Memory Game: A fun memory game for the whole family to enjoy.

S'More Number Match: A fun and delicious number matching game! Count the dots on each piece of chocolate and find the matching s'more number!

Camping Words to Build: A set of camping themed words to build. 

Coloring Sheets: A selection of fun coloring sheets for the whole family to enjoy.

Fishing for Sight Words: A super fun fishing activity that will really engage your learners!

Lacing Cards: A set of super easy prep lacing cards. You can use wool, string, or even a shoelace for lacing these cards.

Number Match: A number recognition and counting game for the littlest of learners.

Packing List: A fun matching game where children follow the list and find the matching pieces to pack their backpack for camping!

Playdough Mats: Cut out and create your own camping scenes!

Marshmallow Numbers: A counting and number order activity. Place the marshmallows on their stick in number order, ready for toasting!

Snipping Strips: A cutting activity where children can snip along the lines on each card.

Stacking S'mores: A delicious game that will make you hungry! Children follow the s'more cards and place their pieces in the order specified on each card to make their own s'mores!

Tracing Words: A set of camping related vocabulary word cards to trace.

Upper and Lower Case Match: A fun game to match the upper and lower case letters of the alphabet.
This morning basket is delivered as a digital, printable pack and is sure to delight and engage learners, camping enthusiasts, and nature lovers of all ages!
Simple Subscriptions
Get a discounted monthly credit to use on your H+S favorites