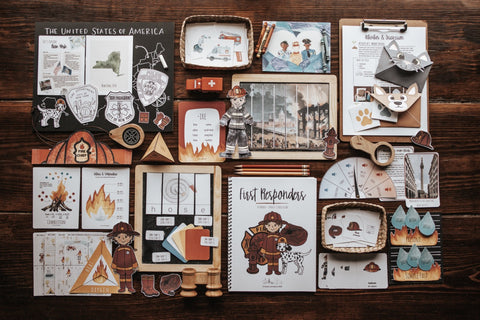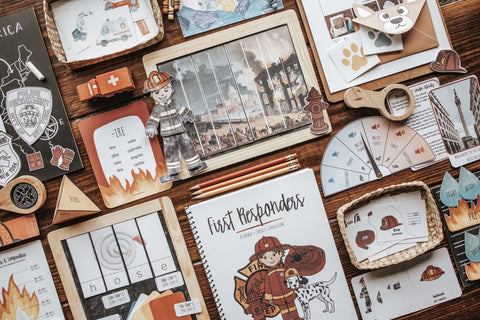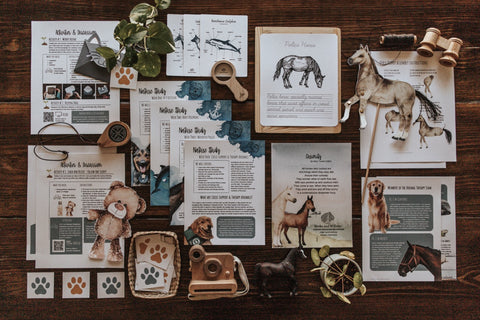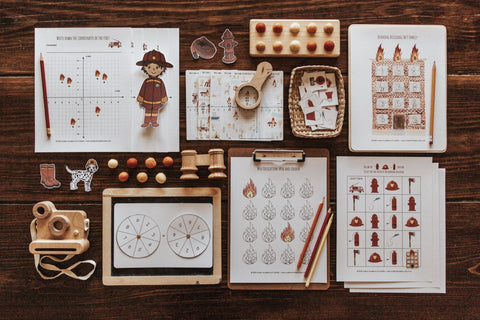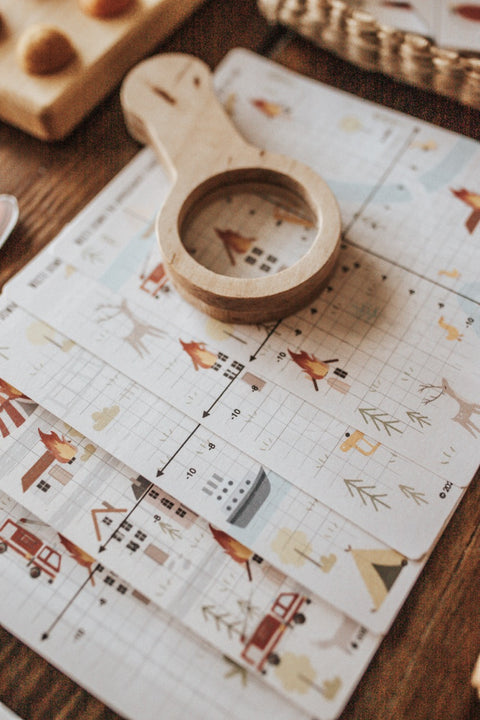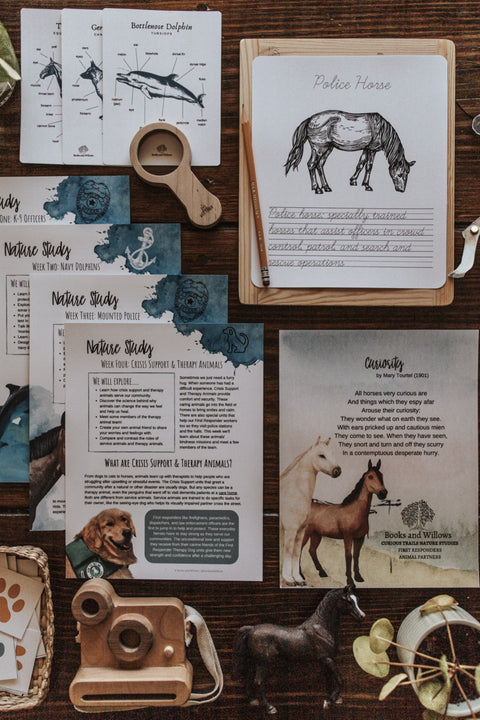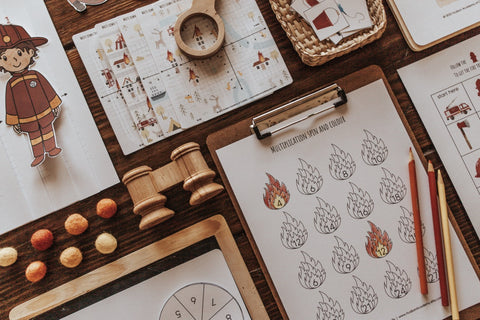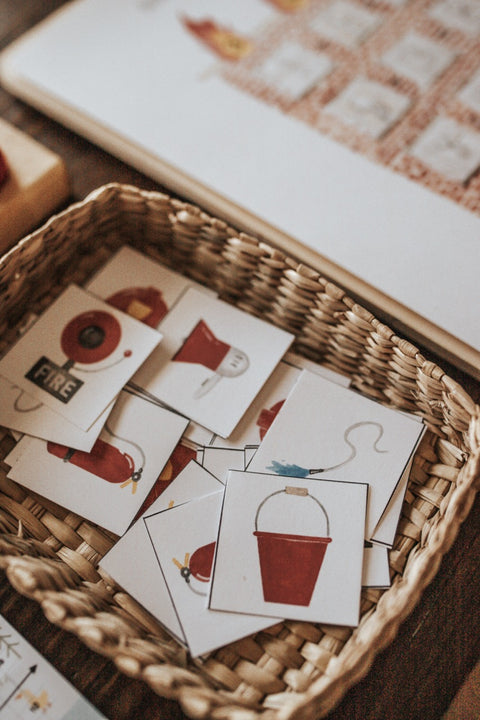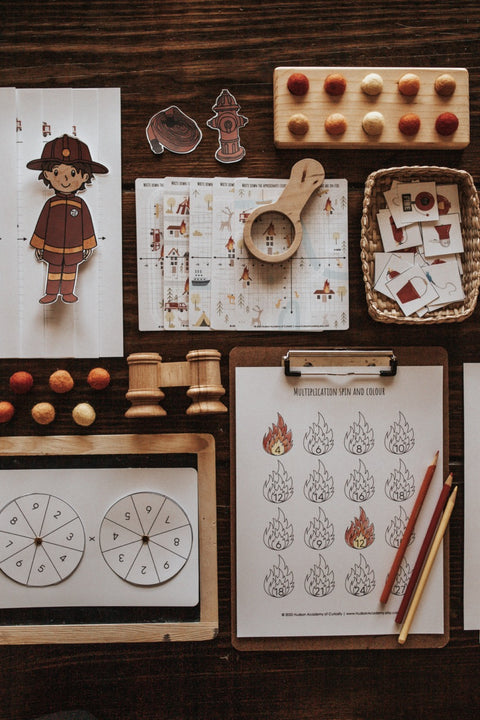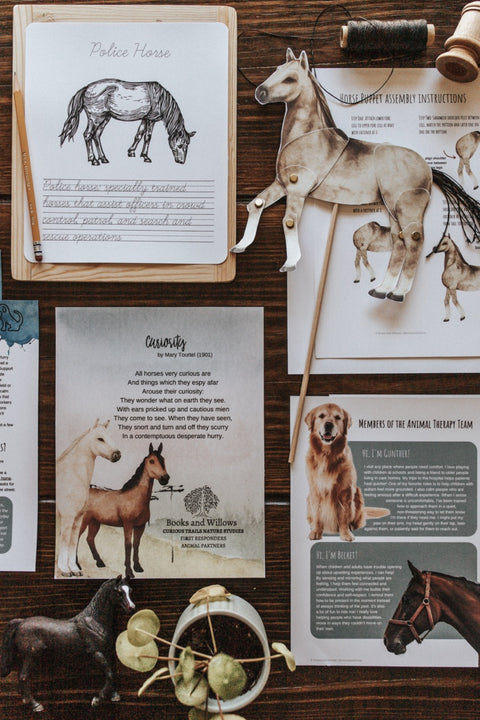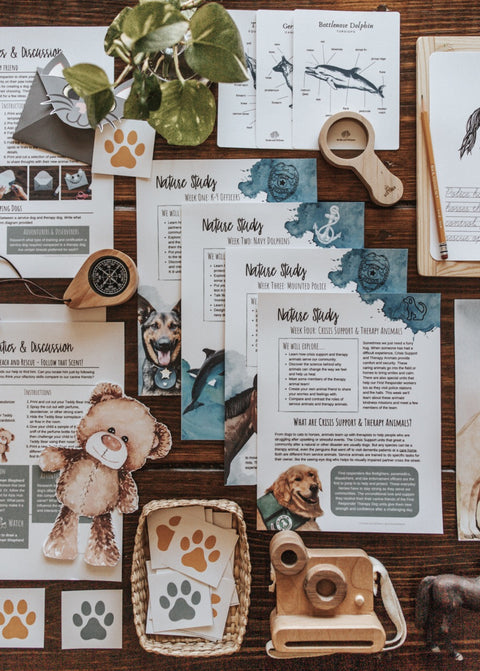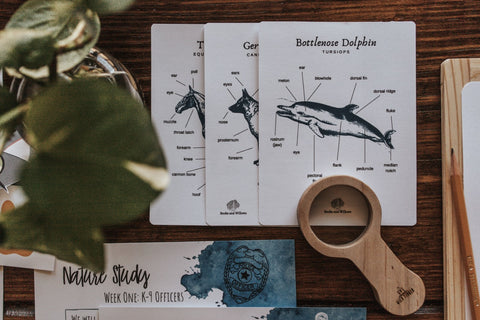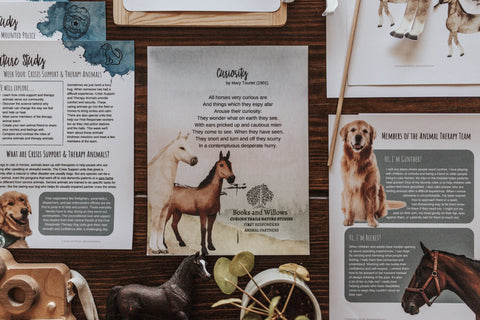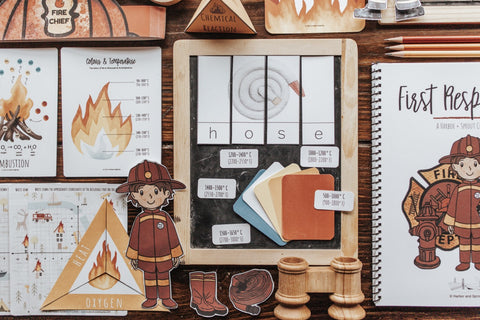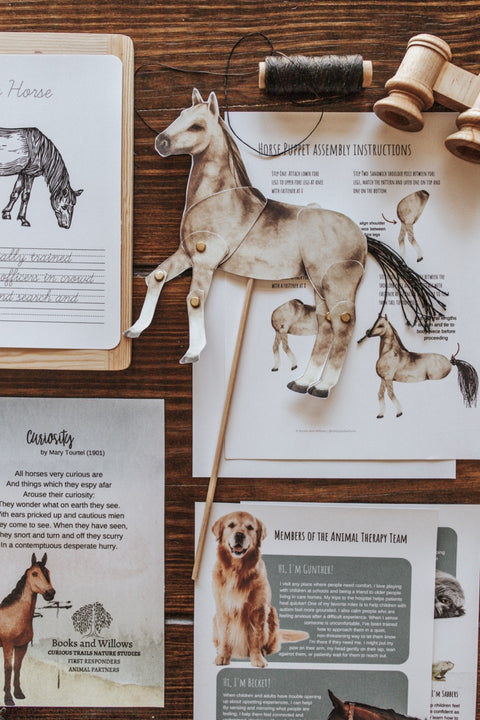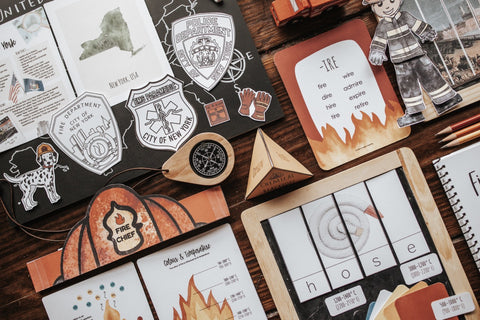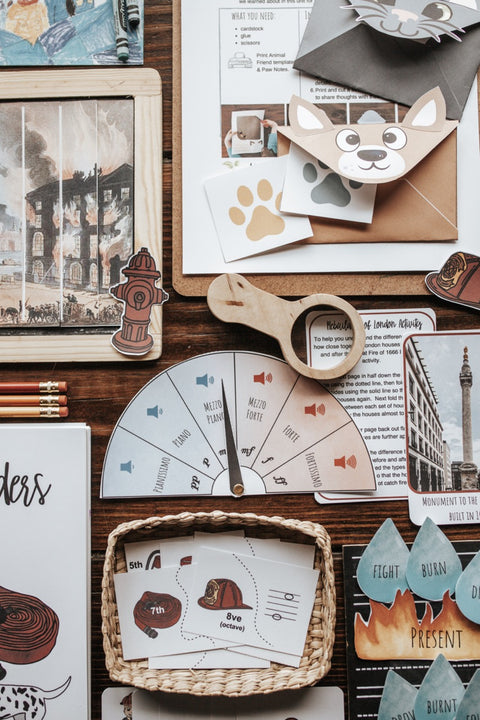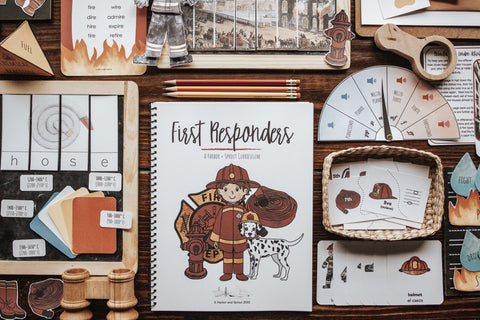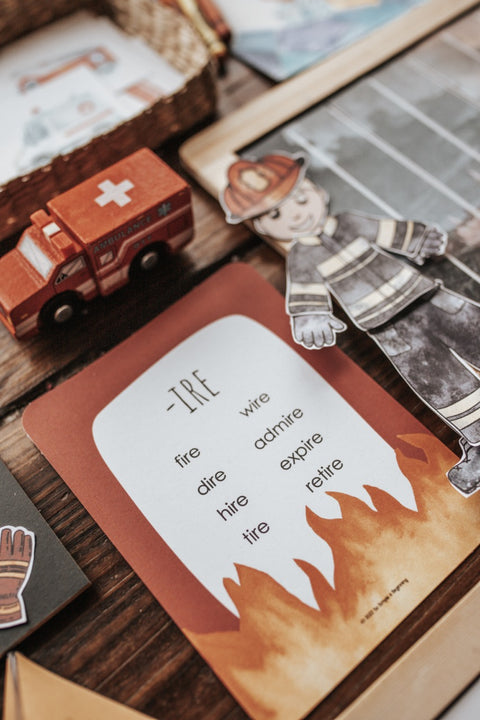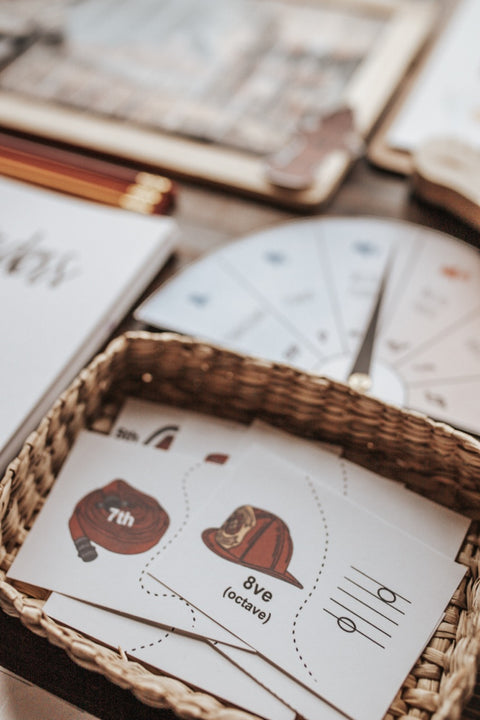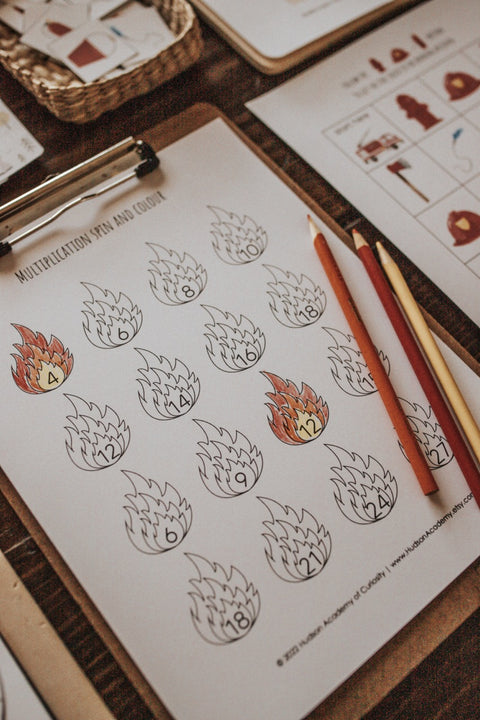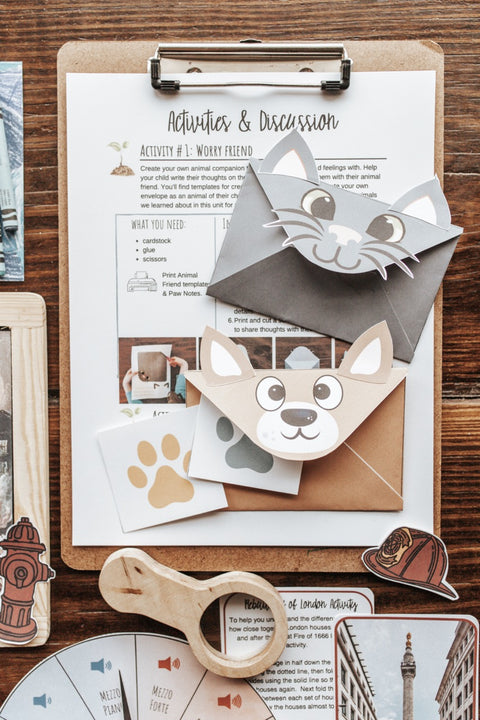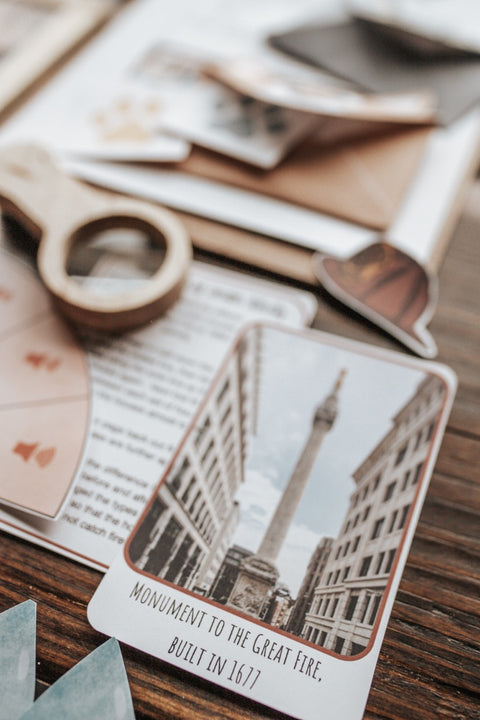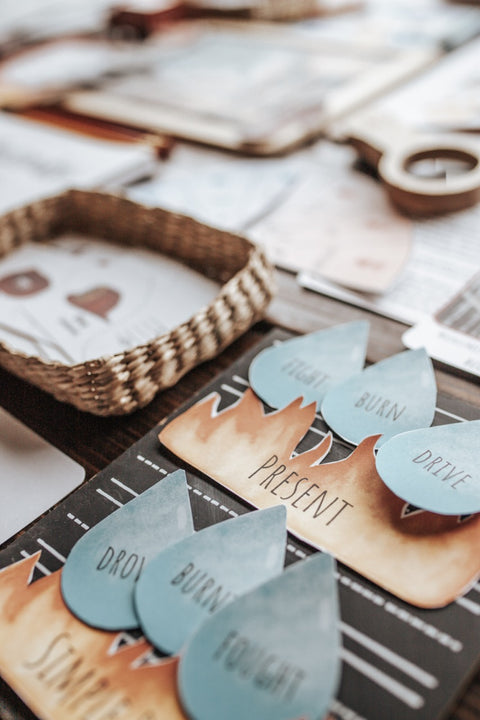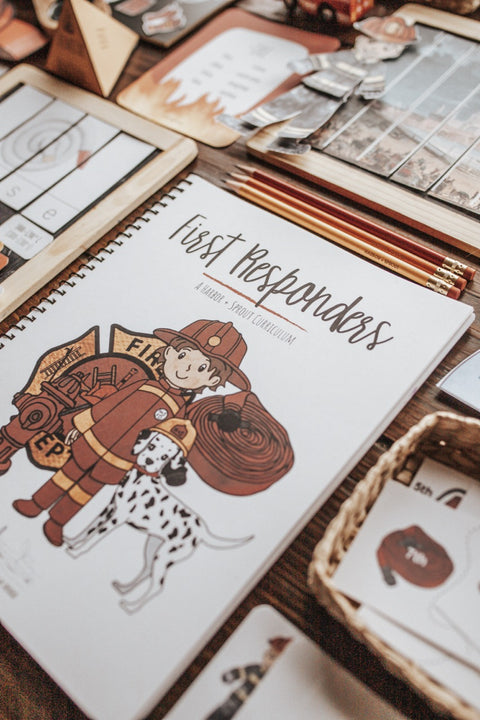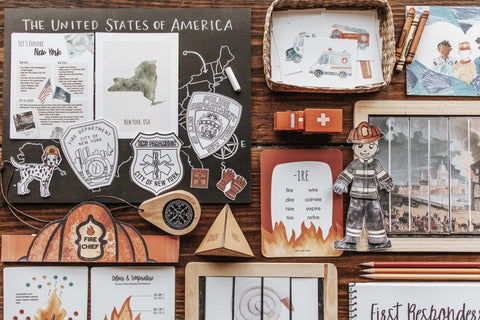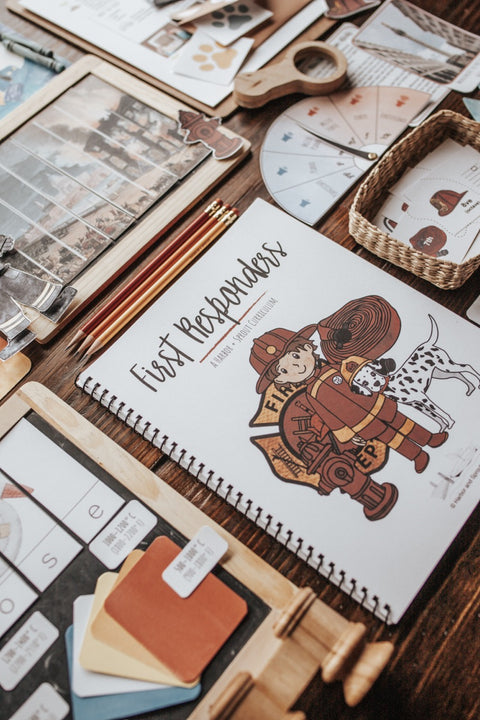 Harbor and Sprout
First Responders Elementary Unit Study
Calling all first responders! Get ready to explore the science of fire, rescue and helper animals, historic fires, emergency responders of all kinds, and so much more with the December 2022 release of our elementary level homeschool unit study curriculum. This unit study features 4 weeks of lesson plans and materials covering all 9 of our core subjects plus a playful supplemental section of thematic activities. This unit study is meant for use by children ages 3-12. 
This unit is delivered via a secure link as a digital download. Shop our corresponding Morning Basket Pack by Rebecca Clarke of Whimsy Printables here!
CONTENT:
Handbook
Daily, weekly, and monthly planning pages
Booklist including stories, poems, and field guides with recommended ages, subject correspondence, and brief summaries for each title
Lesson plans for 4 levels of learning
Family read-aloud recommendations
Character kit- new monthly character illustrated by Stephanie Groves to act as your guide through the unit

Unit Recipe 

Supply List
LESSONS
Science
Week 1: What is Fire?:

Find out what fire is and the chemical reactions that make it happen.

Take notes on a TedEd video linked in the QR code.

R

ecreate a combustion reaction.

Light a candle and describe fire using your five senses.

Fill in your

Fire Observation

worksheet with adjectives.

Week 2: The Fire Triangle: Discover which three things every fire needs in order to burn.

Watch a video about the science of fire.

Use cutouts to sort objects into fuel, oxygen, and heat.

Complete a Fire Triangle Puzzle.

Explore the fire triangle further with experiments about each part of the fire triangle.

Week 3: Color and Temperature: Learn which colors in a fire represent which temperatures.

Use cut-out labels to label the temperatures of fire.

Place color cards in order from coolest to hottest.

Safely light a candle and observe its colors.

Fill out a Temperature Estimation worksheet with the colors in your candle fire.

Week 4: Microplastics:

Read the fire safety tips.

Watch the QR code to find out how to create a home fire escape plan.

Draw your fire escape plan on the sheet provided.

Watch the QR code on how to stop, drop, and roll.

Complete the copy work and color the fire truck.
Nature Study
Week 1: K-9 Officers:

 Discover

 what a K-9 unit is.

Learn how K-9 units serve and protect our communities. Explore a German Shepherd's anatomy and the olfactory system that gives them their remarkable sense of smell!

Put your own search and rescue skills to the test using only your nose to find the lost teddy bear!

Discover how police badges are made, and create your own design for a new K-9 unit.
Week 2: Navy Dolphins: Learn how navy dolphins serve and protect our communities.

Explore a Bottlenose Dolphin's amazing sonar skills.

Put your own echolocation skills to the test in this week's game.

Talk like a dolphin with your DIY 'monkey lips'!

Learn about dolphin anatomy. Design surveillance equipment for the navy dolphin unit.
Week 3: Mounted Police:

Learn how police horses serve and protect our communities.

Explore a horse's anatomy, how horses move, and the secrets behind their strength and speed.

Role-play with your new moveable horse puppet.

Discover how the force of elastic energy propels a horse forward.

Week 4: Crisis Support and Therapy Animals:

Learn how crisis support and therapy animals serve our community.

Discover the science behind why animals can change the way we feel and help us heal.

Meet some members of the therapy animal team.

Create your own animal friend to share your worries and feelings with.

Compare and contrast the roles of service animals and therapy animals.
Language Arts
Week 1: Emergency Words:

Learn about the -ire word family.

Study emergency vocabulary.

Choose a word to focus on and describe.

Choose emergency words to learn to spell.

Use the fire letters to help you practice spelling vocabulary words.

Complete the word search.

Research the origin of your favorite emergency word.

Write a story about a first responder saving the day.

Week 2: Ode to Our Firemen:

Read or listen to the poem "Ode to our Firemen."

Enjoy a poetry teatime as you listen to the poem.

Summarize the poem in your own words.

Answer the poetry study questions.

Color the letter "F".

Complete the copy work and writing practice.

Week 3: Irregular Verbs:

Discover what irregular verbs are and how to make irregular verbs past tense.

Study the irregular verb list.

Write sentences using irregular verbs in present and past tense.

Sort the irregular verb cut-outs.

Correct the mistakes in the

Fire Station Visit

worksheet.

Week 4: Story Cards: 

Choose five story cards at random and use the to write a story.

Play a game to create a story as a group.

Choose three story cards and assign them as the beginning, middle, and end of your story.

Then write your story on the sheets provided.
Writing
Week 1: Letter Writing:

Discover how and why we write letters.

Listen to two fun books where the characters are writing letters.

Learn about the parts of a letter and find out how to open and close a letter.

Use the included template to write your own letter.

Week 2: Informal Letter Writing:

Learn how to format and write informal letters.

Read examples of informal letters.

Choose a letter writing prompt.

Write your own letter.

Week 3: Formal Letter Writing: Learn how to format and write formal letters.

Find out how informal letters are different than informal letters.

Read the examples of informal letters.

Choose a letter writing prompt. Write your own letter.

Week 4: Addressing Envelopes: Discover how to write an address and the proper way to address an envelope.

Complete the Addressing Envelopes Practice worksheet.

Then practice writing your own address.

Design your own postage stamp.

Finally, put your letter-writing skills to the test and write a letter to a friend or family member asking them to be your pen pal.

 
History
Week 1: Linen: Firefighter History: Consider what you already know about first responders by filling out the first responder worksheet.

Learn the role of first responders.

Read about the history of firefighters.

Study the fire engine timeline.

Color the fire department symbol then design your own fire department symbol.

Week 2: Great Fire of London: Study the Great Fire of London.

Read about how it started and how it changed the city.

Learn about the song "Scotland, It Burneth" and the many variations of that song.

Create a fire tetrahedron and use it to explain the elements that caused the Great Fire of London to spread so quickly.

Fill out the Fire Tetrahedron worksheet.

Week 3: Emergency Medical Care: Learn how emergency medical care has changed and developed throughout history.

complete the Emergency Medical Care worksheet.

Help the ambulance get to the hospital through the Rescue Maze.

Color in the ambulance and paramedic coloring pages.

Week 4: Law Enforcement: Explore how law enforcement has changed throughout history.

Discover how Paris became the city of lights.

Color your own city of lights.

Complete the police car coloring page.

Create your own police badge.

Fill out the first responders Venn diagram.
Geography
Week 1: New York, USA: Discover some interesting facts about New York, USA including its state motto, state song,

its geography, and the special nicknames the state gives to its first responders.

Learn about the symbolism on the New York coat of arms.

Color the coat of arms.

Test your knowledge of New York facts with the included trivia cards.

Week 2: Maps: Trace the continent of North America and the state of New York.

Locate North America and the Pacific Ocean on the map.

Color in the state of New York on the map, then locate the states that surround New York.

Cut out the labels and use them to label the map of New York.

Label the blank map of New York.
Week 3: The Haudenosaunee: Discover the history of the 5 tribes of the Haudenosaunee people.

Learn about their culture and their fight to keep their land.

Explore how and why Wampum Belts are created.

Create your own Wampum Belt.

Week 4: New York's Finest, Bravest, and Best: Learn about New York's finest, bravest, and best.

Read about the 9-11 terrorist attacks on New York City and the role first responders played in the aftermath of those attacks. Complete the copy work. Color and cut out the first responder badges.
Music
Week 1: Static Dynamics: Discover what dynamics are in music, and learn the terms used in music to describe dynamics.

Study the dynamics chart, then cut and paste the labels into your own dynamics chart.

Create a Dynamics Dial and use your dial to play games that help you practice dynamics terms.

Week 2: Changing Dynamics: Study the musical terms crescendo, diminuendo, and decrescendo.

Use your Dynamics Dial to create play games practicing changing dynamics.

Cut and paste the dynamics terms into the crescendo and decrescendo worksheet.

Complete the Dynamics Review worksheet to practice all the dynamics terms you've learned the last two weeks.

Week 3: Intervals: Explore musical intervals.

Learn how to count musical intervals on the staff and the terms to describe each interval.

Use the interval puzzles to practice naming intervals.

Complete the Interval Practice worksheet.

Week 4: Water and Sound: Learn how water travels through sound.

Then, create your own water instrument to experiment with water and sound pitch.

Discover the Haudenosaunee water drum.

Learn how it is made.

Color the Haudenosaunee water drum coloring page.

Then complete the cross word to review what you've learned this month!
Art
Week 1: First Responders:  Study the artist spotlight on Eduardo Kobra.

Create a first responders heart.

Use your artistic skills to make a word art wave.

Practice cutting or tracing the lines for the first responder vehicles.

Design a first responder badge.

Create a thank you project for first responders.

Color the coloring page.

Week 2: Fire:  Explore artwork done by Georges Seurat.

Build a fire using chalk pastels.

Color the coloring pages. Create a marble fire with shaving cream and paint. Melt crayons to create the effect of a fire. Create a pointillism fire badge. Using chalk, go outside and create a firefighting scene.

Week 3: EMS/Paramedics: Learn about the artist Gabriel Emile Edouard Nicolet.

Create a Star of Life project using watercolor paper and watercolor pencils. Solve the ambulance maze. Make a painted paper ambulance.

Color the coloring page.

Create an EKG heart line with crayon and watercolor.

Enjoy making a Star of Life doodle art project.

Week 4: Police: Explore work by the artist George Rodrigue.

Create a pop art bobby hat.

Make a Rodrigue-inspired blue K-9 using paint.

Learn how to make wet-on-wet process art.

Sculpt your own police badge from air-dry clay, and paint it.

Design your own police badge. Color the coloring pages.

Create your own mugshot and write a story about it.
Math
Week 1: Coordinates: Explore the graph.

Discover its x-axis and y-axis.

Learn how to plot coordinates on a graph.

Practice identifying coordinates on a graph.

Week 2: Coordinate Shapes:  On each graph, practice plotting the coordinates that are given.

Then, see if you can identify the shape that you made.

Week 3: Burning Building Fact Families: Learn what a fact family is.

Then, on each burning building use the numbers to fill in the fact family equations.

Use dice to roll numbers to create a new fact family and fill out the worsheet.

Week 4: Math Games: 

Use the multiplication spinners to find numbers to multiply.

Then find the fire with the corresponding number and color it in.

Follow the patterns given in the

Fire Rescue Pattern

game to help get the firetruck to the burning building.

 
Supplement
Nature Activities
Fire Away Noun or Verb?

Firefighter Coloring Pages

First Responders Math Cards
First Responders Memory Match
Parts of a Fire Truck
Spin and Graph
Word Puzzles
Words to Build
Wellness & Quiet Time
Firefighters 3 Part Cards (Spanish)
Firefighters Labeling (Spanish)

Firefighters Paper Dolls
Fire Chief Helmet Craft
First Responders I Spy
Each lesson comes with a lesson plan split into 4 distinct levels of learning to help you use the materials for your child's individual needs. This allows for family-style learning for ages 3-12 and years worth of connection and education!
Simple Subscriptions
Get a discounted monthly credit to use on your H+S favorites