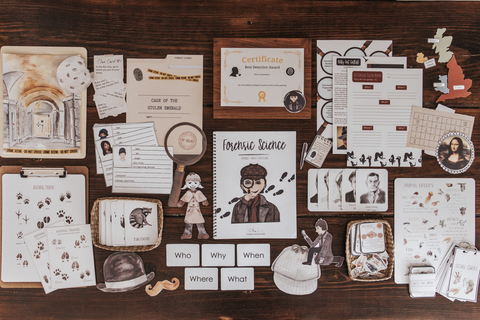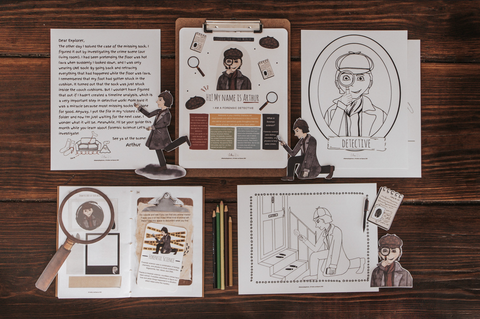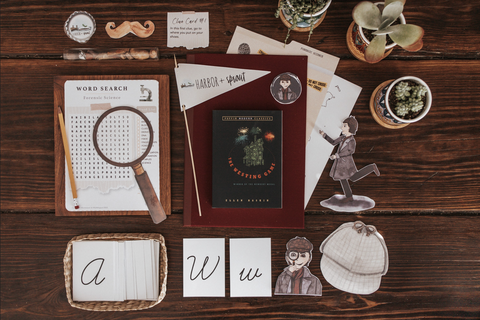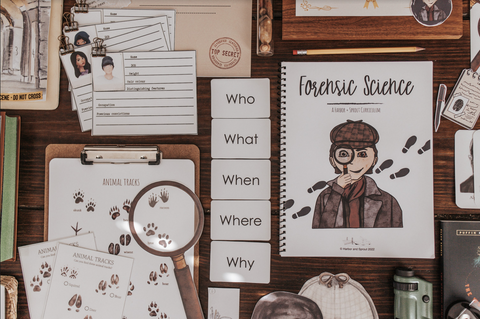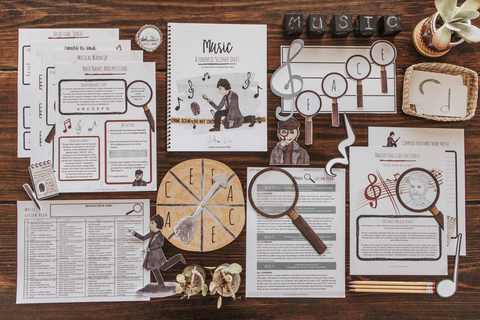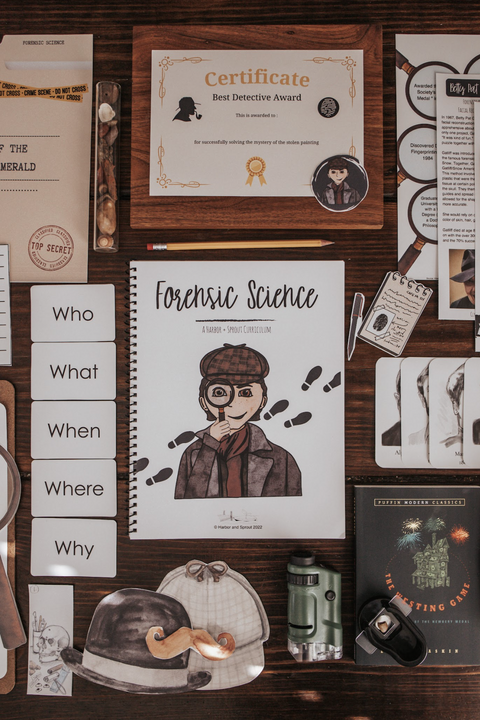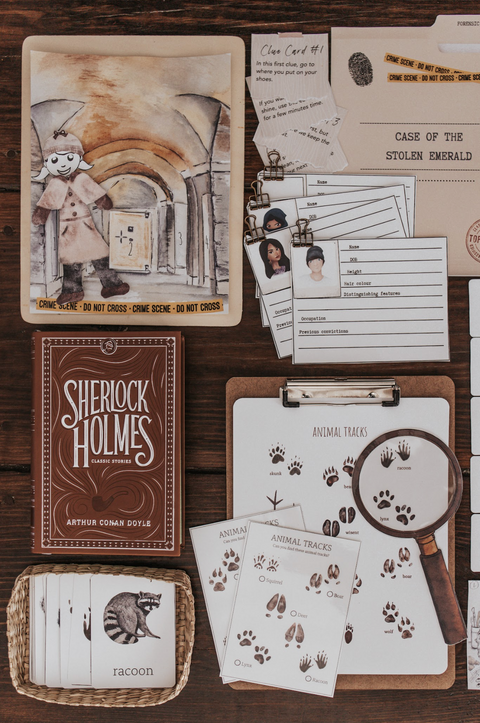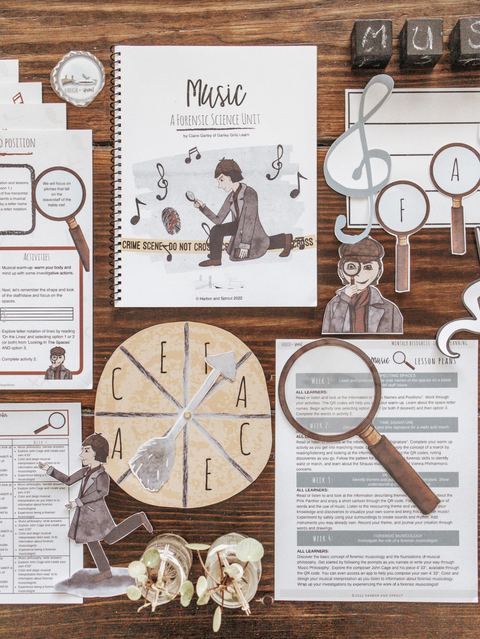 Harbor and Sprout
Forensic Science Elementary Unit Study
Welcome to the Harbor + Sprout Forensic Science Unit Study, the February 2022 release of our elementary level homeschool unit study curriculum. This unit study features 4 weeks of lesson plans and materials covering all 9 of our core subjects plus a playful supplemental section of thematic activities. This unit study is meant for use by children ages 3-12. 
This unit is delivered via a secure link as a digital download.
CONTENT:
Handbook
Daily, weekly, and monthly planning pages
Book list including stories, poems, and field guides with recommended ages, subject correspondence, and brief summaries for each title
Lesson plans for 4 levels of learning
Family read aloud with discussion guide and recipe
Character kit- new monthly character illustrated by Stephanie Groves to act as your guide through the unit
Science
Week 1: Case of the Stolen Emerald
Week 2: Fingerprints
Week 3: DNA
Week 4: Cryptography
Nature Study
Weeks 1-4: Guess that Animal + Animal Kingdoms Study
Language Arts
Week 1: Sherlock Holmes
Week 2: The 5 W's
Week 3: Cursive
Week 4: Riddles

Writing
Week 1: Plan
Week 2: Plot and Outline
Week 3: Write
Week 4: Revise

History
Week 1: Disguises
Week 2: Fingerprinting
Week 3: DNA
Week 4: Back at the Lab
Geography
Week 1: The United Kingdom
Week 2: Maps
Week 3: British Culture and Tradition
Week 4: Geography Detectives
Music
Week 1: Inspecting Spaces
Week 2: Time Signature
Week 3: Detective Music
Week 4: Forensic Musicology
Art
Week 1: Composite Imagery
Week 2: Age Progression
Week 3: Demonstrative Evidence
Week 4: Facial Reconstruction
Math
Week 1: Decode the Secret Message
Week 2: Who Stole the Painting?
Week 3: Who Stole the Painting Part 2
Week 4: Numbers Mandala
Supplement
Nature Activities
Animal Track Cards
Animal Track Matching Disks
Animal Track Nature Hunt
Animal Track Posters
Animal Track Puzzle Match
Coloring Poster 1
Coloring Poster 2
Forest Play Scenes

Wellness & Quiet Time
Match a Track Game
Forensics Detective Paper Dolls
The Missing Cookie Game
Forensics Wordsearch

Writing & Language Arts
Forensics Vocabulary
Spelling Practice
Clue Spelling Puzzles
Word Family Cards
Word Family Word Search
Forensic Word Search
Forensic Crossword
Detective Quotes and Copywork
Writing Reference Pages

Each lesson comes with a lesson plan split into 4 distinct levels of learning to help you use the materials for your child's individual needs. This allows for family-style learning for ages 3-12 and years worth of connection and education!
Simple Subscriptions
Get a discounted monthly credit to use on your H+S favorites