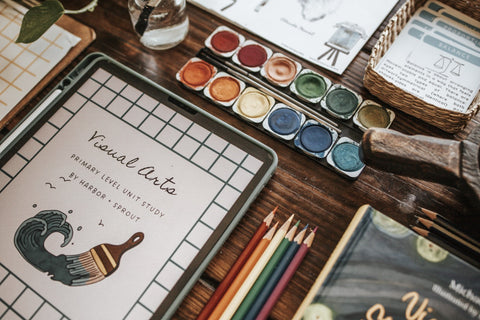 Harbor and Sprout
FREE SAMPLE: Visual Arts Primary Level Unit Study
This is a sample of our Visual Arts Primary Level Unit Study. This sample is a digital download and will be delivered via email. 
Our primary level unit studies are designed to guide you on an in-depth exploration that will not only provide a thorough study of the subject at hand, but will also involve you in the process through immersive, experiential learning opportunities.
Primary level unit studies are delivered digitally and may be used ebook-style alongside a notebook of your own choosing, or you may print the unit and use it in hard copy form. The unit is non-consumable, meaning that you will not need to write on or cut anything out of the pages.  Optional printable notebooking pages are provided. This unit study is intended for learners aged 6-12.
This sample includes 2 out of the 20 modules (Color Theory and Painting) included in the full Visual Arts Primary Level Unit Study, plus the appendix section. Each module is made up of 3 parts:
Information: This is the reading portion of the module. The reading can be completed independently or with help from an adult. You may take one day or more to complete the reading.

Notebooking Prompts: In the notebooking section of each module, you will have the opportunity to reflect on your reading in a way that is unique to you. 

Activities: Each module contains a selection of activities and hands-on learning experiences to choose from. These activities span the range of learning styles and are meant to be completed at whatever pace feels most comfortable to you. 
Simple Subscriptions
Get a discounted monthly credit to use on your H+S favorites