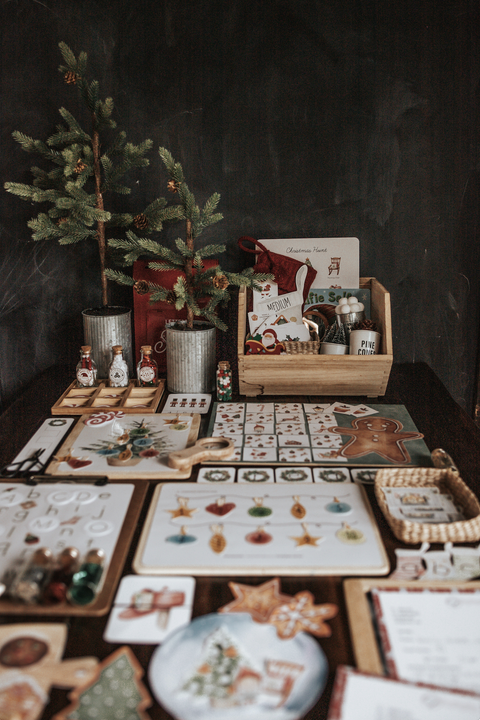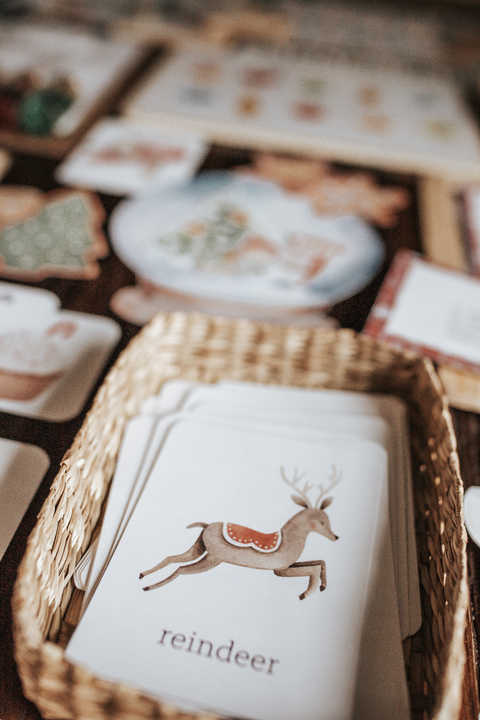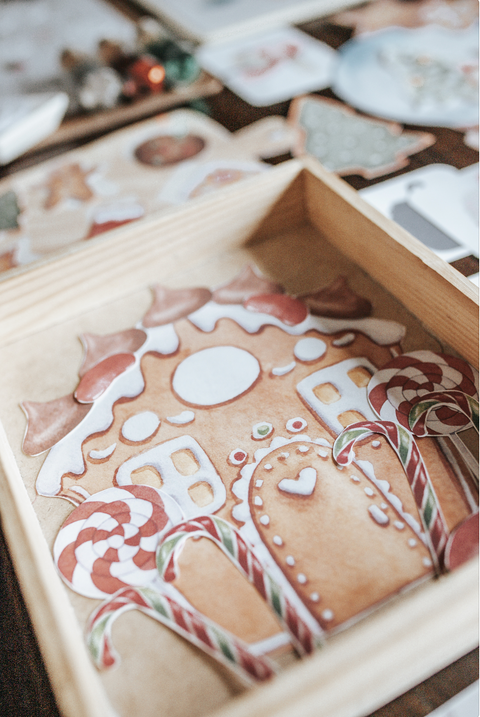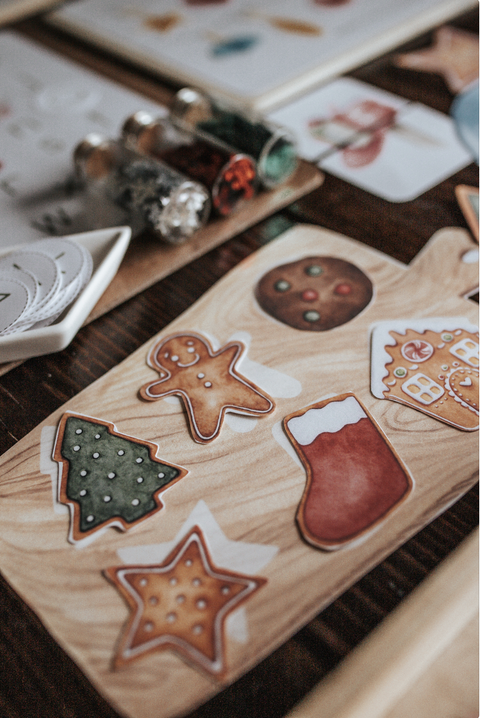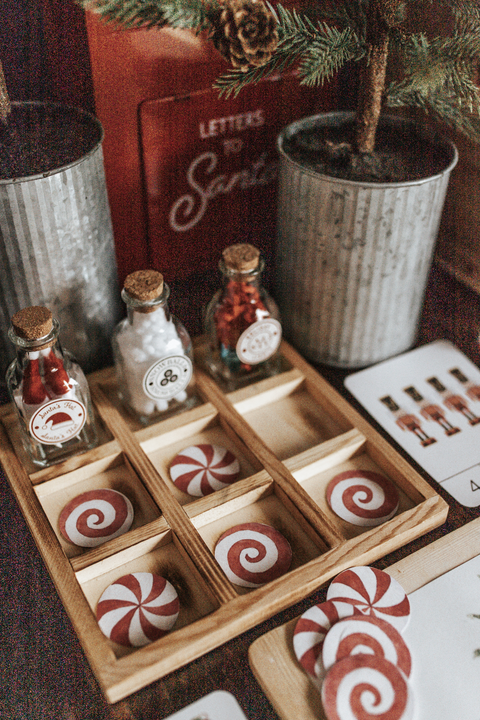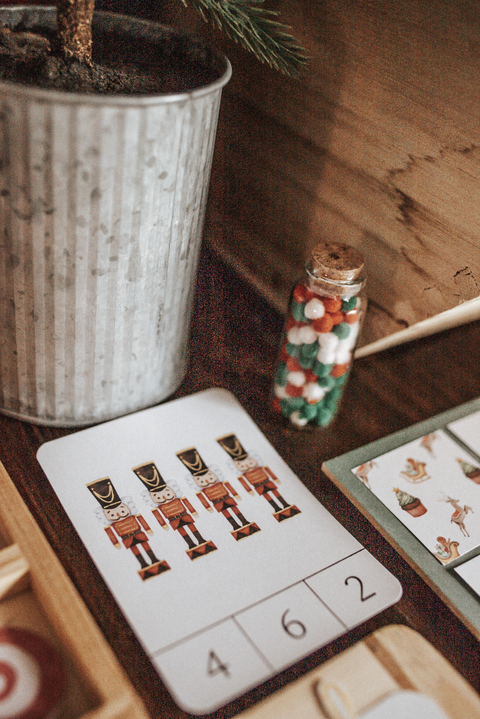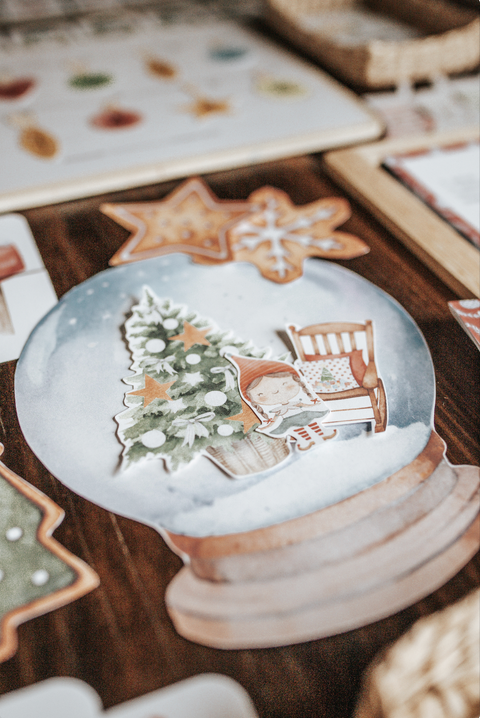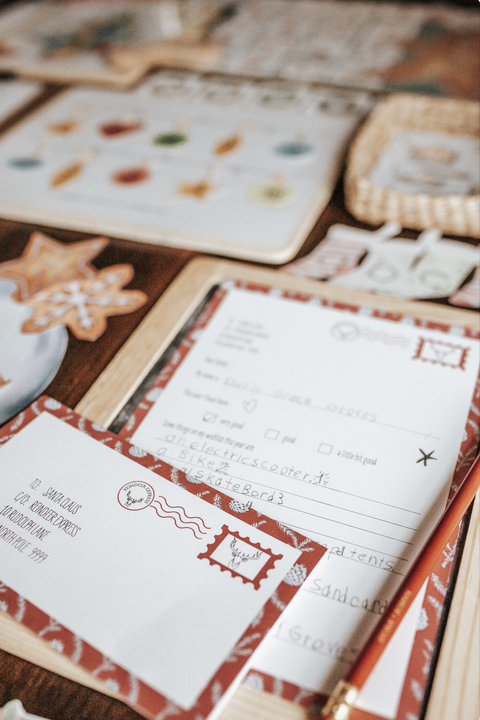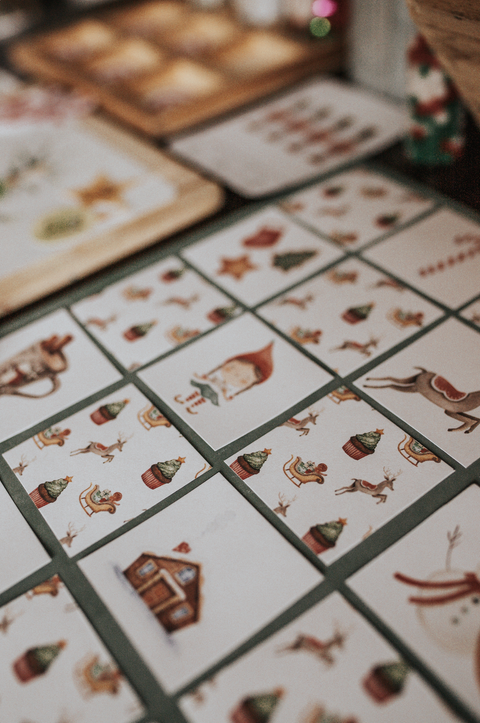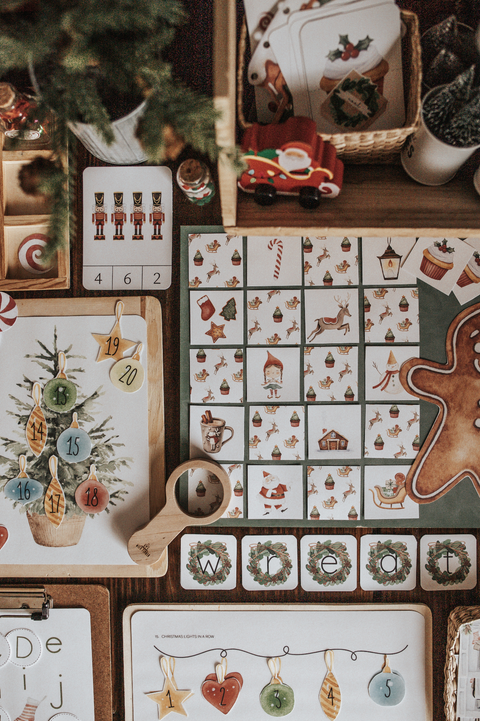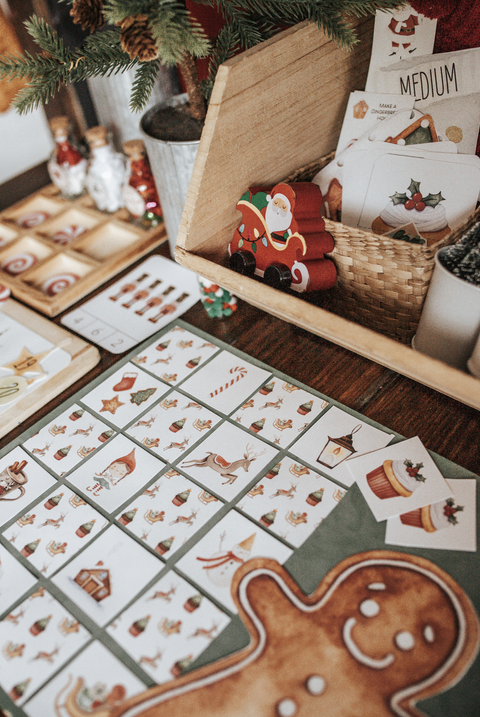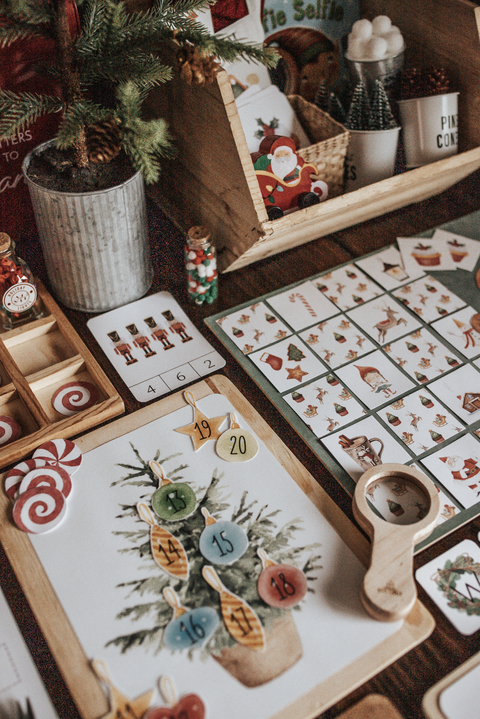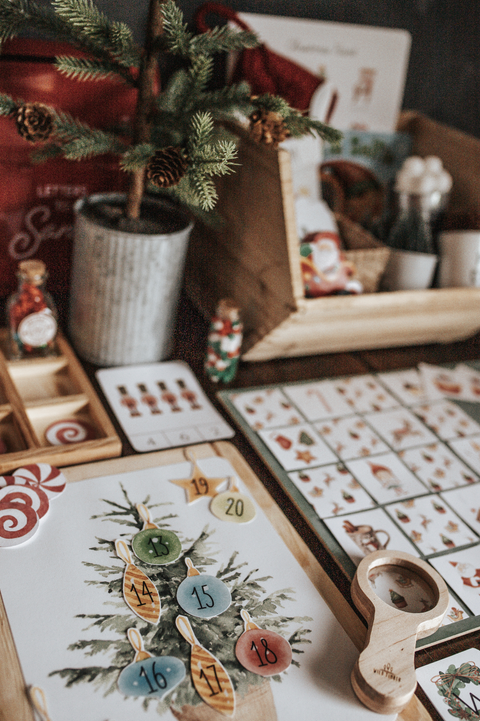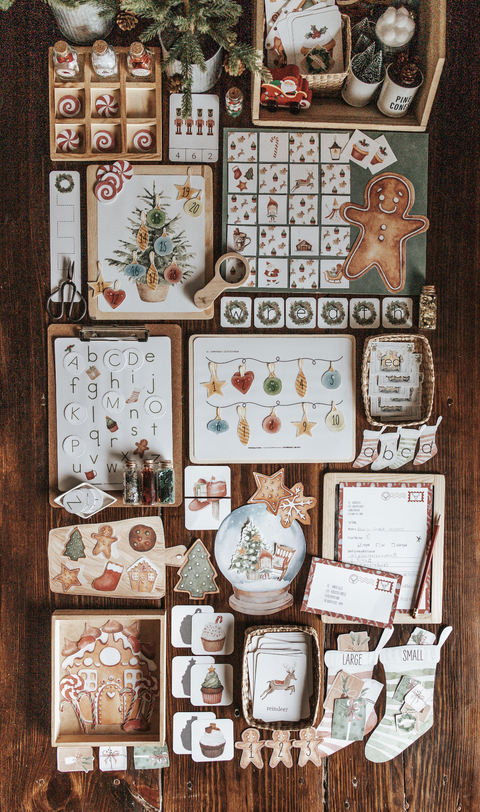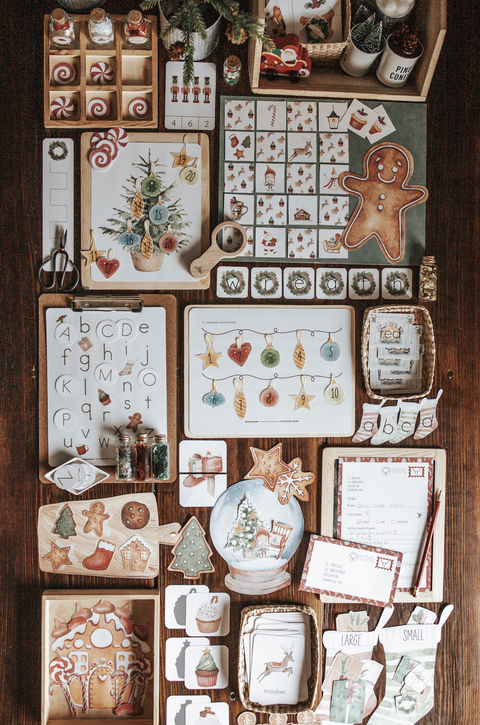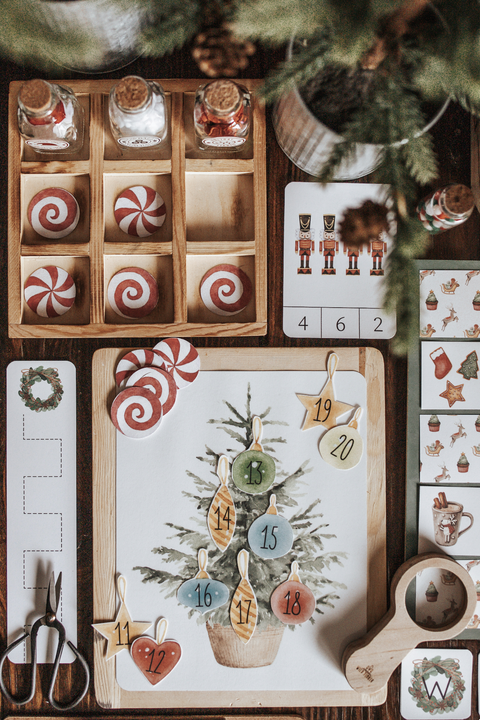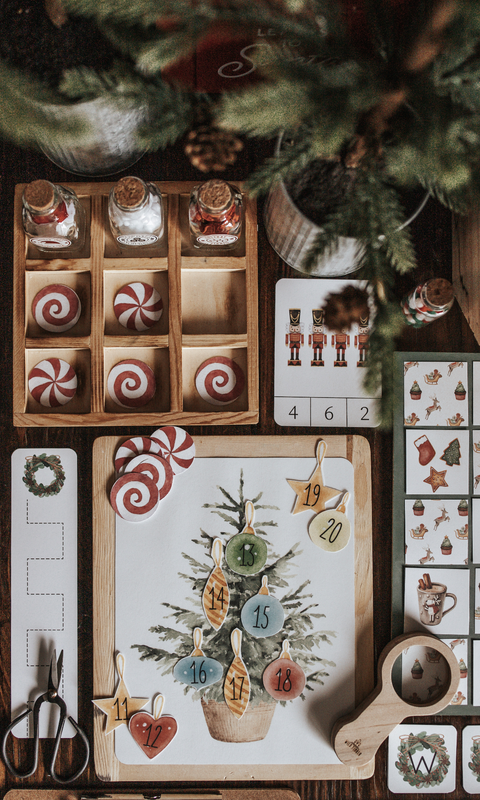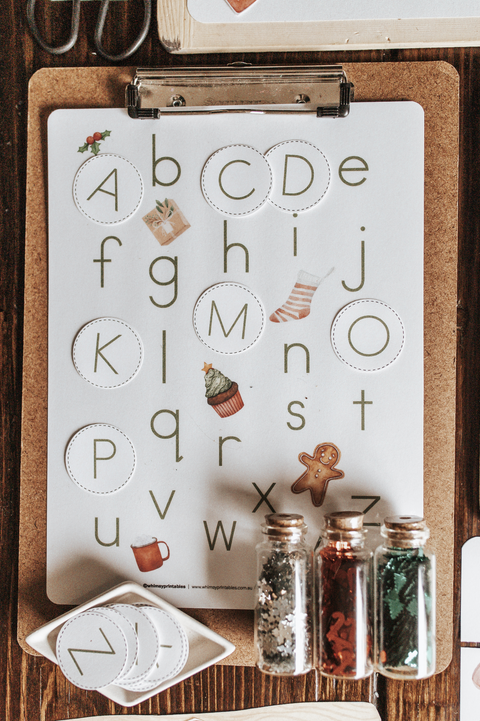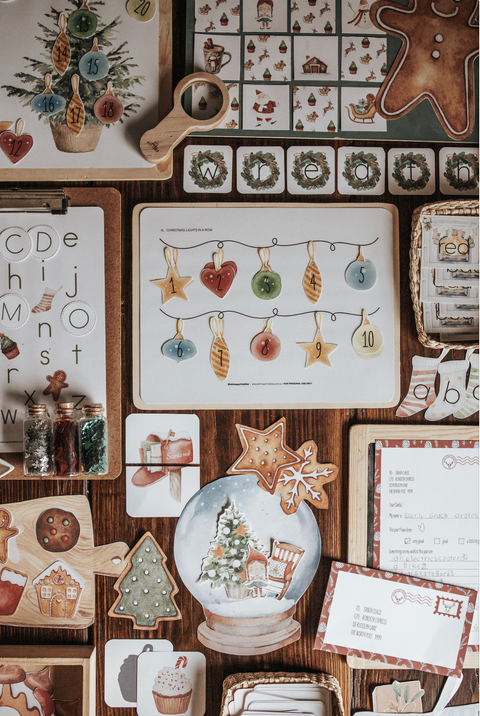 Harbor and Sprout
Holly Jolly Christmas Morning Basket
Make your learning merry and bright this holiday season with our Holly Jolly Christmas Morning Basket!

Our themed morning basket packs are designed for children ages 2-6 and beyond. They feature a collection of playful, fun, hands-on learning activities that introduce and reinforce basic concepts and keep little hands busy and minds engaged. 
To make your own morning basket, find a basket, box, or container of some kind to place it all in. Activities in your morning basket may include books, coloring tools, puzzles, play dough, threading tools, small world figures, games, and nature objects. Use these items in tandem with your printable packs for a lovely set of activities for littlest learners!
This pack is a digital download and will be delivered via email upon purchase.

Here's what you'll find inside the Holly Jolly Christmas Morning Basket:
Count and Clip Cards: 

A number clip activity where children count the number of images and clip the correct number on each card.
Flash Cards: Playful Christmas-themed cards to use in a variety of open-ended ways.
Memory Match:

A super fun memory game. Use the backing page for double-sided printing.

Tic Tac Toe: A playful take on a classic favorite!
Playdough Mats: Decorate the gingerbread person, Christmas trees, and use Christmas cookie loose parts to crate your own playdough scenes.

Numbers in a Row: Place the gingerbread people in numeric order or create number sequence patterns of your own.

Lacing Cards: Easy-to-prep lacing cards to enjoy. Punch holes with a hole punch and use yarn, a string, or a shoelace to lace the cards.  
Christmas Cutting: Practice fine motor skills with a simple cutting activity. Cut along the lines of each strip!
Building CVC Words: Cut out each stocking letter and use the letters to create CVC words as specified on the fireplace cards.

Puzzles: Cut out each cards, then snip along the dotted lines to create simple 2-piece matching puzzles.

Cookie Match: Match the Christmas cookie shape with its corresponding silhouette!

Cupcake Shadow Match: Match the cupcakes to their corresponding silhouettes.
Build a Snow Globe Scene: Cut out the loose parts and arrange them in the snowglobe to create your own scene!

Santa Stocking Size Sorting: Cut out each gift and match it with its respective stocking- small, medium, or large.

Christmas Lights in a Row: Cut out the Christmas lights and arrange them in order 1-20 along the strand. These playful lights can be used in a variety of open-ended ways!

Upper and Lower Case Match: A fun activity to help with letter recognition. Cut out each disc and match it to the respective lower case letter on the mat.

Make a Gingerbread House: Follow the instruction list to decorate your gingerbread house. Use the extra pieces to design your own gingerbread house!

Christmas Hunt: Cut out the circles and hide them around the home or yard for a fun Christmas hunt! Print one set for each child. The first person to find all the disks wins!
Words to Build: Each set of letters spells a different word. Use as a word scramble or simply practice spelling out words!
Letter to Santa: A sweet template to use to write a very special letter to Santa. Includes an envelope template!
Coloring Pages: A selection of Christmas coloring pages for the whole family to enjoy!
This morning basket is delivered as a digital, printable pack and is sure to bring joy and cheer this holiday season!
Simple Subscriptions
Get a discounted monthly credit to use on your H+S favorites