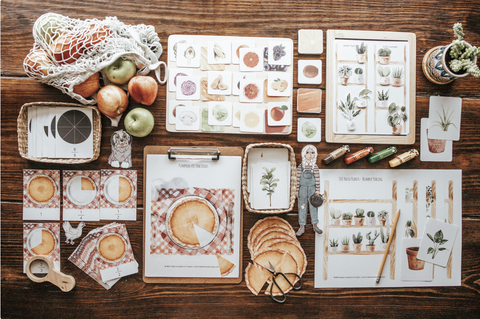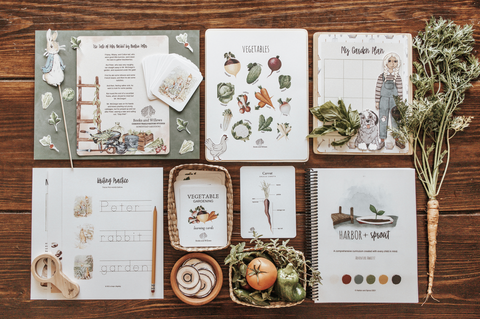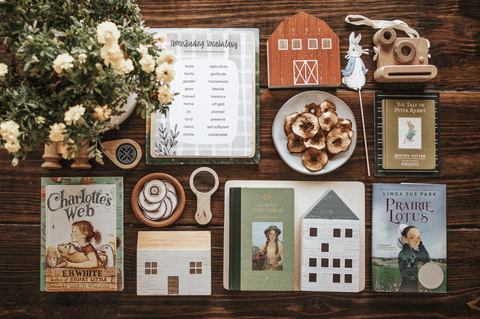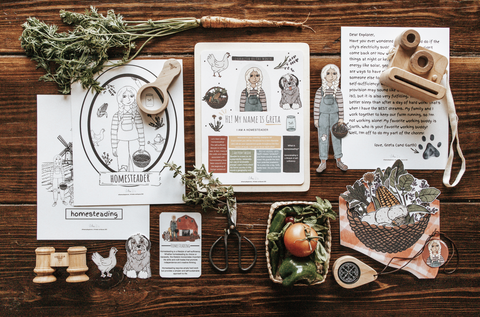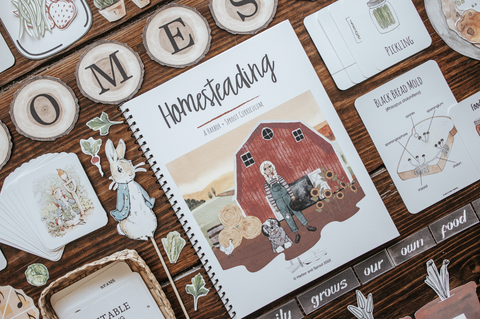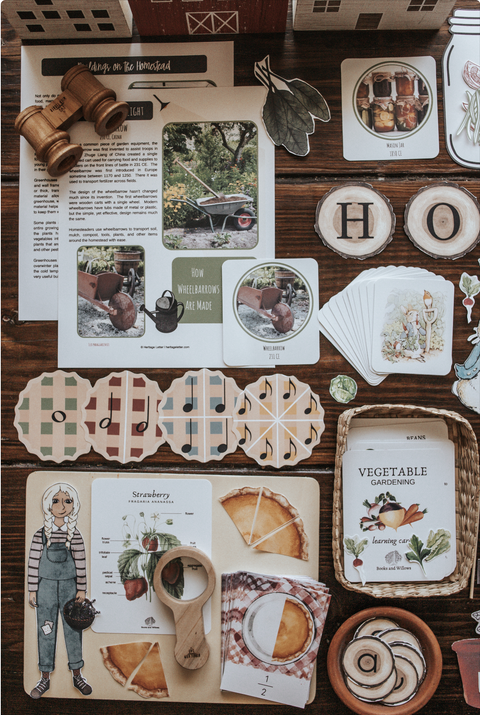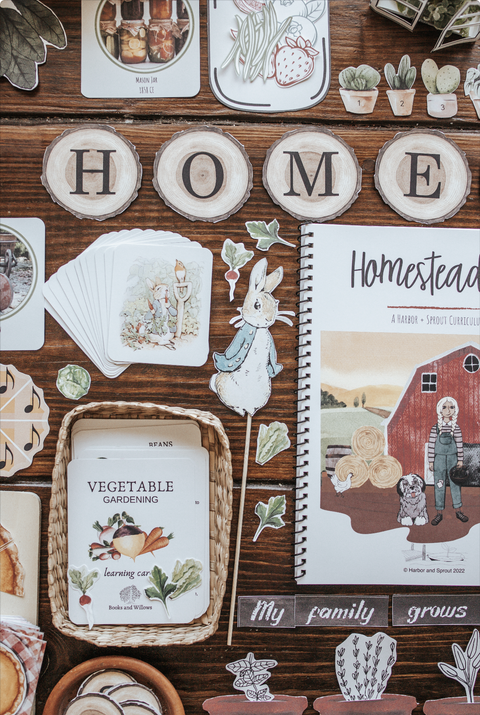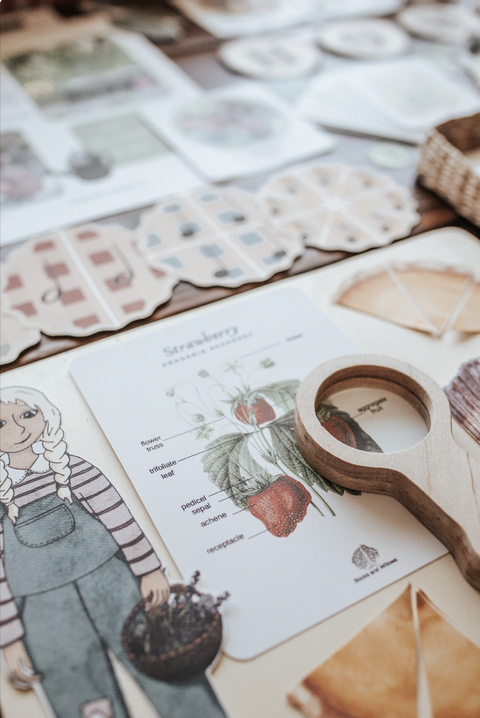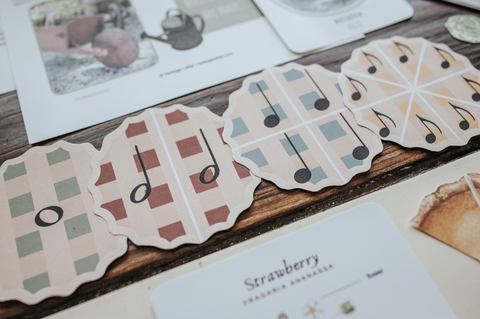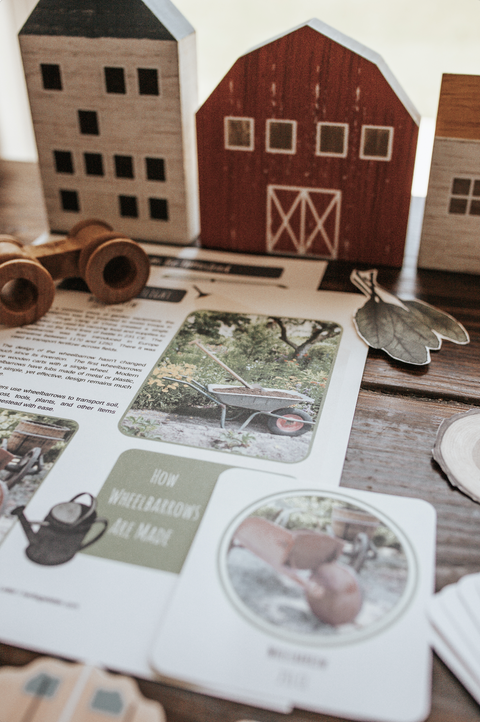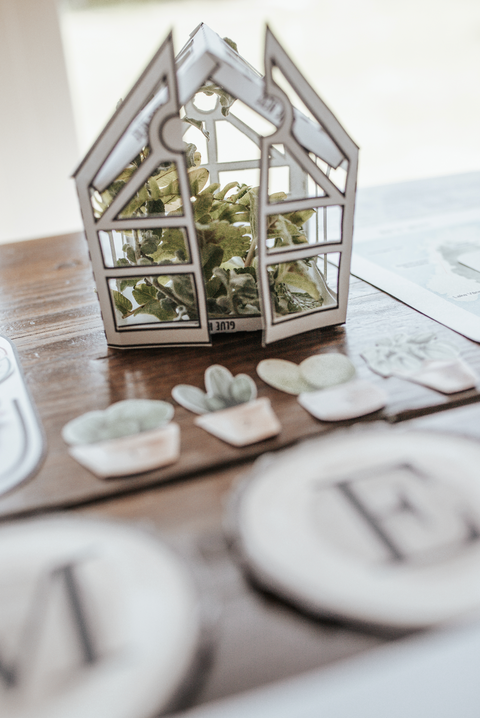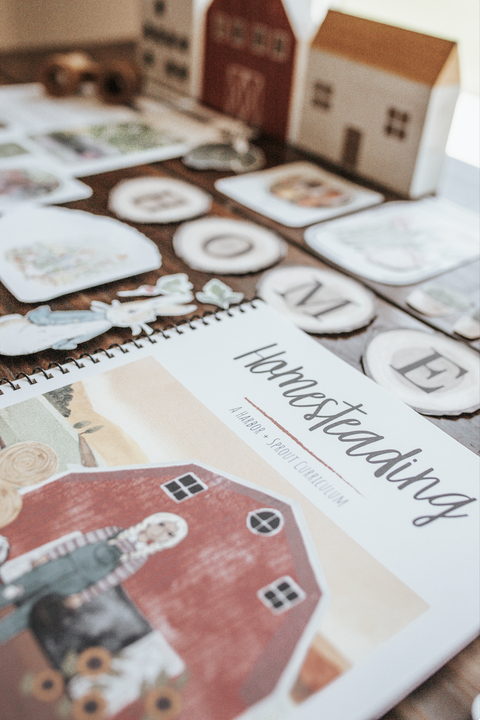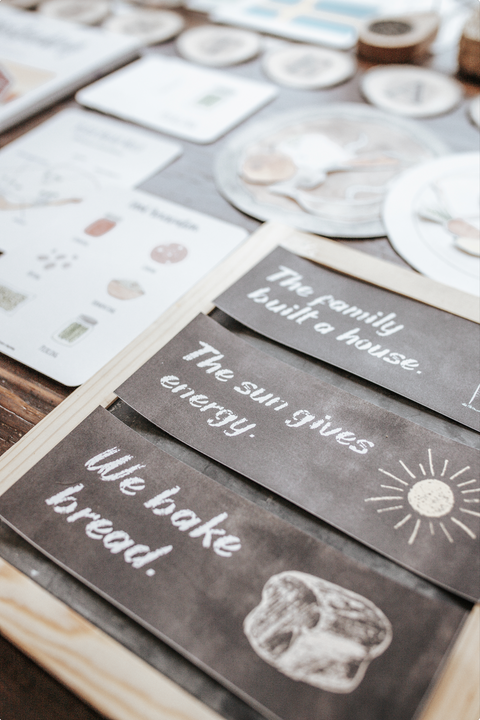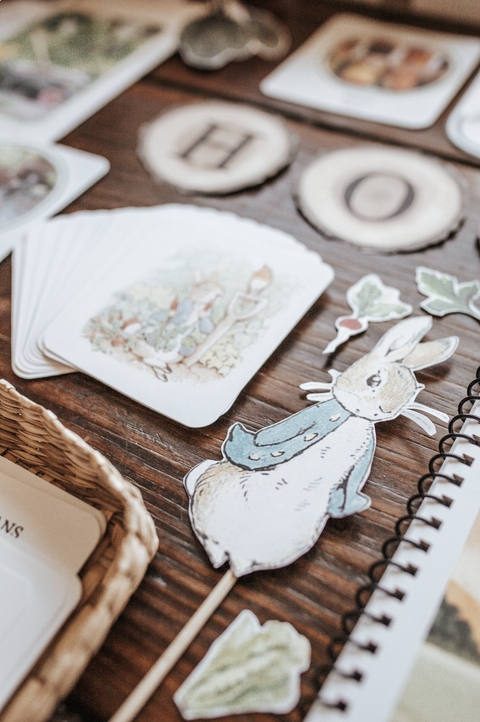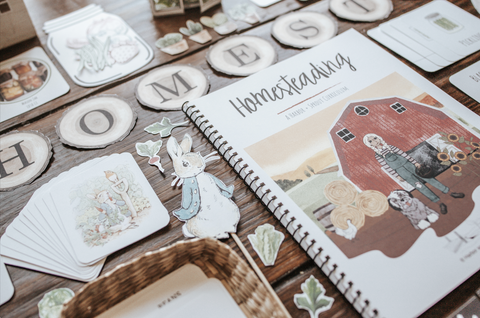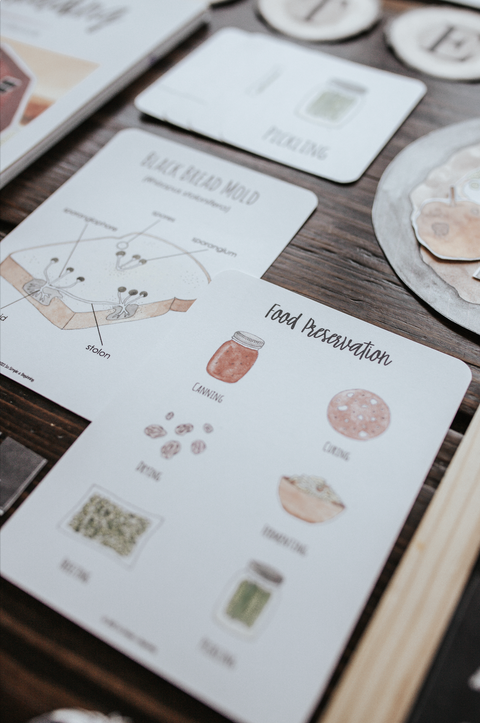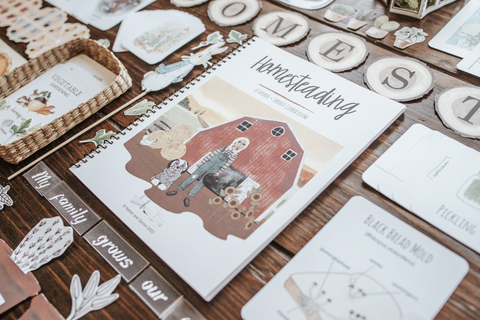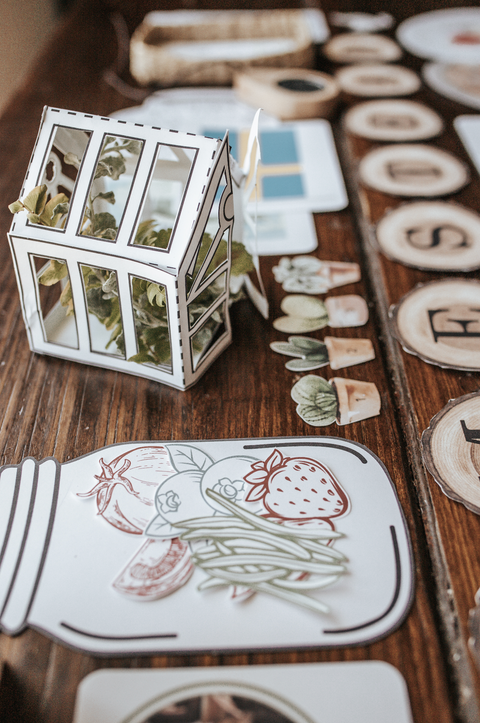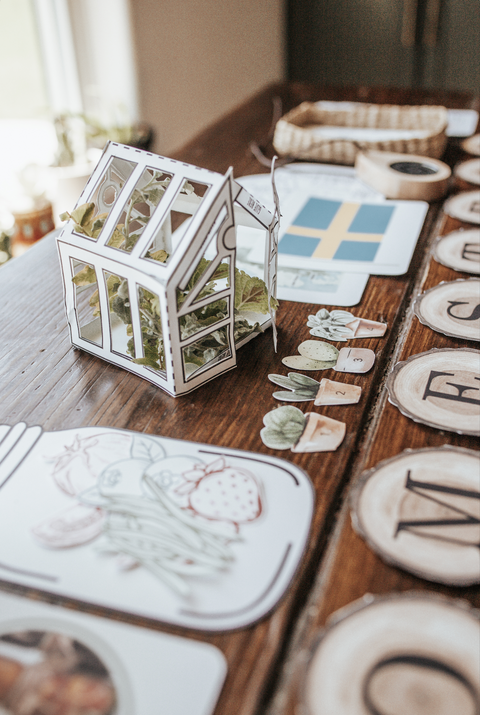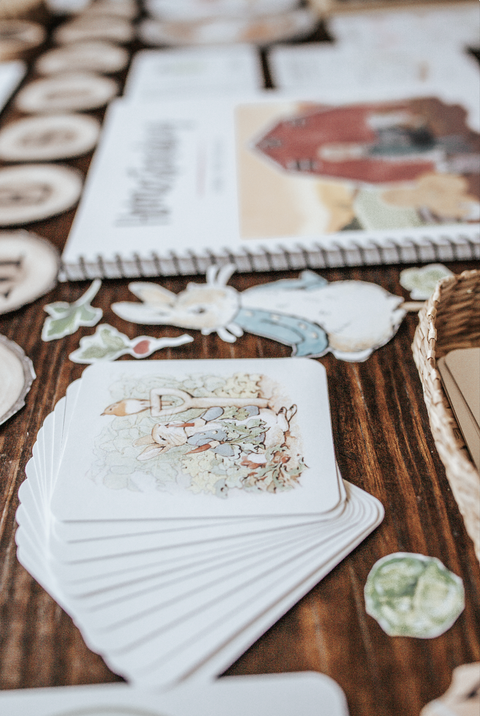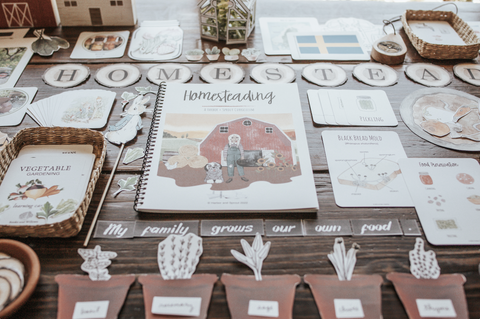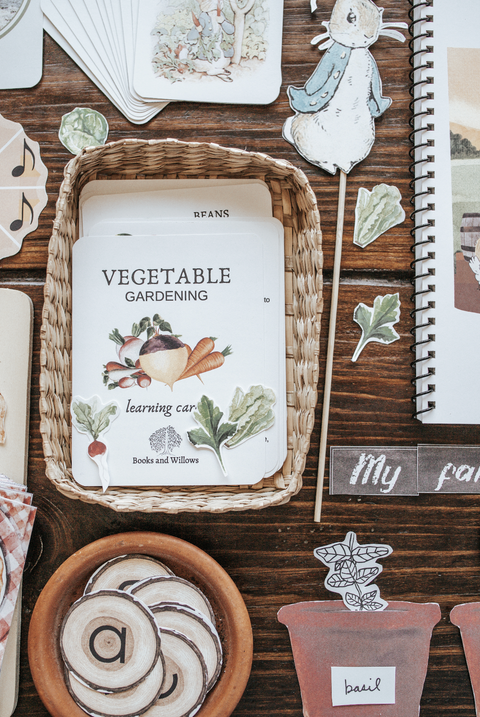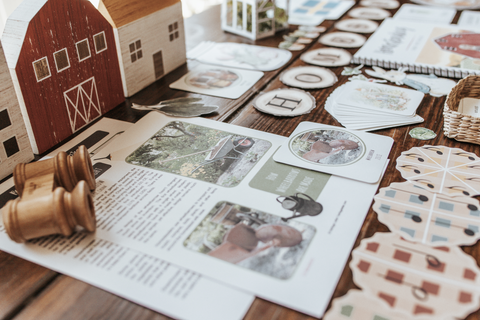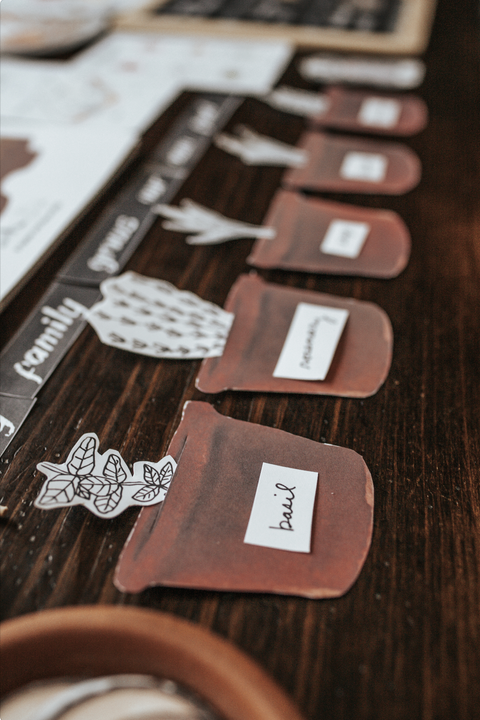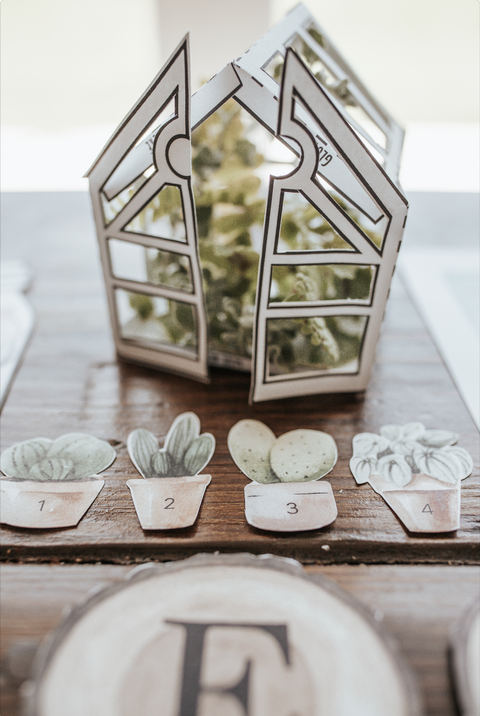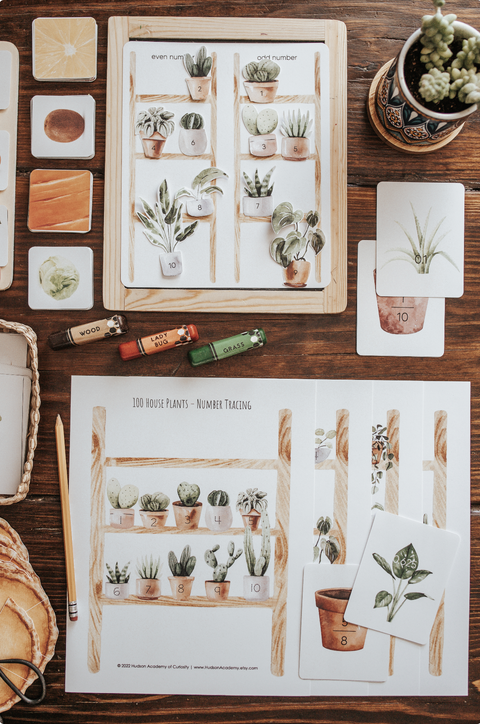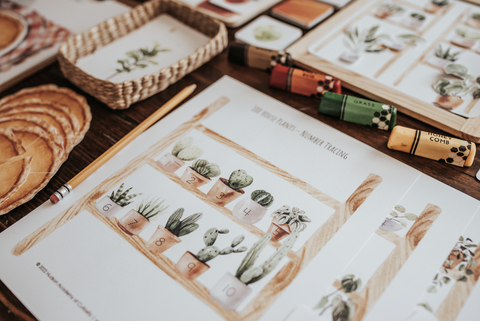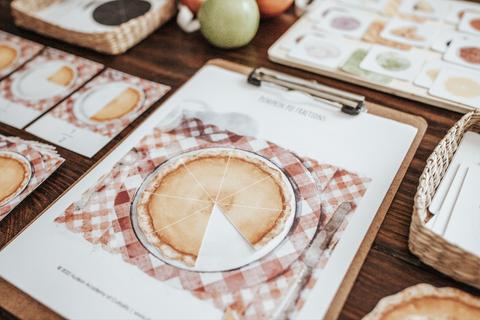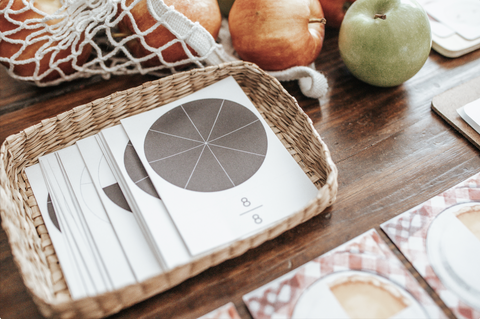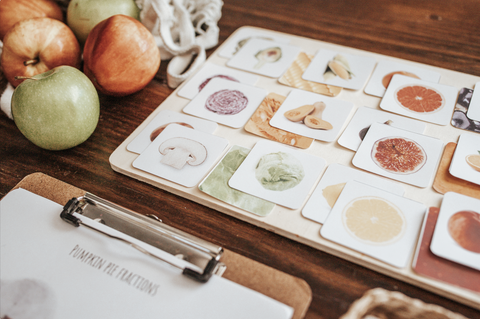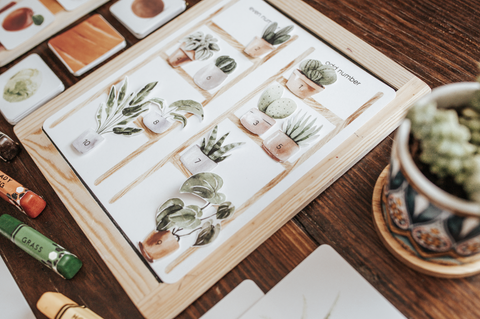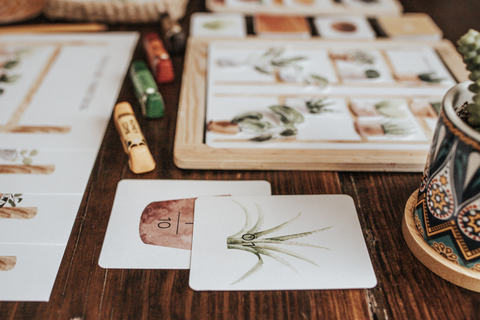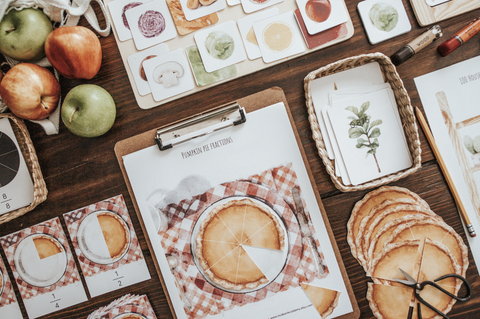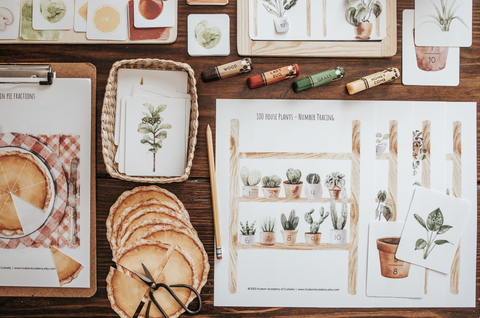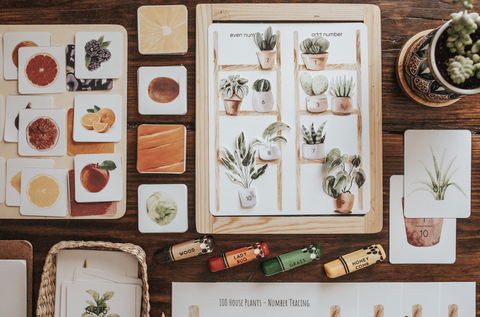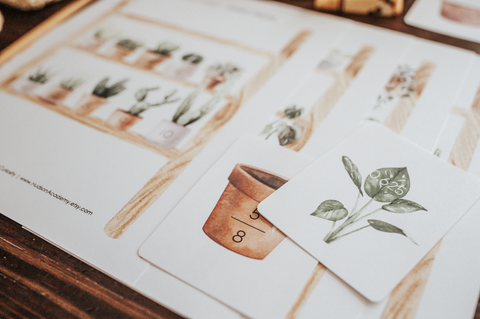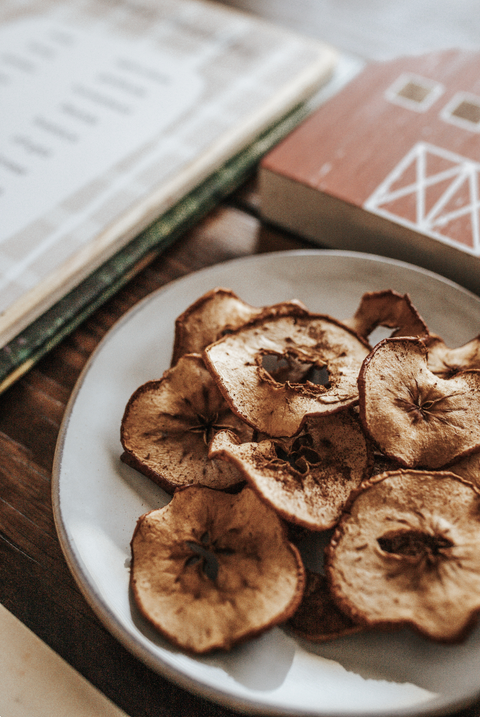 Harbor and Sprout
Homesteading & Sustainable Living Elementary Unit Study
Welcome to the Harbor + Sprout Homesteading and Sustainable Living Unit Study, the September 2022 release of our elementary level homeschool unit study curriculum. This unit study features 4 weeks of lesson plans and materials covering all 9 of our core subjects plus a playful supplemental section of thematic activities. This unit study is meant for use by children ages 3-12. 
This unit is delivered via a secure link as a digital download. Shop our corresponding Morning Basket Pack by Rebecca Clarke of Whimsy Printables here!
CONTENT:
Handbook
Daily, weekly, and monthly planning pages
Booklist including stories, poems, and field guides with recommended ages, subject correspondence, and brief summaries for each title
Lesson plans for 4 levels of learning
Family read-aloud recommendations
Character kit- new monthly character illustrated by Stephanie Groves to act as your guide through the unit

Unit Recipe 

Supply List
LESSONS
Science
Week 1: When Good Food Goes Bad: Study and demonstrate an understanding of food decomposition and begin a rotting food observation experiment.
Week 2: Food Mold: Discover the growth conditions of food mold. Study and label mold growth and continue your observation experiment.
Week 3: Food Preservation: Investigate the techniques of food preservation and explore why food is preserved. Make your own fruit leather and enjoy a scavenger hunt
Week 4: Food Preservation Experiment: Apply your newly gained knowledge and conduct a food preservation experiment.
Nature Study
Week 1: Propagation: Investigate seeds, germination, and cuttings and explore the elements of seeds, plant parts, and how they grow. Make a seed tape and dissect a seed. 

Week 2: Vegetable Gardens: Discover what defines a vegetable and explore the art of planting. Plot a square foot garden. Explore soil types and conduct a soil profile experiment.

Week 3: Fruit Gardens: Learn what defines a fruit through anatomy study and garden observation. Investigate how compost is made and begin your own compost pile. Study strawberry and apple blossom anatomy and keep a gardening journal.

Week 4: Herb Gardens: Explore herbs, companion gardens, and beneficial insects. Make a ladybug house. Complete an herb study and create your own herb markers.
Language Arts
Week 1: Homesteading Words: Explore vocabulary related to homesteading and practice spelling, word families, and homesteading language. Make a homesteading family craft, play a heads-up game, complete etymology activities, and write a story.

Week 2: Peter Rabbit: Study and analyze The Tale of Peter Rabbit with teatime, recipe included. Use narration, puppet play, summarization, comprehension cards, story sequencing, letter formation, and writing practice as you further experience the story.

Week 3: Word Order: Explore syntax in the English language. Complete sentence puzzles, word play, subject-verb-object labels, and edit story order.

Week 4: Acrostic Poetry: Enjoy a poem by Lewis Carroll and build a poem of your own using your family name.
Writing
Week 1: How to Give Directions in Writing: learn about how to write directional instructions. Create an obstacle course for a friend,

Week 2: How To Complete a Task: Explore how to accurately and appropriately convey instructions. Compose a 'do, make, be' chart and use it to write your own "how to".

Week 3: How to Make Something: Convey instructions in writing which assist in making something. Explore the use of visual aides in your writing and write your own instructions.

Week 4: How To Be: Explain in writing how to receive or impart knowledge and skills. Write your own versions of how to be through words and pictures.
History
Week 1: Planting on the Homestead: Explore the history of homesteading. Investigate planting and the relationship between growing and global hardiness. Discover which hardiness zone you live in. Learn about the Three Sisters method.

Week 2: Working on the Homestead: Discover equipment, tools, and animals historically used in homesteading. Complete a Venn diagram, answer homestead questions, and write an invention report.

Week 3: Buildings on the Homestead: Analyze the impact of buildings on a homestead, describing their function and characteristics. Tour a root cellar and explore windmills with an invention/inventor spotlight.

Week 4: Preserving on the Homestead: Study preservation and contrast modern homesteading with historical accounts of self sufficiency. Study the mason jar and its benefits to homesteading and make your own mason jar treat. 
Geography
Week 1: Sweden: Explore Sweden and its national anthem, flag, and trivia. Use your Geography lessons in conjunction with this unit's Character Kit!

Week 2: Maps: Discover the location of Sweden on the globe. Label major cities in Sweden.

Week 3: Swedish Culture and Traditions: Learn about the culture of Sweden and learn about the Dala Horse.

Week 4: Sustainable Sweden: Discover the many ways Sweden endeavors to be sustainable in its approach to energy.
Music
Week 1: Rhythm Pie: Conceptualize rhythm and beat notation through fruit pie baking and division. Design your own rhythm pie both on paper and with a real baking recipe. Practice using a metronome.

Week 2: Musical Fruit: Experiment with rhythm using fruit and a metronome. Develop various rhythmic combinations.

Week 3: Harvest Songs: Discover harvest songs of the Zuni peoples. 

Week 4: Country Music in Homesteading: Explore the progression of country music. Investigate country music instruments and timelines. Compare and contrast early and late country music. Learn a fun dance!
Art
Week 1: Chickens: 

Explore chickens through a variety of expressive art forms. Study your spotlight artist Jimmy Lee Sudduth. Make paint from natural materials, including mud paint, charcoal sticks, rock pigments, and natural tempera. Make watercolor chicken blobs, try a chicken drawing exercise, make a chalk pastel chicken, make a magazine-torn chicken, and make a fork painted rooster.

Week 2: Herbs: 

The spotlight artist, Elizabeth Blackwell, will introduce you to herb art. Identify, present and represent herbs in a variety of artistic ways. Create a healing herb geometric tape resist, a paper herb garden, try your hand at herb rubbing, paint smudge sticks, and make an herbal luminary.

Week 3: Veggies: 

Giuseppe Arcimboldo is your spotlight artist. Revel in his unique art and imitate his style in a vegetable self-portrait. Explore veggies through potato stamping and rock painting. Use the grid to plan a garden. Make rainbow-painted carrots and a celery stamped rose garden. Continue the grid work by sketching skill life with the aid of a grid. Paint a vegetable still life.

Week 4: Garden: 

Investigate Camille Pissarro and his portrayal of gardens. Build a variety of garden representations using artistic styles. Make a garden pinwheel, a 3-D greenhouse, a black glue vegetable garden, a multi-ground garden drawing, and draw your own garden.
Math
Week 1: Numbers: Form and sequence numbers, complete missing number puzzles, and work with sequences- backward counting, skip counting, square numbers, cube numbers, arithmetic, and geometric and Fibonacci patterns.

Week 2: Fruits and Veggies Details Matching: Use your observation skills to match different aspects of fruits and vegetables in a variety of forms.

Week 3: Odd, Even, and Fractions: 

Write and sort numbers into odd and even. Using pumpkin pie, both real and images, sort, analyze and explore fractions.

Week 4: Fraction and Decimal Matching: 

Discover or refresh your knowledge of fractions and decimals and their relation to one another. Match the correct plant and pot.
Supplement
Nature Activities
Coloring Sheets

Fruit or Vegetable Sorting

Homesteading Word Build

I Spy and Count Game

Homesteading Memory Match

Number Cards

Number Clip Wheel

Number Match

Who's Barn Activity
Wellness & Quiet Time
Recycle 3 Part Cards (Spanish)
3 R's Sorting Game (Spanish)
Homesteading Word Search
My Earth Clip Cards 
Each lesson comes with a lesson plan split into 4 distinct levels of learning to help you use the materials for your child's individual needs. This allows for family-style learning for ages 3-12 and years worth of connection and education!
Simple Subscriptions
Get a discounted monthly credit to use on your H+S favorites