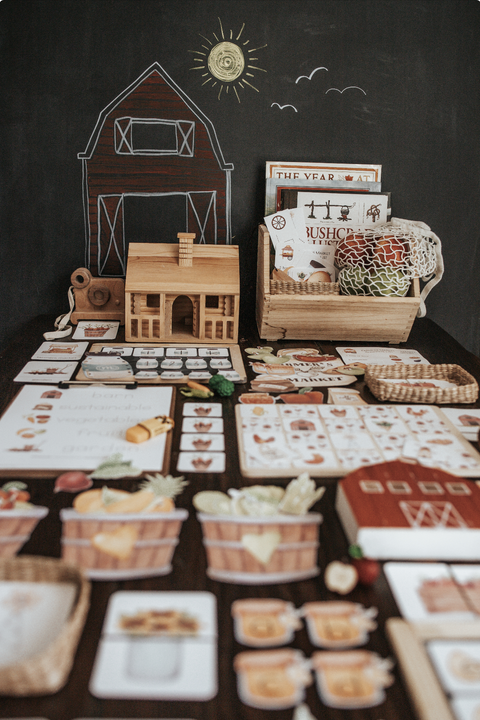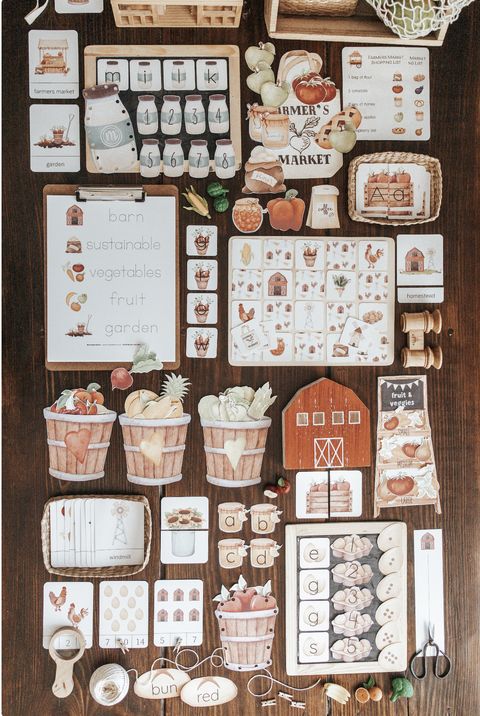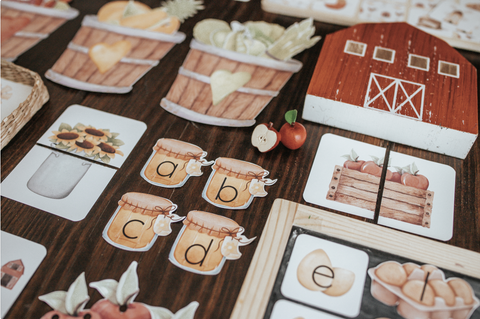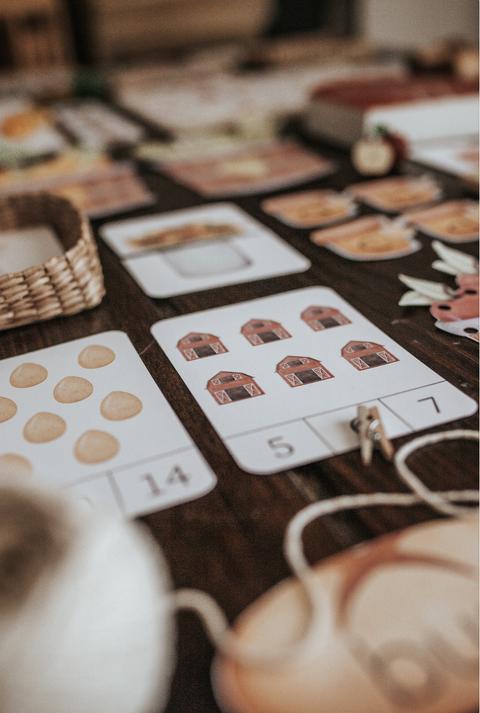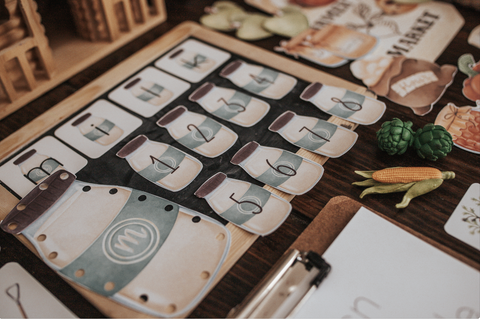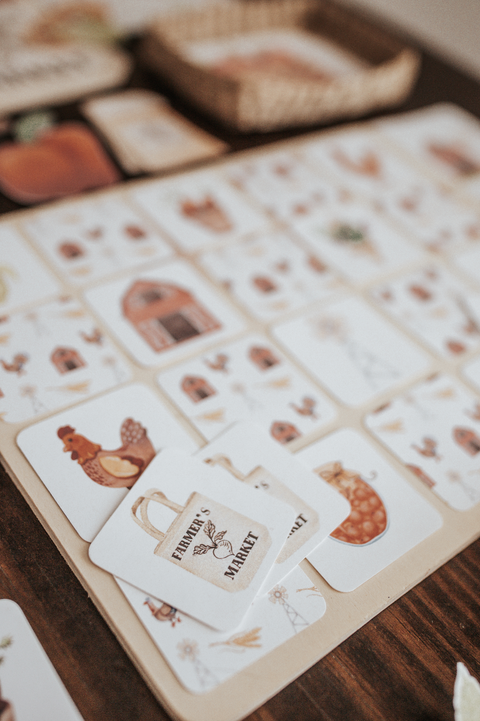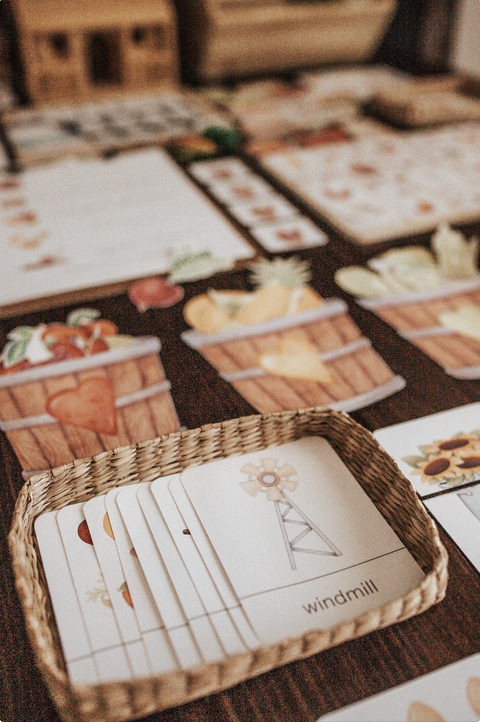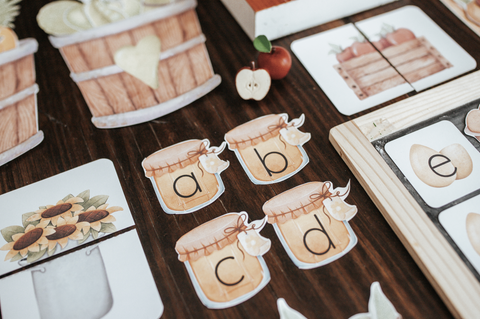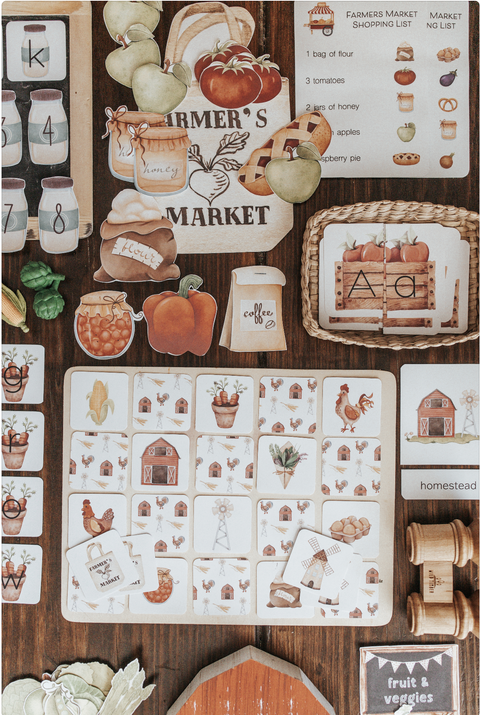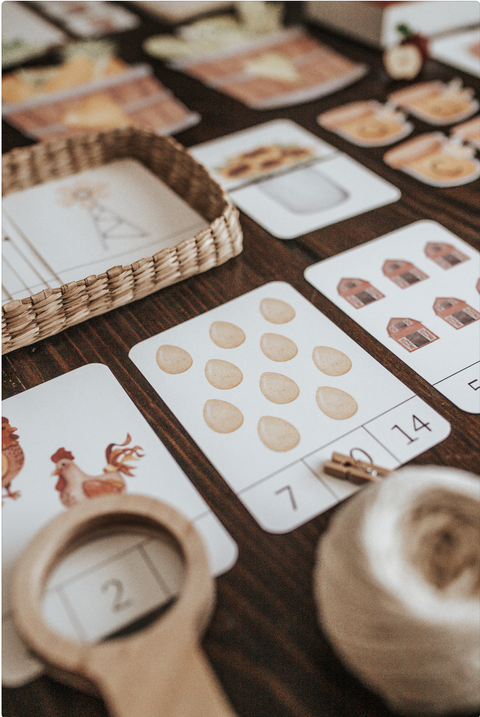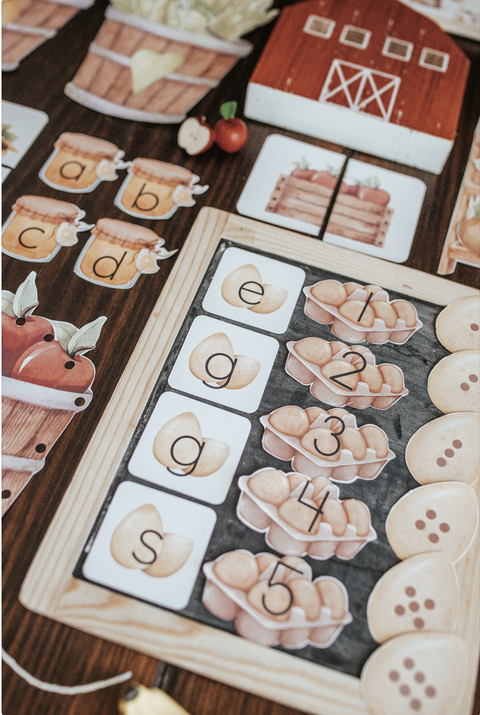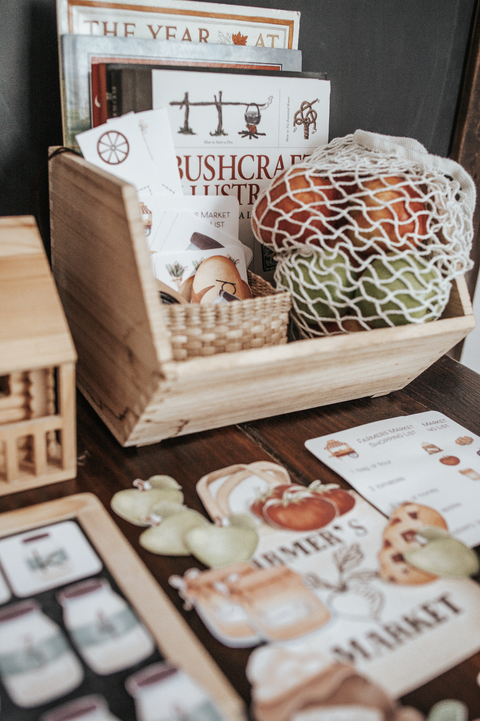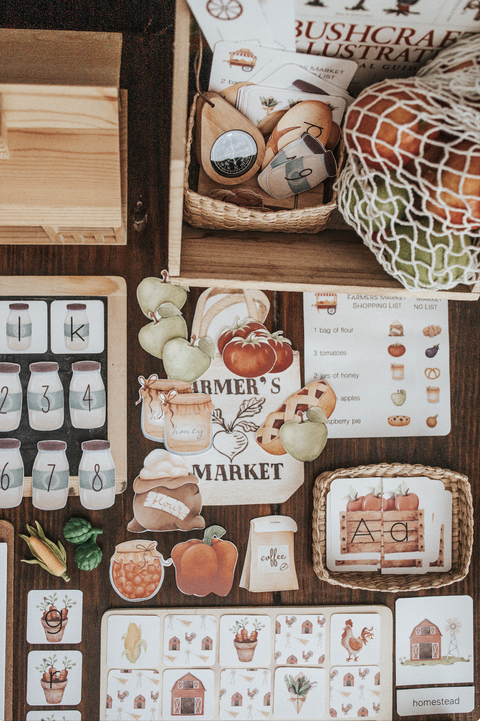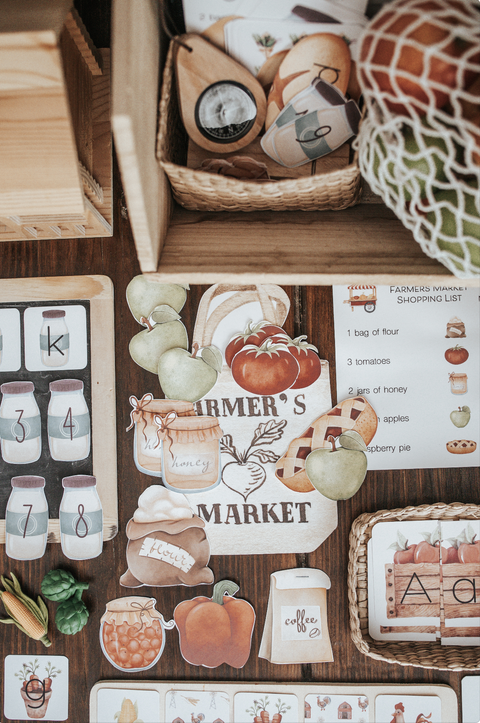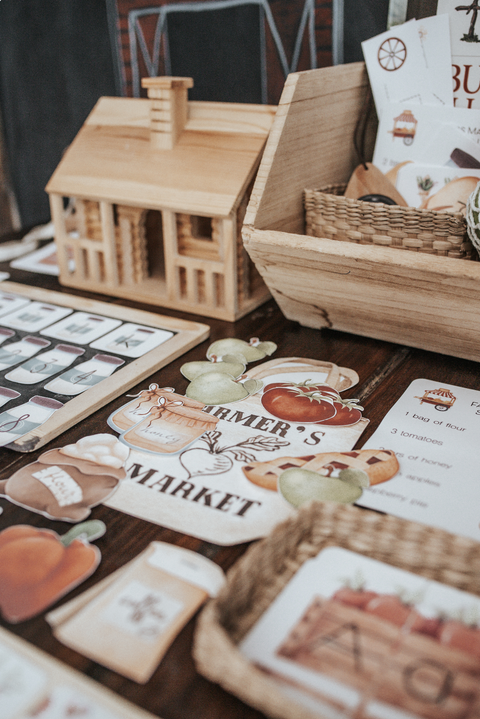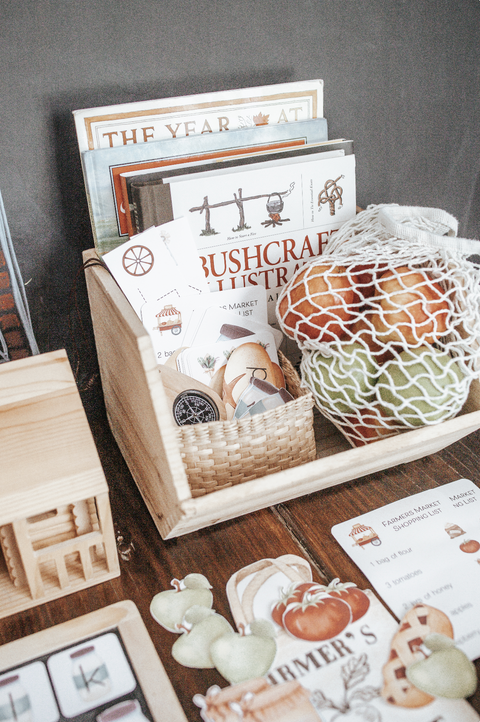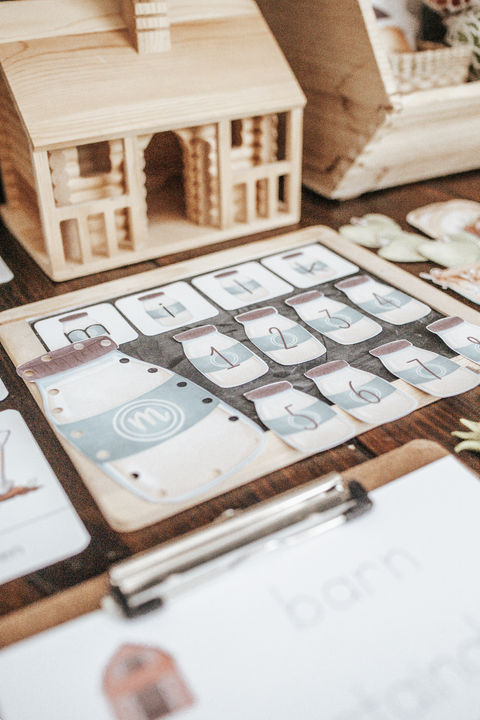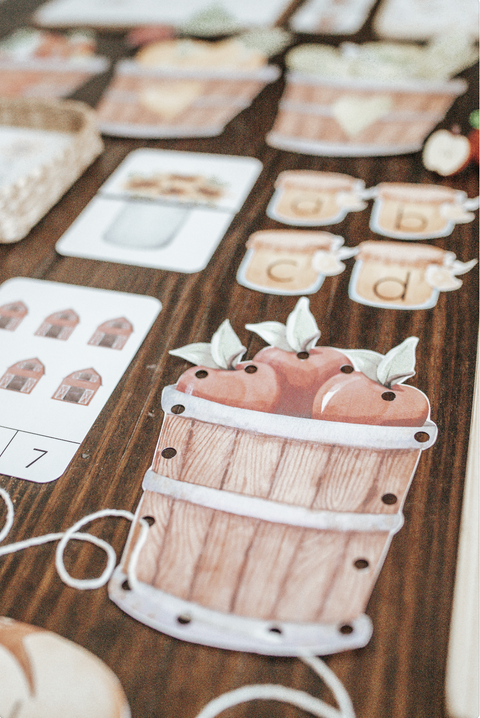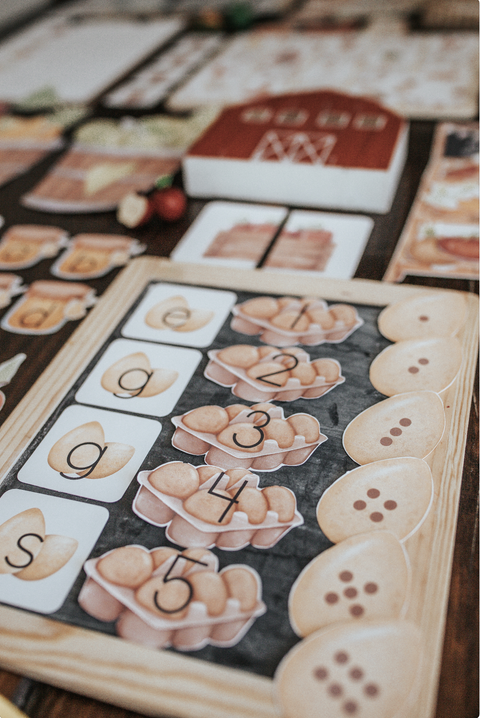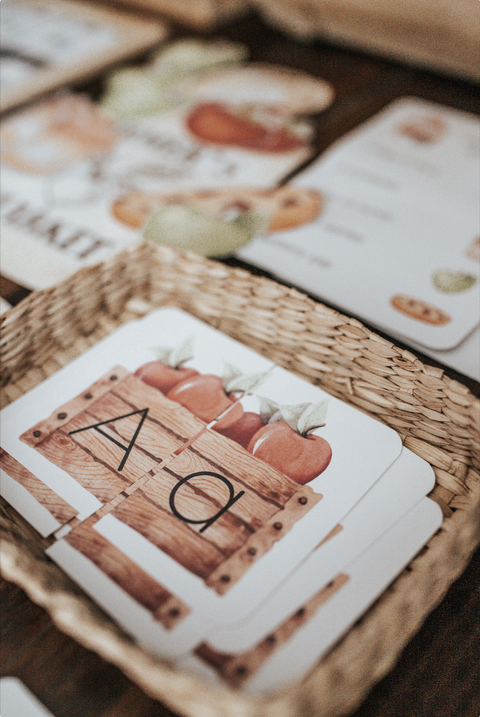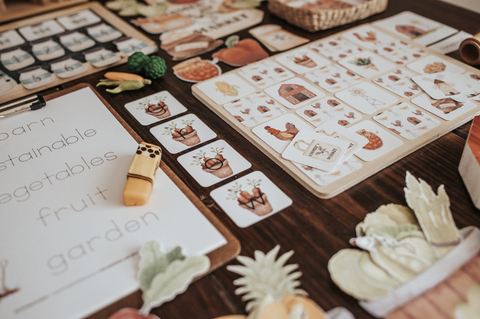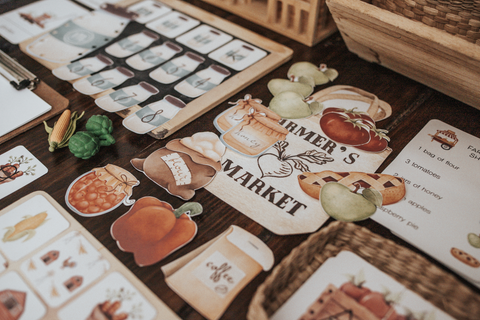 Harbor and Sprout
Homesteading & Sustainable Living Morning Basket
Our themed printable morning basket sets, created by Rebecca Clarke of Whimsy Printables, are aimed at children ages 2-6 to go alongside each of our individual unit studies! These packs can be used in tandem with their corresponding units or enjoyed independently. Shop our Homesteading & Sustainable Living unit study here.
Here's what you'll find inside the Homesteading & Sustainable Living Morning Basket:
Alphabet Sheets: 

A collection of alphabet sheets that can be used in many ways. Color, paint, or use small nature objects to fill in the alphabet letter

.

Color Sorting: A color sorting activity where children sort the fruit and vegetables into red, green, or yellow buckets.

Cutting Strips: A cutting activity where children cut along each line on the cards.

Building CVC Words: A CVC word building activity where children spell out each CVC word using honey pot alphabet letters and CVC br

ead cards.

Egg Number Match: A fun number recognition and counting activity where children count the dots on each egg and find the matching number egg carton.

Farmers Market Shopping Game: A super fun farmers market game where children follow the shopping lists, placing the correct number of items in their shopping bag!

Flash Cards: A set of related 2-part vocabulary cards. Cut along the lines and use as a word matching game. 

Lacing Cards: A set of super easy prep lacing cards. You can use wool, string, or even a shoelace for lacing these cards.

Magnifying Matching Game: This is a game where children use a magnifying glass to identify the image and find its corresponding match. You will need a magnifying glass for this game!

Memory Game: A fun memory match game. Use the patterned page for card backing.

Milk Bottle Numbers 1-20: A number sequence activity where children place the milk bottles in number order.

Number Clip Cards: A number clip activity where children count the number of images and peg the correct number on each card.

Puzzles: A cute set of homesteading puzzles to enjoy!


Size Sorting: A fun size sorting activity where children sort and place small, medium, and large objects on the market shelf.

Tracing Words: A simple activity where children trace the homesteading-themed words. 

Upper and Lower Case Match: A fun game to match the upper and lower case alphabet letters. 


Words to Build: A little set of homesteading themed words to build.
This morning basket is delivered as a digital, printable pack and is sure to delight and engage learners, homesteaders, and nature lovers of all ages!
Simple Subscriptions
Get a discounted monthly credit to use on your H+S favorites