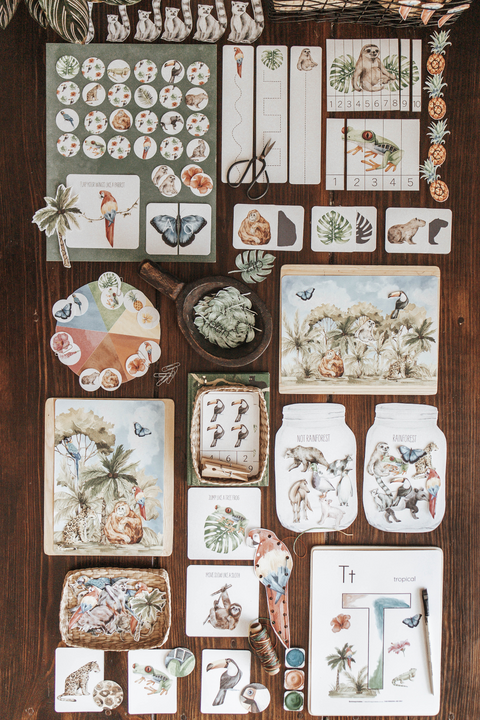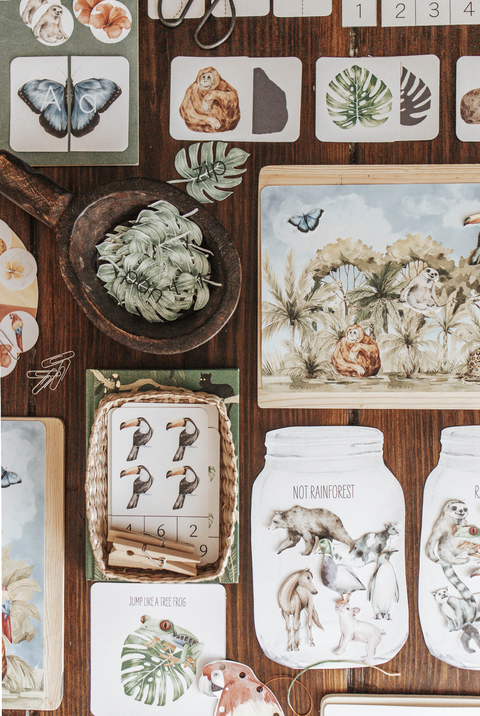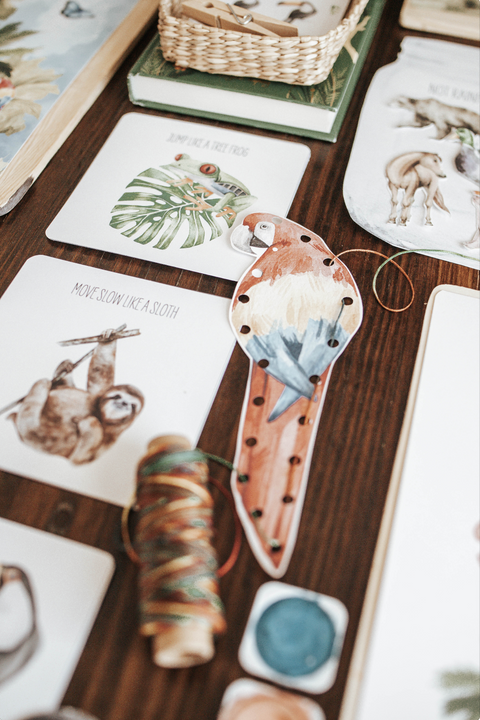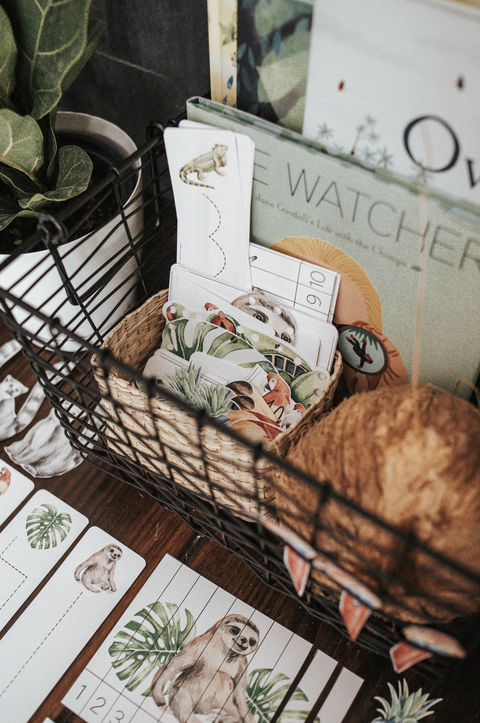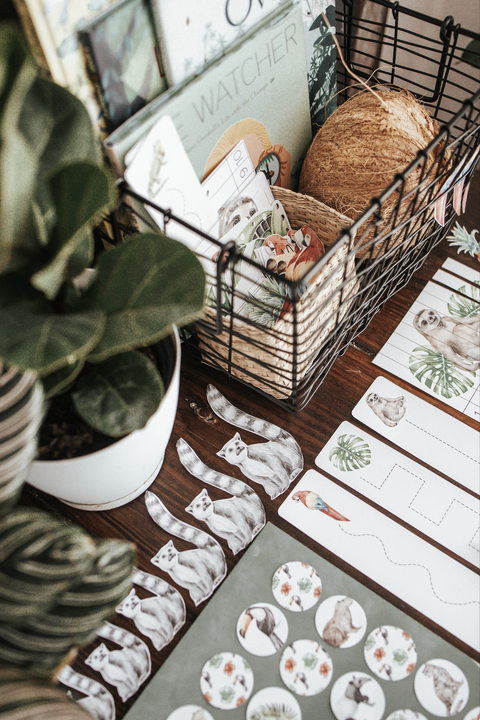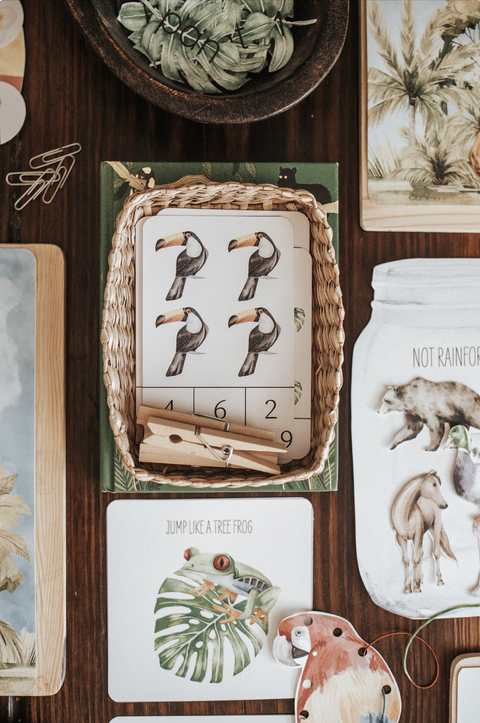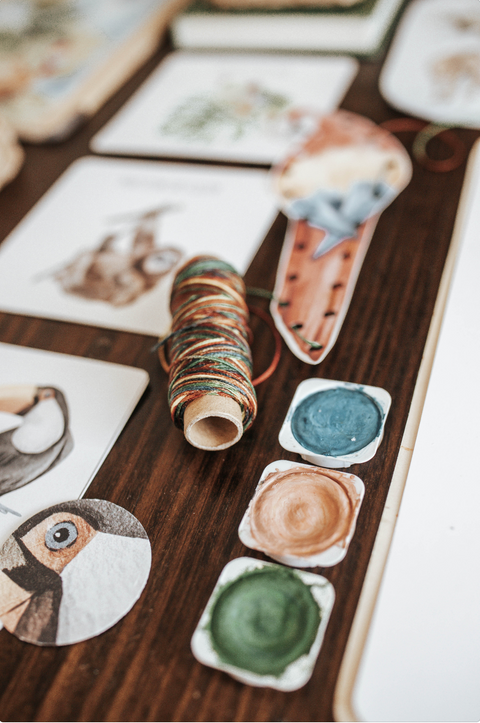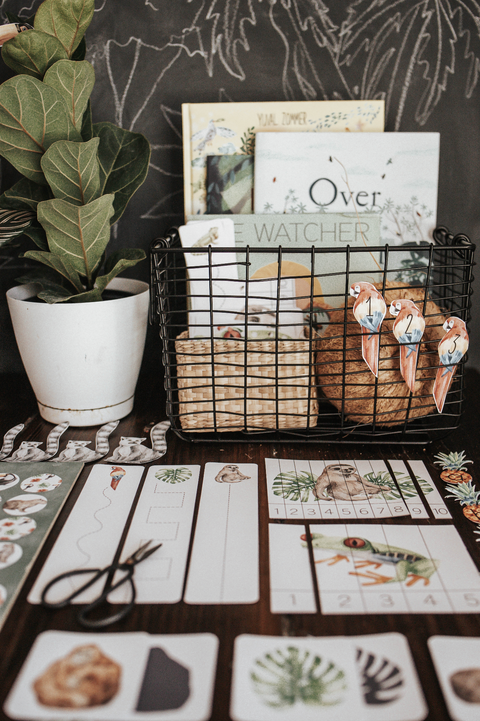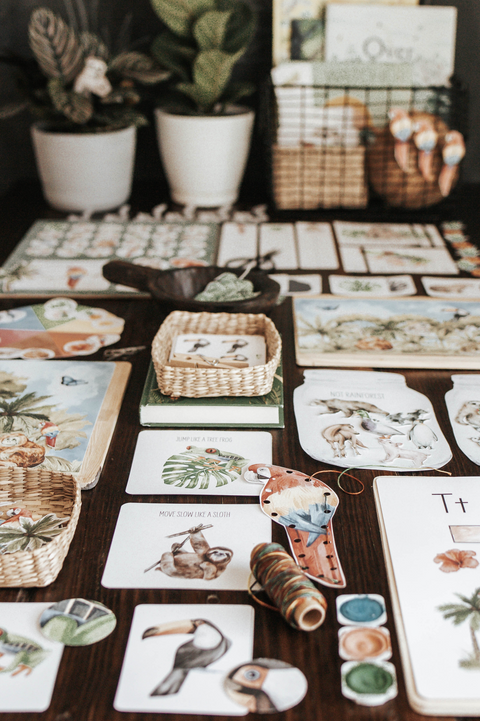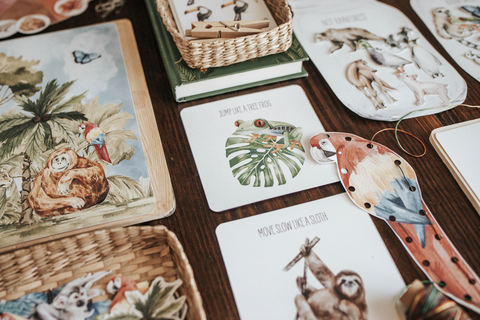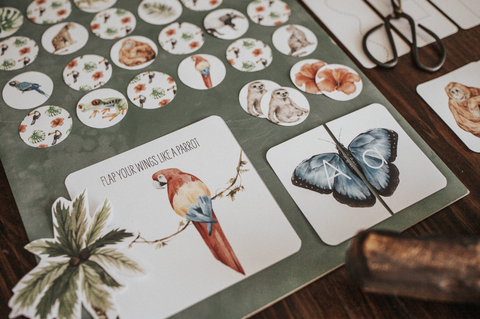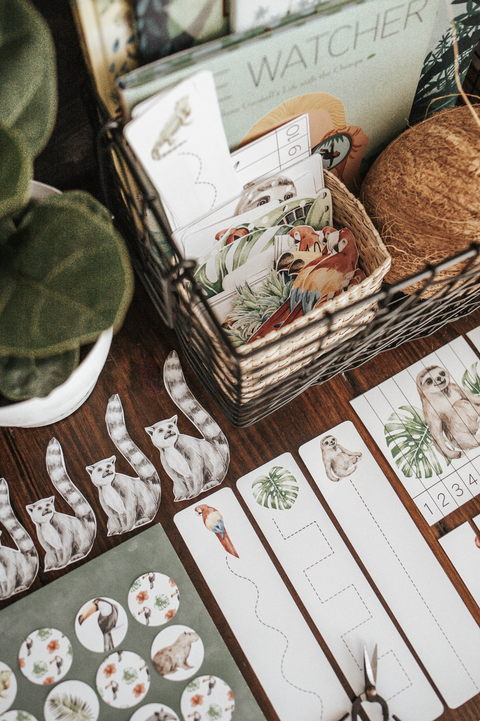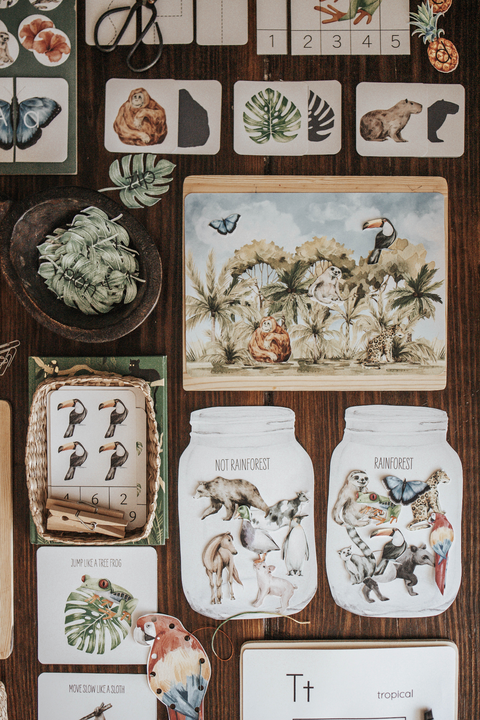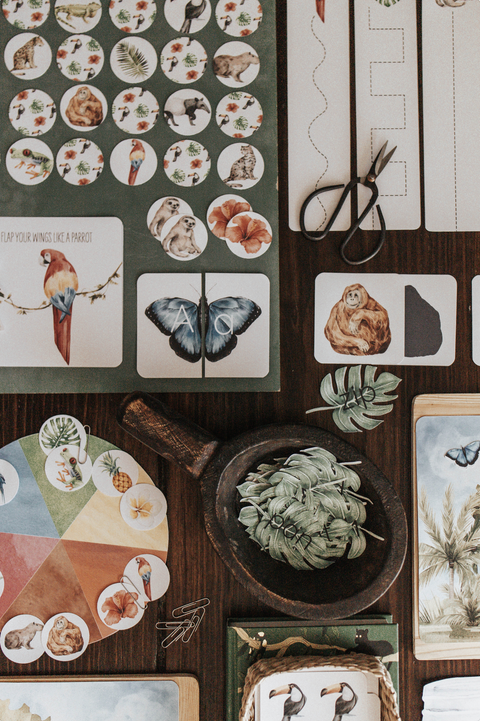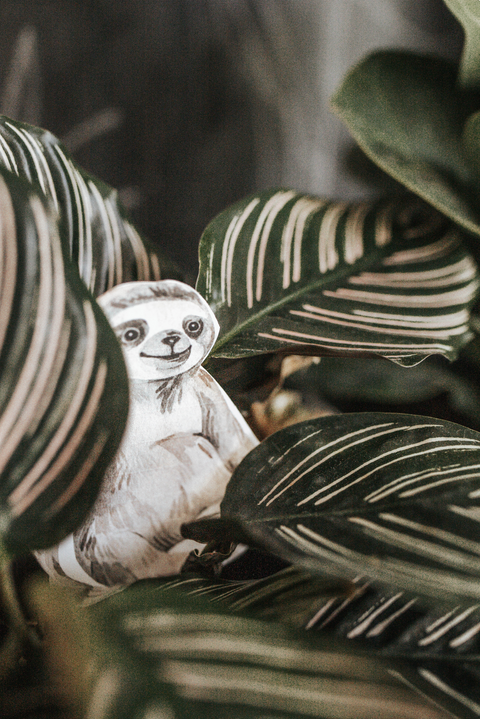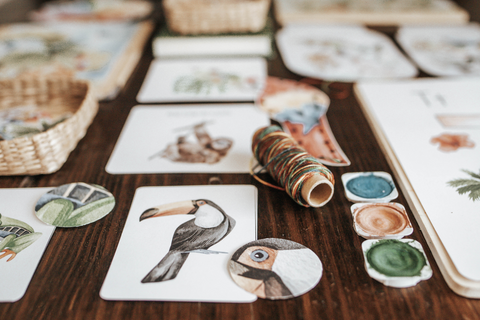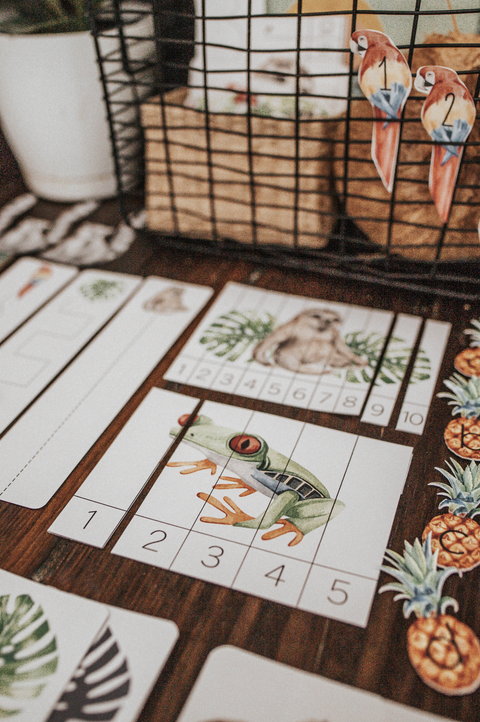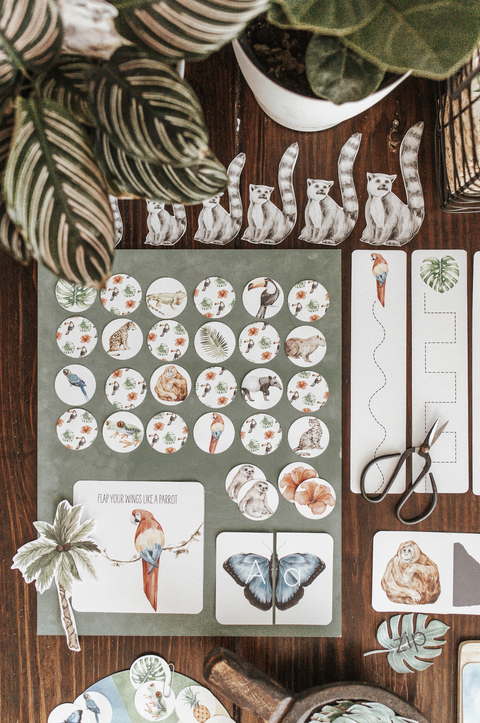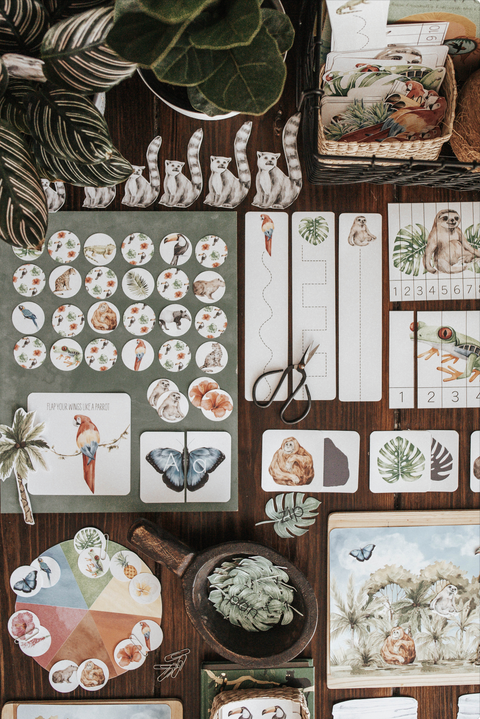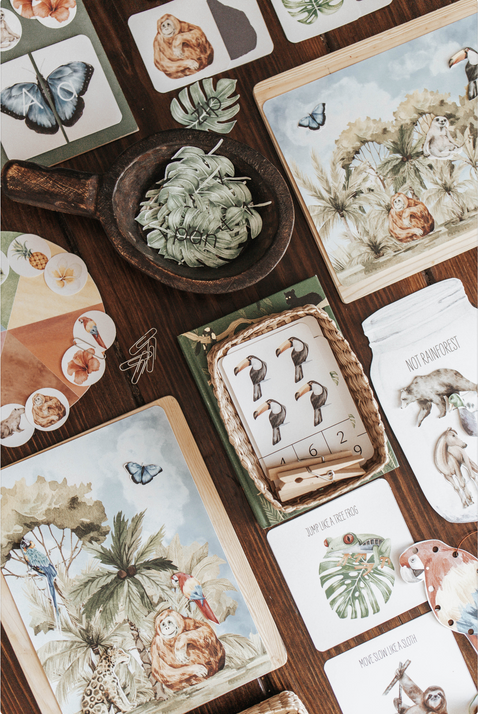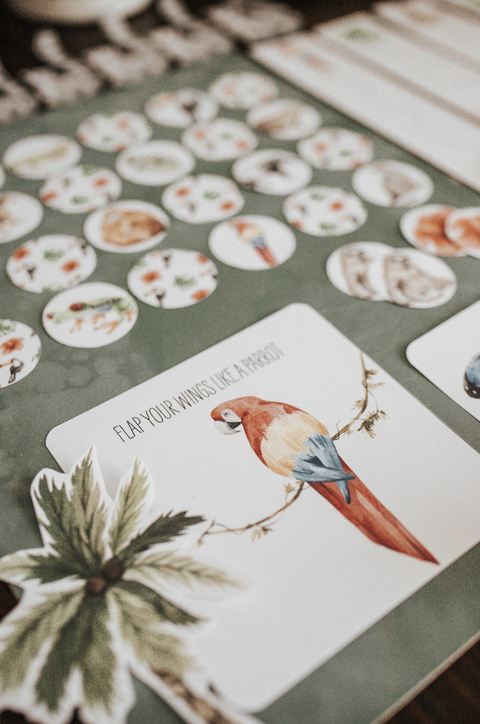 Harbor and Sprout
Tropical Ecology Morning Basket
Our themed printable morning basket sets, created by Rebecca Clarke of Whimsy Printables, are aimed at children ages 2-6 to go alongside each of our individual unit studies! These packs can be used in tandem with their corresponding units or enjoyed independently. Shop our Tropical Ecology unit study here.
Here's what you'll find inside the Tropical Ecology Morning Basket:
Alphabet Sheets: A collection of alphabet sheets that can be used in many ways. Color, paint, or use small nature objects to fill in the alphabet letter.

Pineapple CVC Words: A CVC (consonant-vowel-consonant) word making activity in which children can spell out each CVC word using the pineapple alphabet letters and the CVC leaf word cards.

Color Wheel Clip Match: A color matching and clip activity in which children match the colored objects to their corresponding spot on the color wheel. Place a wooden peg on each object circle for a fun clipping activity!

Cutting Strips: A cutting activity in which children can cut along each line of the cards.

Lacing Cards: A set of super easy prep lacing cards. You can use wool, string, or even a shoelace for lacing these cards.

Matching Skins: A fun animal pattern matching game where little ones match the skin pattern to each animal card.

Matching Disks: A fun little matching disk game- print the pattern sheet to add backing for double-sided cards.

Movement Cards: A fun movement activity that will get your little ones jumping like monkeys! Follow the prompts on each card for full family fun.

Number Clip Cards: A number clip activity in which children count the number of images and clip the correct numbered peg to each card.

Parrot Numbers 1-20: A set of number cards that can be used for many diferent open-ended learning activities.

Number Puzzles: A set of number puzzles in which little ones match the picture and count from 1-5 and 1-10.

Playdough Mats: A fun playdough activity in which you cut out the pieces and create your own tropical scenes!

Rainforest/Not Rainforest: A fun sorting activity in which little ones sort out the animals into rainforest and non rainforest categories.


Silhouette Match: A fun matching activity in which little ones match the picture cards to their corresponding silhouettes.

Size Sorting: A fun but slightly tricky activity in which items are placed in size order.

Upper- and Lower-Case Butterflies: Adorable butterflies to match the upper- and lower-case letters of the alphabet.
This morning basket is delivered as a digital, printable pack and is sure to delight and engage learners, tropical explorers, and nature lovers of all ages!
Simple Subscriptions
Get a discounted monthly credit to use on your H+S favorites