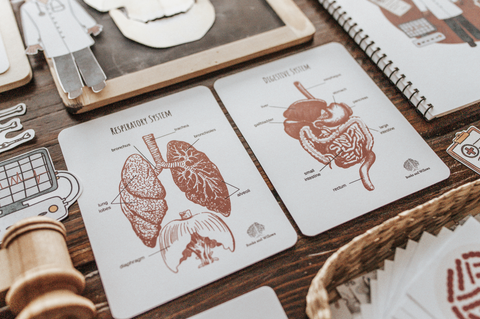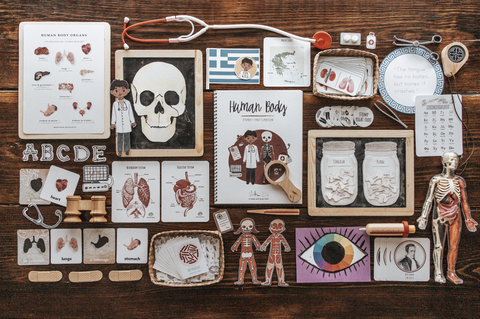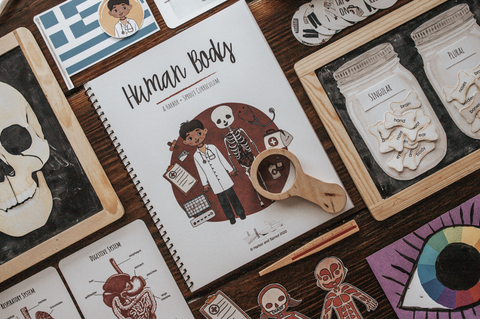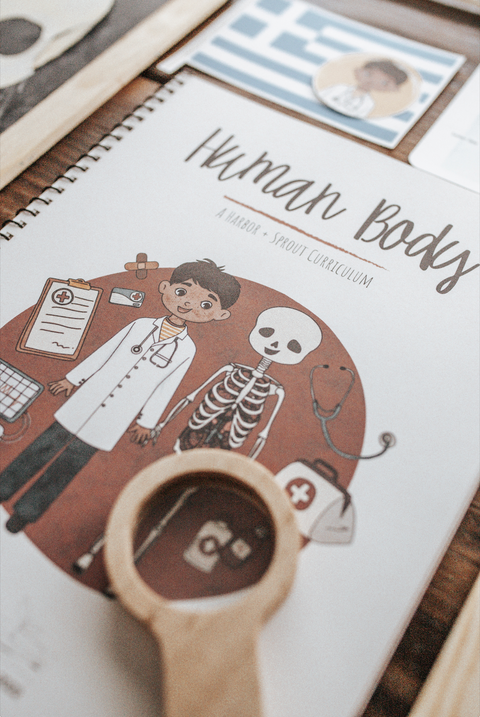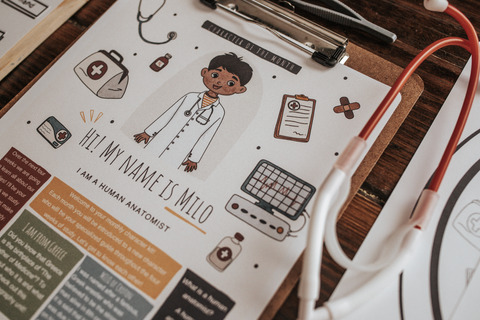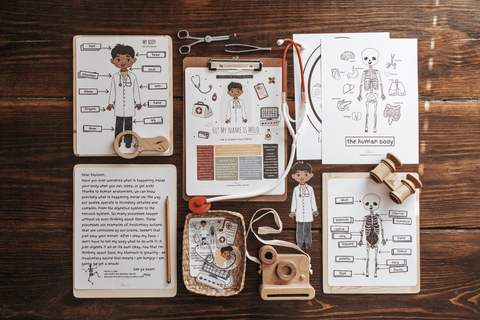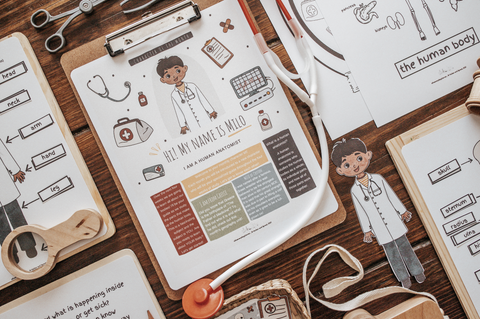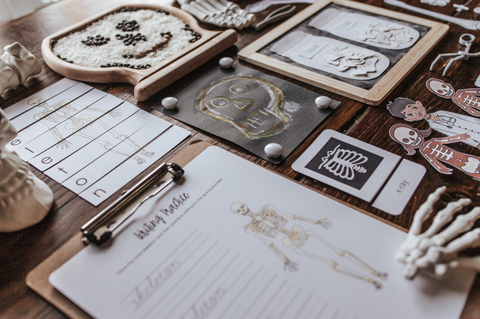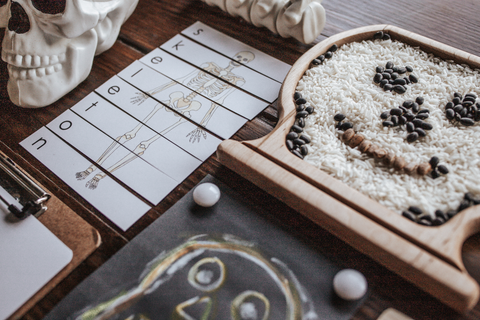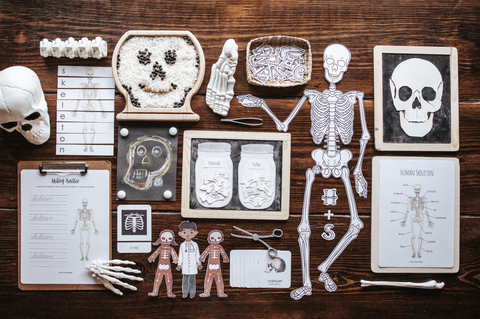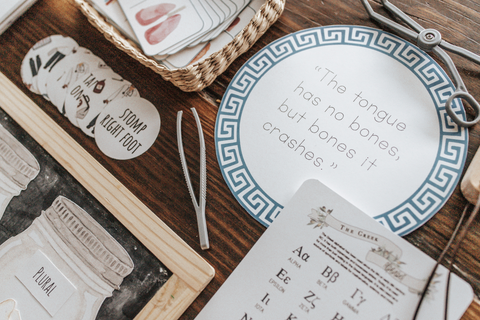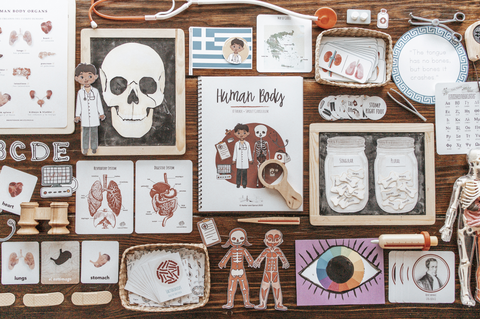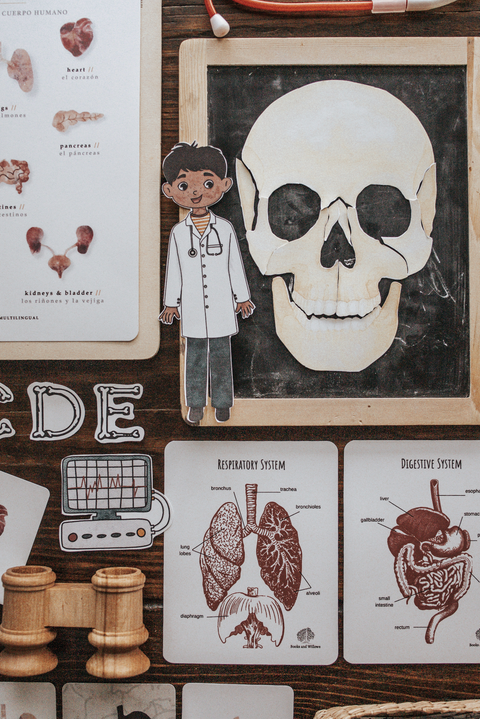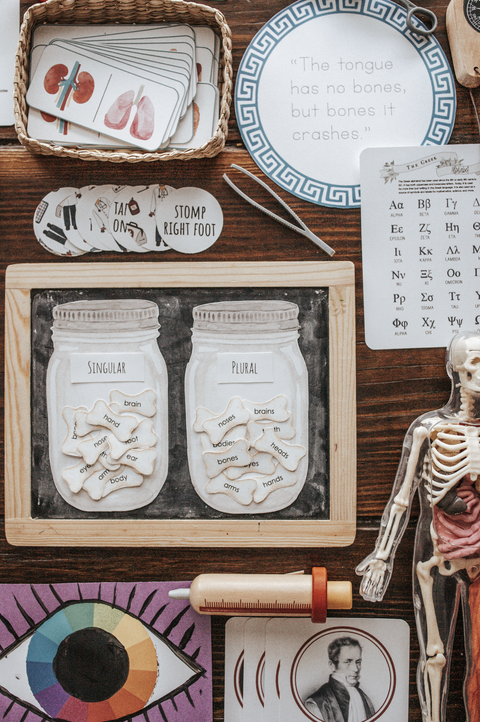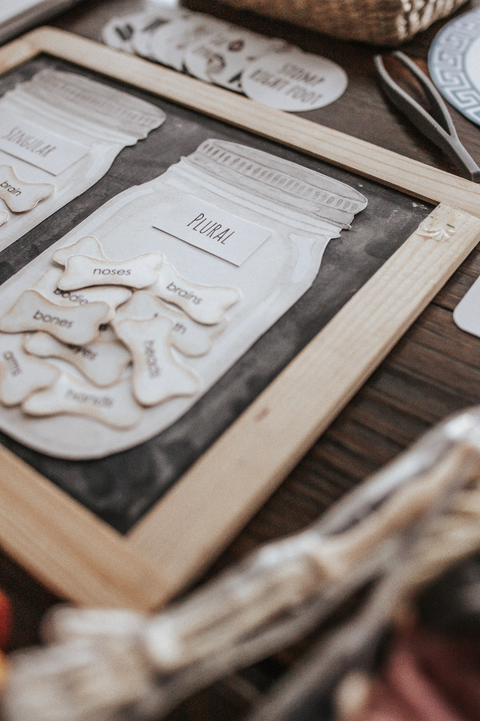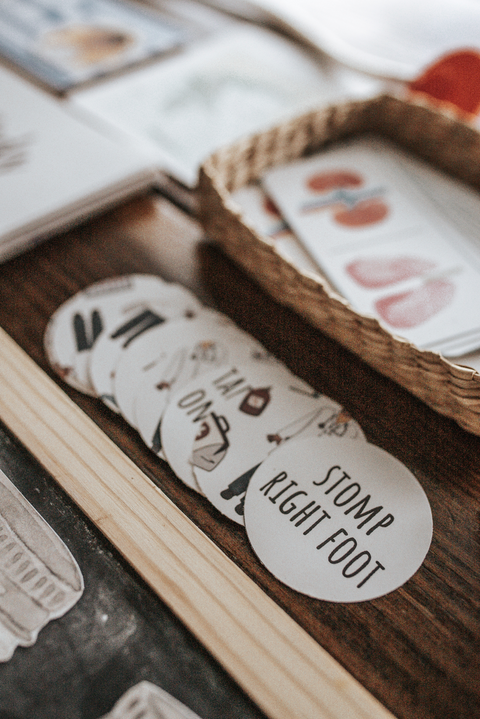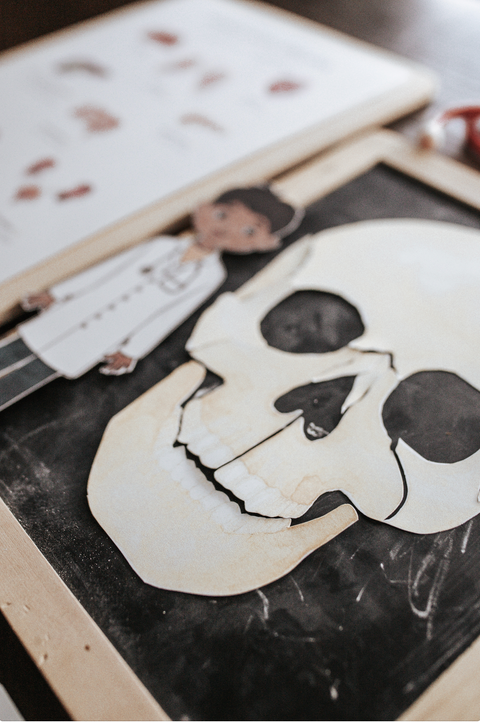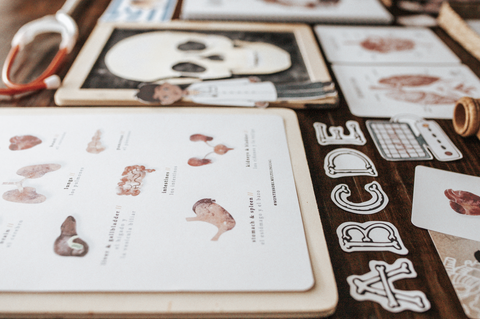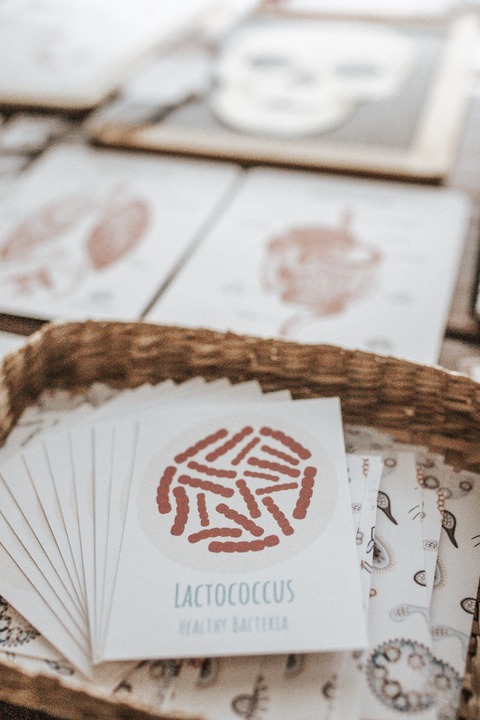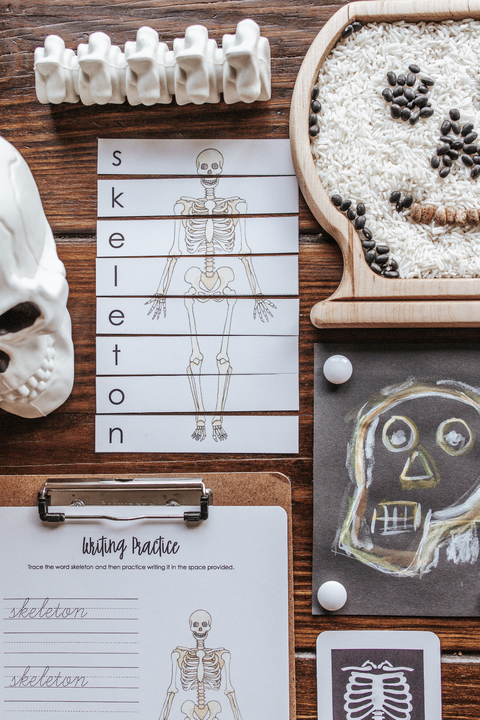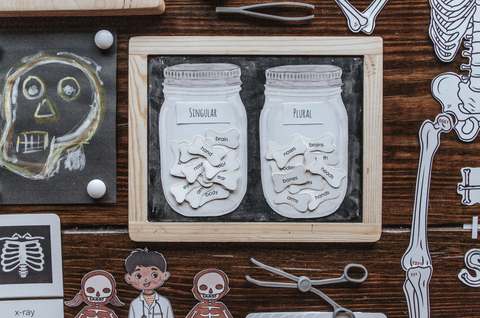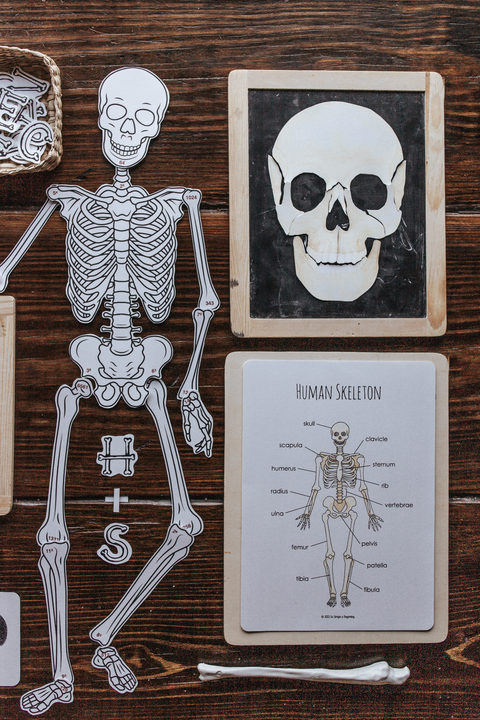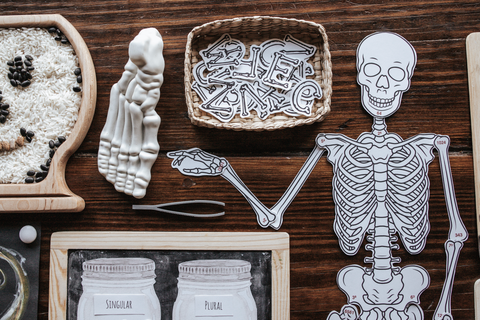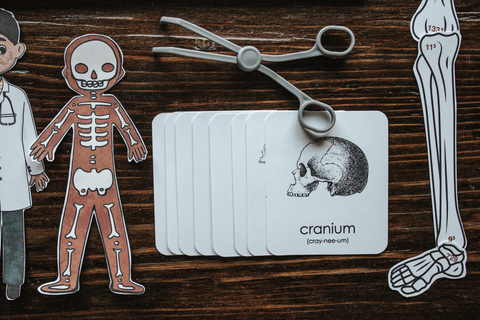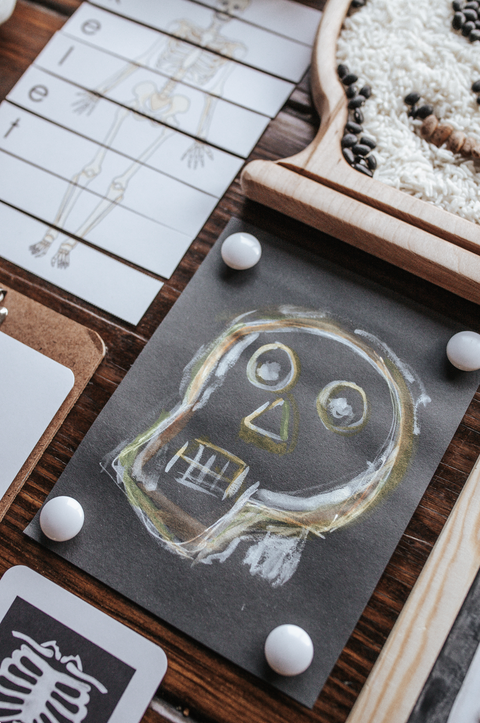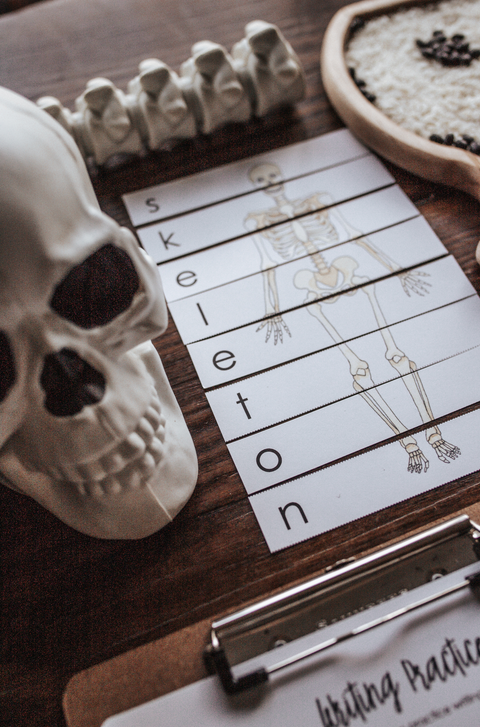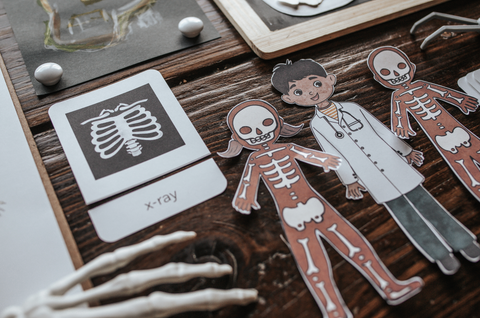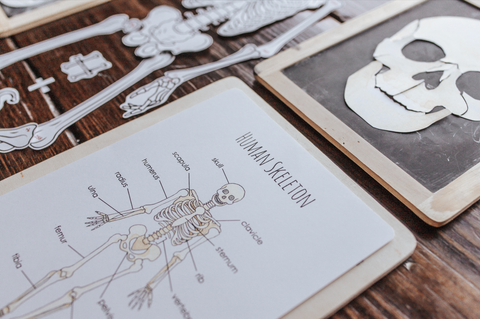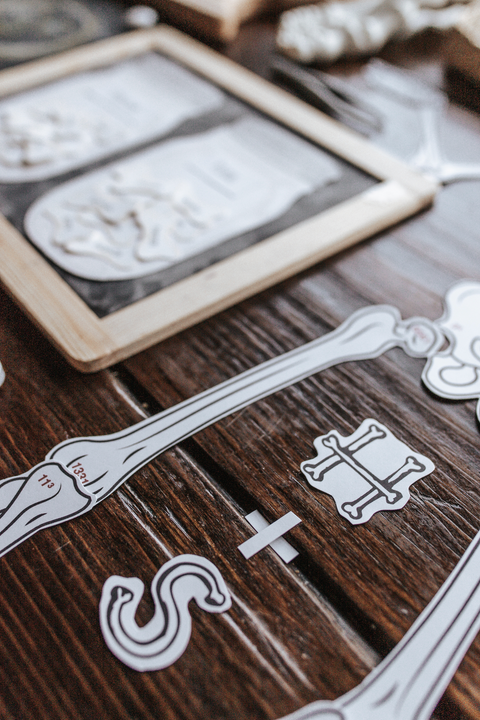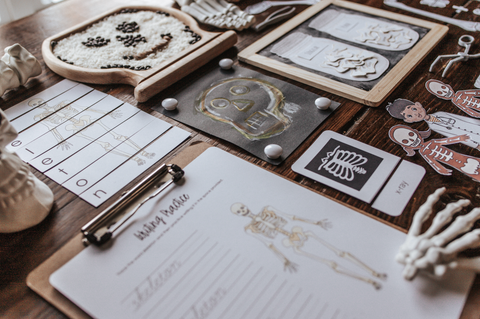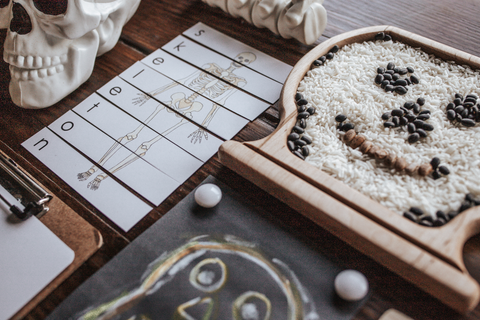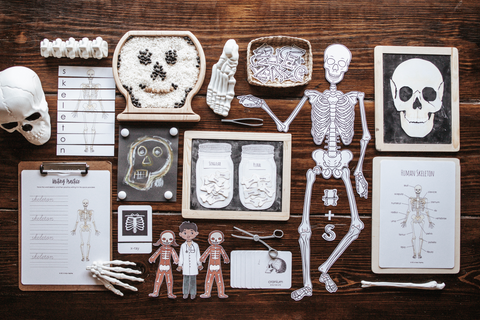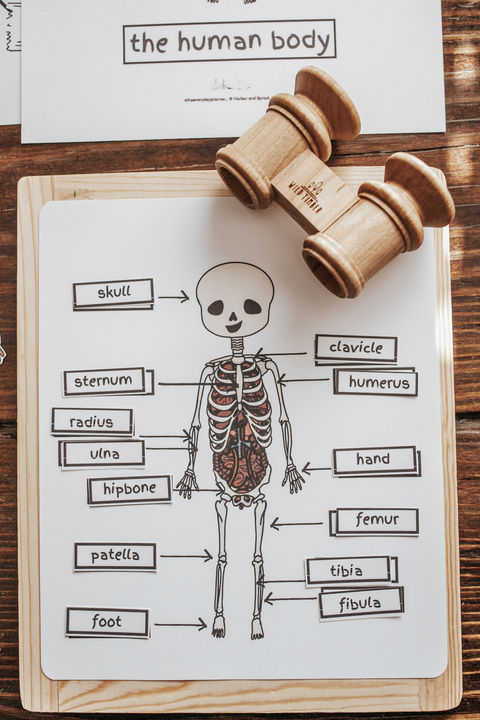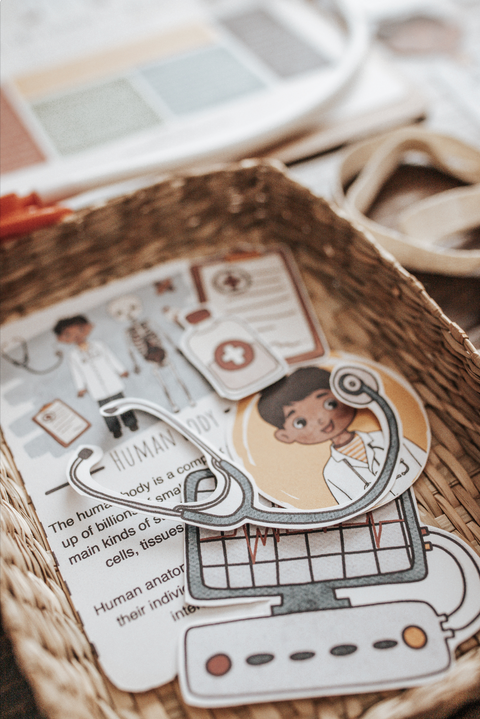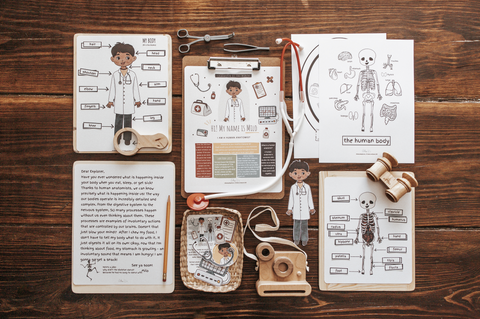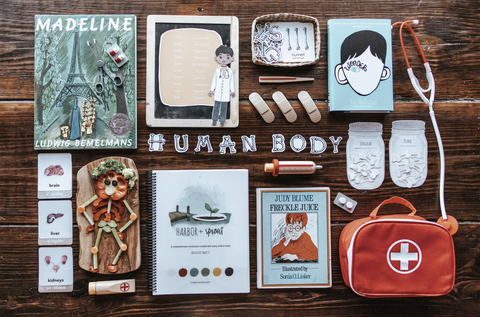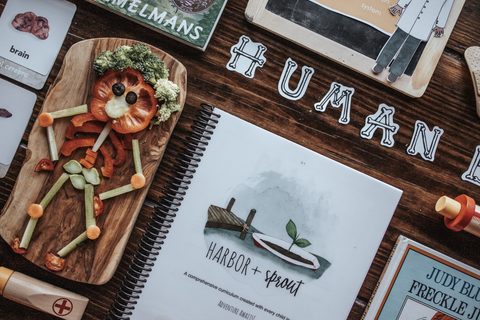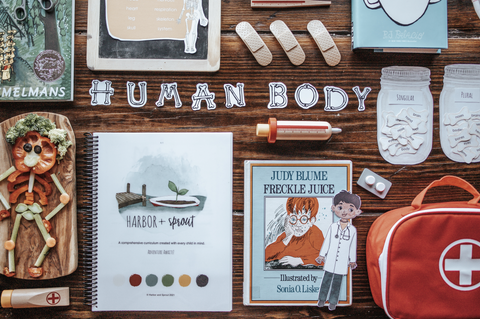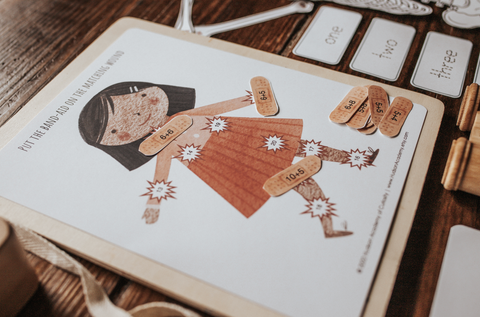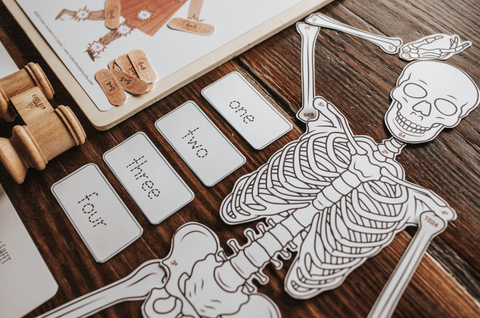 Harbor and Sprout
Human Body Elementary Unit Study
Welcome to the Harbor + Sprout Human Body Unit Study, the October 2022 release of our elementary level homeschool unit study curriculum. This unit study features 4 weeks of lesson plans and materials covering all 9 of our core subjects plus a playful supplemental section of thematic activities. This unit study is meant for use by children ages 3-12. 
This unit is delivered via a secure link as a digital download. Shop our corresponding Morning Basket Pack by Rebecca Clarke of Whimsy Printables here!
CONTENT:
Handbook
Daily, weekly, and monthly planning pages
Booklist including stories, poems, and field guides with recommended ages, subject correspondence, and brief summaries for each title
Lesson plans for 4 levels of learning
Family read-aloud recommendations
Character kit- new monthly character illustrated by Stephanie Groves to act as your guide through the unit

Unit Recipe 

Supply List
LESSONS
Science
Week 1: What Are Bones?: Bones are a very important part of your body.

Discover why you need bones in your body and what bones are made of.

Use this knowledge to imagine what life would be like without bones.

Complete an experiment to find out what happens to bones if they become too brittle or too bendy.

Week 2: Bones of the Body: 

There are 206 bones in your body.

Learn the names of some of the bones.

Find out where they are located and what they are called.

Label the skeleton page using the provided labels or write the answers in yourself.

Enjoy a skeleton coloring page.

Complete 

Matching Bones

and

Skeleton Study

worksheets.

Week 3: The Skull: Study the many different bones that make up the skull.

Find out where each bone is and what it does.

Cut out the labels and label the skull with the correct names.

Complete the coloring page.

Put together a skeleton puzzle and fill out the Skull Study worksheet.
Week 4: The Way We Walk: Learn about the different ways that our bone structure makes it possible for us to walk upright.

Compare the way humans walk to the way other animals walk.

Explore the benefits of walking upright.

Identify human footprints.

Study your own footprint.
Nature Study
Week 1: Air:

 

Immerse

 yourself in a comprehensive study of the oxygen cycle and the respiratory cycle.

 

Learn how these two cycles are connected and how important oxygen is to our bodies.

 

Complete a respiratory system model activity.

 

Make a working model of your lungs.

 

Compare the vital and tidal lung volumes of different members of your family.

Week 2: Water:  

Study the water cycle of our planet.

 

Follow a water molecule through the digestive system and learn what happens at each stop along the way.

 

Learn the different ways our body uses water. Create a model of the human digestive system using play dough.

 

Complete a digestion demonstration activity.

 

Start a new, healthy habit with your family by completing the water challenge!

Week 3: Sun: 

Learn about the Sun and the different kinds of light it produces.

 

Find out why our bodies need sunshine.

 

Discover what a circadian rhythm is.

 

Study the parts of the eye and learn what each part does.

 

Create a hands-on play dough model of the human eye.

 

Conduct an experiment to study your body's circadian rhythm.

Week 4: Earth:

 

Discover the most common microbes that live in and around you.

 

Find out about your personal microbiome and how to have a diverse, healthy microbiome.

 

Learn the difference between bacteria, prebiotics, probiotics, and pathogens.

 

Play the Gut Gains card game.

 

Create a model of an E. coli bacteria.
Language Arts
Week 1: Anatomy Words: 

Learn about anatomy vocabulary words through the provided activities. Study the -one family of words. Explore the definitions of the words provided. Practice spelling anatomy vocabulary. Have fun unscrambling the anatomy words and completing the word search. Study the etymology of vocabulary words.

Week 2: Ode to my Skeleton: 

Discover what an ode is. Get comfy and enjoy a poetry tea time while reading or listening to "Ode to my Skeleton." Draw a picture or write about the thoughts and feelings you had while listening to or reading the poem. Complete the poetry study worksheet. Write your own ode to your skeleton! Fill the letter "S" with skeleton parts. Practice writing or tracing the word skeleton.

Week 3: Comparatives and Superlatives: 

Discover what comparatives and superlatives are. Learn how to make superlatives and comparatives out of adjectives. Use the sight word cards to practice. Draw a family picture and assign some fun superlatives to your family members. Complete the comparatives and superlatives worksheet.

Week 4: Latin Plurals: 

Many of our body parts have Latin names. Discover how to pluralize these Latin words.

Practice pluralizing words with the Latin noun cards. Sort the singular and plural bone cards.

Complete the Latin noun worksheet.
Writing
Week 1: How to Solve a Problem: Discover what persuasive writing is and how it is used.

Learn about the elements involved in an essay to solve a problem.

Brainstorm about a problem you want fixed! Write an essay about your problem and solution to that problem.

Week 2: Opinion Writing: Learn about opinion writing.

Explore what a position statement is.

Practice writing position statements. Learn about concluding sentences.

Brainstorm about an opinion you have.

Write down a position statement, reasons you feel this way, and a concluding sentence. Write an essay about your opinion.

Week 3: Writing for a Change: Study how to write to achieve a change. Explore emotional appeal.

Practice adding positive and negative emotional appeal to your writing.

Brainstorm changes that you want to see, including how you feel about that change.

Use your brainstorm sheet to write an essay about a change you want to see.

Week 4: Persuasive Writing Project: Learn about places where we encounter persuasive writing every day.

Discover different ways to publish persuasive writing.

Choose a persuasive writing project to publish.

Have fun creating a fun, creative project that includes a topic, supporting reasons, and a conclusion.
History
Week 1: Inside the Human Body: Review who a doctor is by filling out the

Who is a Doctor?

worksheet.

Find out how the study of medicine has evolved.

Learn what an x-ray is and the way that x-rays were accidentally discovered.

Study about the inventor of the x-ray, then complete the

Invention Report

worksheet.

Week 2: Listening to the Body: Find out what a stethoscope is and what it is used for.

Discover how it was invented and who invented it.

Learn how to measure your own heart rate by counting your pulse!

Compare your heart rate when you're at rest to your heart rate when you've been exercising.

Complete the

Invention Report

worksheet.

Week 3: Helping You See Better: Learn about the invention of eyeglasses and the many improvements that have been made on eyeglasses through the centuries.

Read about Benjamin Franklin and his contribution to eyeglasses.

Test your own eyesight with the included sheet.

Complete the

Eyeglasses Matching

worksheet.

Fill out the

5 W's Invention Report.

Week 4: Getting Your Vitamin C:

Study the history of scurvy and how it can be prevented.

Learn about the importance of getting enough vitamin C and which foods are high in vitamin C.

Color in the

Vitamin C Coloring Page.

Taste test fruits and vegetables high in vitamin C then rate them on the

Vitamin C Taste Testing Sheet.

 

Complete the

5 W's Invention Report

about the study of the prevention of scurvy.
Geography
Week 1: Greece: Find Greece on the world map.

Discover some interesting facts about Greece including its national flower, national capital, its geographic formations, and many more.

Color the Greek flag, and study the trivia cards included.

Week 2: Maps: Trace the continent of Europe and the country of Greece. Identify Europe and Greece on the world map. Locate the Aegean Sea. Cut out the labels and use them to label the map of Greece.
Week 3: Greek Culture and Traditions: Learn about the culture of Greece. Find out which language is spoken, what kind of food they eat, and how they celebrate big events. Study the Greek alphabet. Complete the alphabet matching page. Trace the Greek proverb.
Week 4: Hippocrates: Explore the history of Hippocrates. Learn about some of the Greek roots that make up common medical terms. Match the medical terms to their definitions. Complete the tracing sheets.
Music
Week 1: Body Percussion: Learn about body percussion.

What are some different ways that you can use your body to make music? Find out about how different cultures and groups around the world use their

bodies as instruments to make music. Enjoy one or all of the body percussion activities.

Week 2: Ostinato: Learn what ostinato means.

Listen to the song "Bittersweet Symphony" and see if you can hear the ostinato in that song. Draw or write your thoughts in the space provided.

Experiment with ostinatos and body percussion.

Create your own body percussion ostinato.

Have fun with pots and pans percussion!

Week 3: Music and the Five Senses: If music could make us see, taste, hear, smell, or feel, what would that song sound like?

Different songs help us experience different sensations.

Listen to the songs provided and consider how they relate to your five senses.

Write down your thoughts on the worksheets provided.

Week 4: The Greek Lyre: Discover what a Greek lyre is.

Find out its significance in Greek culture.

Enjoy creating your own lyre.

Write your own original poem or copy down a poem you know to recite while you play your lyre.

Have fun performing a lyre concert!
Art
Week 1: Body: Learn about Leonardo da Vinci and how he studied and drew the human body. Create your own Vitruvian Man. Practice blind contour drawing by making a blind contour self portrait.

Explore the human organs with cardboard organ stamping. Study the different body systems with Kirigami body systems dolls.

Week 2:Skeleton: Read the artist spotlight on Jean-Michel Basquait. Learn about his famous and colorful art.

Create a Basquait-inspired skull. Use tape, paper, and paint to create a tape-resist skeleton. Have fun creating fingerprint skeleton art. Paint a life-size skeleton. Make an imitation of an x-ray of your hand.

Week 3: Heart: Discover the artist Jim Dine and learn about his heart-inspired artwork. Create a work of art inspired by Jim Dine, but use an anatomical heart rather than a geometric heart.

Read the artist spotlight on Yayoi Kusama and her polka dot art.

Make a blood cell work of art

Color the coloring page. Enjoy creating a geometric anatomical heart.

Week 4: Brain: Study the work of Santiago Ramon y Cajal, artist and neoscientist. Create blown germ art. Learn about neurographic art and create your own neurographic artwork. Study the human eye with a watercolor project. Create a color wheel big eye.

Finally, make a model of your brain with found objects.
Math
Week 1: Band Aid Math: Use the included worksheets to match the band aid "equations" to the matching "wound" answers.

Addition, subtraction, multiplication, and division are provided as well as blank templates.

Week 2: Dominoes Math: Using the two sides of the organ dominoes, create and solve equations. The key will help you find which organ goes with which number. Multiplication, addition, subtraction, and division are all included.
Week 3: Finger Math: Explore numbers 1-10 using the included cards. Each page includes cards that represent a number with a die, tally marks, fingers, and hearts. Each page also gives learners the change to trace the number and the word that represents the number.
Week 4: The Exponent Skeleton: Discover what exponents are, how they are written, and how the equations are solved. Complete the exponent equations and put the skeleton back together.
Supplement
Nature Activities
5 Senses Sorting Activity
At The Doctor Number Match
My Body Flashcards
Doctors Spin And Graph

Healthy Not Healthy Clip Activity

Memory Match

My 5 Senses Labelling

My Body Half Body Activity

My Body Parts

My Body To Color
Wellness & Quiet Time
Organs 3 Part Cards (Spanish)
Paper Dolls Skeletal and Muscular Systems
Matching Card Bilingual Game (Spanish)

Human Body Wordsearch
Each lesson comes with a lesson plan split into 4 distinct levels of learning to help you use the materials for your child's individual needs. This allows for family-style learning for ages 3-12 and years worth of connection and education!
Simple Subscriptions
Get a discounted monthly credit to use on your H+S favorites