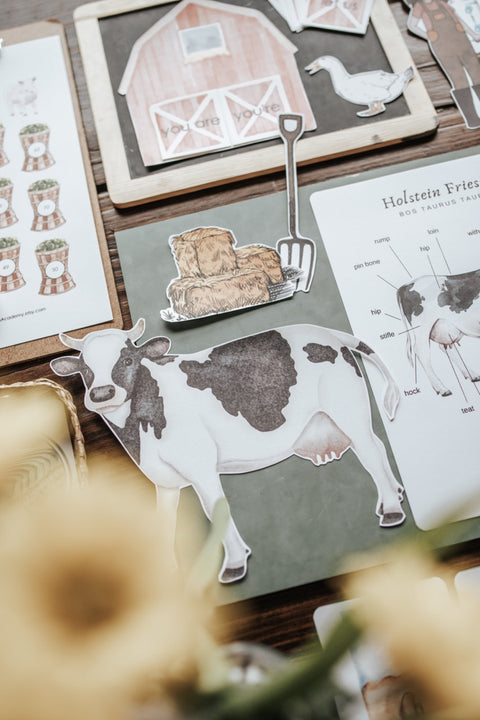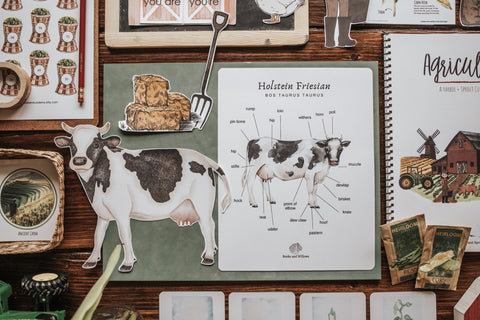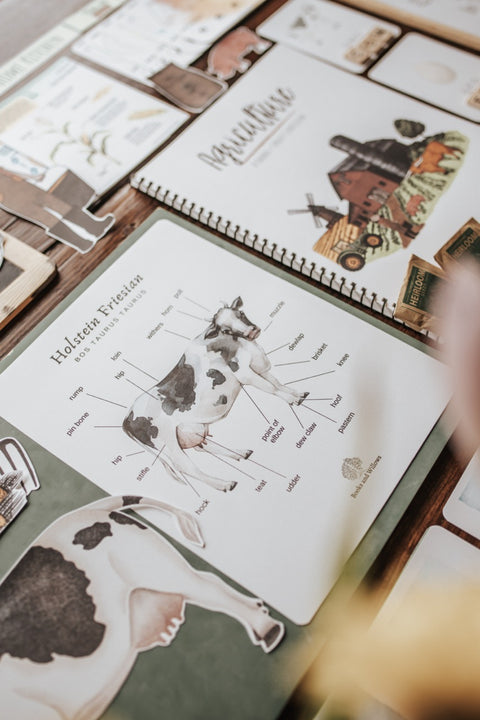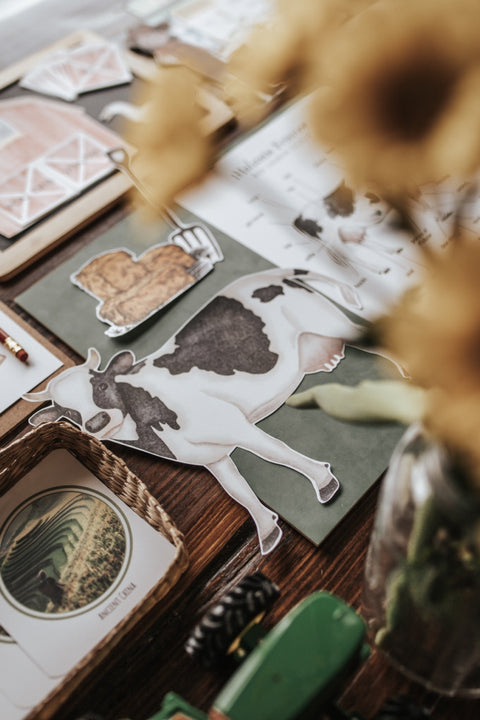 Harbor and Sprout
Agriculture Nature Study
These lessons are included in our Agriculture Elementary Unit. 
Explore dairy farms in this in-depth, engaging nature study by Jacqueline Marr of Books and Willows. This study includes four modules:
Module 1: Meet the Dairy Cows
Learn how grass turns into milk!

Explore the digestive system of ruminants.

Color and label a diagram. Be introduced to popular dairy cow breeds then create a mixed-media art piece to celebrate your favorite.

Conduct a rumen fermentation experiment to explore how cows produce methane and carbon dioxide.

Extend your learning by researching the role of cow burbs and climate change!



Module 2: Life on the Farm
Learn about the different structures inside dairy barns then consider what you've discovered and design your own!
Explore milking technologies.
Follow a day in the life of a dairy cow.
Try 'milking a cow' in our at-home demonstration.
Module 3: From Farm to Market

Explore how milk is transported to and processed at the dairy processing plant. We'll learn about pasteurization, centrifugal separation, and homogenization.
Observe centrifugal force at work in our spinning art tutorial!
Review the history of milk packaging and create a timeline.
Compare the advantages and disadvantages of each type.
Module 4: On Your Plate
Explore the benefits of dairy milk and learn how to read a nutrition label.
Discover the process for making cheese and yogurt then make your own cheese at home!
Host a cheese tasting to find your favorite variety.
Discover the science of milk fat in the classic magic milk experiment.
Compare the nutritional value of dairy and non-dairy kinds of milk.
This study may be completed over the course of one month with one module per week, or more quickly or slowly depending on personal preference. This is a digital download and files will be delivered via email upon purchase. Enjoy your adventure!
Simple Subscriptions
Get a discounted monthly credit to use on your H+S favorites