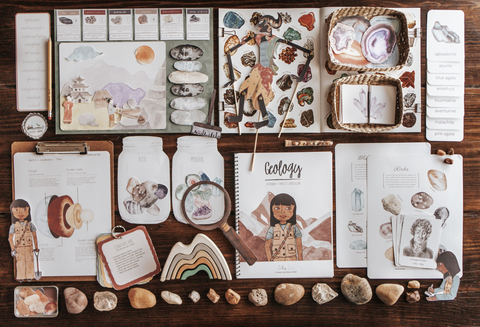 Harbor and Sprout
Geology Elementary Unit Study
Welcome to the Harbor + Sprout Geology Unit Study, the March 2022 release of our elementary level homeschool unit study curriculum. This unit study features 4 weeks of lesson plans and materials covering all 9 of our core subjects plus a playful supplemental section of thematic activities. This unit study is meant for use by children ages 3-12. 
This unit is delivered via a secure link as a digital download.
CONTENT:
Handbook
Daily, weekly, and monthly planning pages
Booklist including stories, poems, and field guides with recommended ages, subject correspondence, and brief summaries for each title
Lesson plans for 4 levels of learning
Family read aloud recommendations
Character kit- new monthly character illustrated by Stephanie Groves to act as your guide through the unit
Unit Recipe 
Supply List
Science
Week 1: Earth's Anatomy
Week 2: Types of Rock
Week 3: The Rock Cycle
Week 4: Rock Cards
Nature Study
Week 1: Katter Kich
Week 2: Vinicuna
Week 3: Svartifoss
Week 4: Arbol de Piedra
Language Arts
Week 1: The Stonecutter
Week 2: Articles
Week 3: Idioms
Week 4: Haiku

Writing
Week 1: Plan
Week 2: Research
Week 3: Write
Week 4: Revise

History
Week 1: History of Earth's Formation
Week 2: Uniformitarianism
Week 3: Catastrophism
Week 4: History of a Granite Rock
Geography
Week 1: Indonesia
Week 2: Maps
Week 3: Culture and Traditions of Indonesia
Week 4: The Blue Volcano
Music
Week 1: Rock Music
Week 2: Rock Rhythm
Week 3: Echo
Week 4: Fingal's Cave
Art
Week 1: Earthworks
Week 2: Marbling Art
Week 3: Cubism
Week 4: Pop Art
Math
Week 1: Rock Counting
Week 2: Gemstone Dominoes
Week 3: Quantity Comparison
Week 4: Gemstone Count and Graph
Supplement
Nature Activities
Rock and Mineral Match
Gemstone Cards and 3 Part Cards
Rock and Mineral Posters
Rock or Mineral
Number Stacking Stones
Mineral Math Cards
Alphabet Letter Sheets
Geology Vocabulary Build

Wellness & Quiet Time
Crystals Positive Affirmation
Crystals Creek Playmant
Crystals 3 Part Cards (Spanish)
Crystal Cabinet of Curiosities

Writing & Language Arts
Geology Vocabulary
Spelling Practice
Earth Spelling Puzzles
Word Family Spelling Cards
Spelling Stones
Word Family Word Search
Geology Word Search
Words in Words
Geology Quotes and Copywork
Writing Reference Pages

Each lesson comes with a lesson plan split into 4 distinct levels of learning to help you use the materials for your child's individual needs. This allows for family-style learning for ages 3-12 and years worth of connection and education!
Simple Subscriptions
Get a discounted monthly credit to use on your H+S favorites