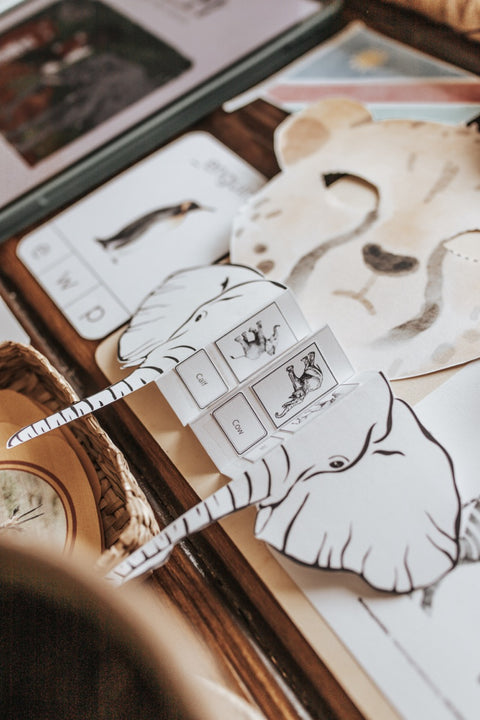 Harbor and Sprout
Zoology Nature Study
These lessons are included in our Outdoor Survival Skills Elementary Unit. 
Discover extraordinary elephants in this in-depth, engaging nature study by Jacqueline Marr of Books and Willows. This study includes four modules:
Module 1: Extraordinary Elephants
Discover the difference between African savanna elephants and Asian elephants.
Put your observation skills to the test with our identification cards.
Learn what life is like in the savanna biome.
Celebrate elephants as a keystone species shaping the savanna and create an 'elephant footprint' hotel.
Explore how elephants use their ears to keep cool in our heat loss experiment.
Module 2: Amazing Adaptations
Explore elephant adaptations including their size, trunk, skin, tusks, and bathing behaviors. Use our elephant poster to notebook about your observations.
Put your trunk skills to the test in our Elephant Trunk Relay challenge.
Extend your studies by discovering the significance of the 'tortilla experiment'.
Module 3: Following Family

Learn what it's like to grow up in an elephant family as we follow the birth of a baby calf to the time when he begins his own family.
Celebrate what you've learned with our Life Cycle craft and Elephant Family Savanna pastel art tutorial.
Extend your learning to explore how elephants behave 'just like us'.
Create a concrete poem to honor the role of matriarchs in elephant society.
Module 4: Never Forget
Learn why elephants have an excellent memory then test your own memory with our African savanna matching games.
Explore the four ways elephants talk through sound, touch, gestures, and scent.
Discover why scientists believe elephants have emotions.
Conduct an experiment to see how elephants can hear long distance messages through their feet!
This study may be completed over the course of one month with one module per week, or more quickly or slowly depending on personal preference. This is a digital download and files will be delivered via email upon purchase. Enjoy your adventure!
Simple Subscriptions
Get a discounted monthly credit to use on your H+S favorites